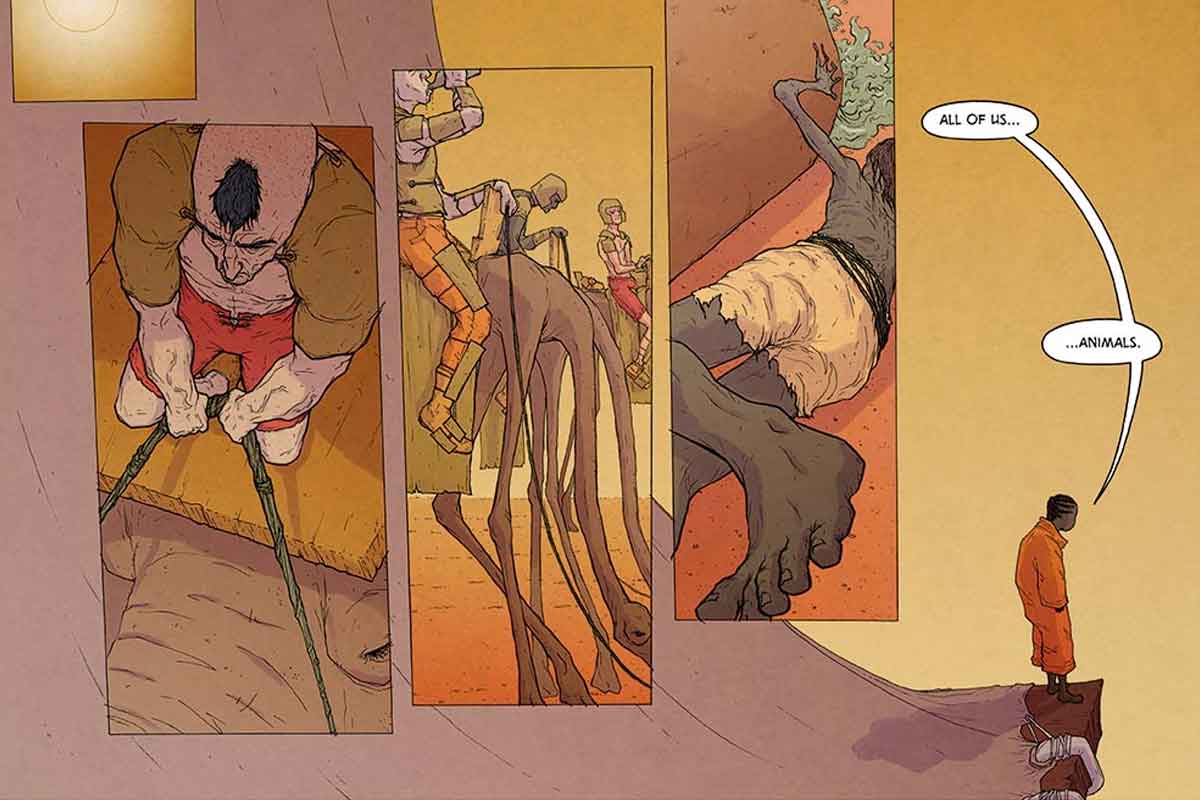 The following story appeared in the
most recent issue
of the UNO Magazine, which highlighted h
ow professors are serious about play, studying how it aids learning and development, using it to teach math or to aid recovery from a stroke, or just to have fun.
 Read the magazine online as a
Flipbook
or
download a PDF
.
---
Rylo Sykes isn't just having a bad day … she's having a bad life.
The young woman lives in a world where climate change has devastated cities and food production is limited to corporate-owned 3-D printers. Now, she's living in Omaha on the edge of a trailer city, navigating a web of murder and illegal gardening.
"Rylo is not trying to save the world," says UNO graduate Brie Alsbury. "She's just trying to survive. I like that she's doing her best to keep going."
No one knows Rylo better than Alsbury, a comic book creator. Rylo is born of Alsbury's imagination, living in a dystopian world brought to life with pens and an iPad. The result is "Food Pirates," a self-published comic that's available online to an audience that's interested in more than super heroes.
"I've always loved the idea of words and pictures together," says Alsbury, who received a bachelor's degree in studio art in 2014.
To appreciate the enduring popularity of comics, look no further than the movie blockbusters taken from the pages of Marvel and DC Comics. But thanks to technology and a diversity of subject matter, today's comics have spread beyond the traditional base of teenage boys.
In fact, UNO graduates like Alsbury and Chloe Kehm didn't get interested in comics or graphic novels until their late teens or college years. They cite influences ranging from Bill Watterson, the creator of "Calvin and Hobbs," and Babs Tarr, an artist known for Japanese-style illustration and her work on Batgirl.
"I always loved illustrations. I've been drawing ever since I was little," said Kehm, who graduated in 2019 with a bachelor's degree in fine arts. "My appreciation for stories came later in life. Comics is this great way to combine both of these loves, a great way to voice thoughts."

Making a Career of Comics
The question is whether comics are a great way to make a living. Kehm and Alsbury aren't starving artists, but they aren't Marvel's Stan Lee, either. Both work day jobs to keep the lights on – Alsbury also serves as an adjunct in UNO's art department.
Nights and weekends are spent drawing, inking and coloring panel after panel, a process that involves traditional, freehand art and digital work. Alsbury estimates it takes about a day and a half per page, if she's not interrupted.
"I don't get a lot of uninterrupted time," Alsbury says. "It takes a lot of discipline. Part of it is getting out of your head and doing it."
Kehm is working on two projects, one is a fantasy and the other is a more traditional comic strip.
She's self-publishing and sharing her work online with Omaha's enthusiastic comic book community. She would like to follow in the footsteps of others who have found small publishers and attract a loyal following.
"They're making a living off of it. Their work is good," she says. "You don't have to be the head artist for 'Avengers' to feel like you've made it."
Tim Mayer is a UNO graduate who has taken the plunge as a full-time illustrator. After receiving a bachelor's degree in studio art in 2008, he worked in retail and taught, all the while picking up more and more freelance assignments.
"It's been a more difficult transition than I thought," he says. "It's very solitary work. You end up missing being around people on a daily basis."
He takes on work ranging from a menu for a bar's pop-up event to illustrations for comics and short stories called "Oldguy" and "Prophetica." He's working on a sequel to a comic book project with a writer who lives in Japan.
"I still love it," he said. "It's all about the storytelling. It just comes down to the art work and what the job needs."

Technology, Talent and the Times
Technology has made a huge impact on comics, not just in how they're created but in how they are distributed. Just as in other forms of publishing, the Internet breaks down barriers to entry for those with a pen, a computer and an idea.
"A lot of new talent is able to be discovered that way," says Jeremy Johnson, assistant professor of art at UNO. "People can post their own creations. You don't have to wait for Marvel Comics."
Johnson and other UNO professors see comics and graphic novels as more than expressions of pop culture, with an audience limited to comic book stores and conventions. They view comics and other types of illustrations as a legitimate art form deserving of study and appreciation.
"The artwork in "Joker's Wild" or "300" is just as beautiful and haunting as any piece hanging on the wall of a gallery," says Adam Tyma, associate professor in UNO's School of Communication. "We need to be careful about saying something is just popular culture."
Johnson covers comics in two courses he teaches. One is an American history of comics from 1842 to modern times. He also teaches an online class on global comics.
Students learn about a genre that goes much deeper than "Avengers" — from early comics that started as a form of printmaking to the snaggle-toothed Yellow Kid who hung around New York City's slums at the turn of the 20th century. Then came super heroes and the birth of longer, serialized graphic novels in the 1980s.
"There has been this transition from low quality, a quick form of entertainment, to complex narratives to super heroes," Johnson says. "They have come a long way. I have no doubt it is going to continue."
Comics even find their way into the English Department.
Frank Bramblett, a professor of English at UNO, did Ph.D. work in linguistics and eventually found himself reading comics. He has co-edited books and conducted academic research into the vocabulary and sentence structure that comic book characters use.
"Part of my research is to look at comic book characters and look at how it communicates something about their identity," Bramblett says.
There's more to it than "pow" and "bam." While comic books are primarily a visual medium, the words provide fascinating insight into culture, he says.
About the University of Nebraska at Omaha
Located in one of America's best cities to live, work and learn, the University of Nebraska at Omaha (UNO) is Nebraska's premier metropolitan university. With more than 15,000 students enrolled in 200-plus programs of study, UNO is recognized nationally for its online education, graduate education, military friendliness and community engagement efforts. Founded in 1908, UNO has served learners of all backgrounds for more than 100 years and is dedicated to another century of excellence both in the classroom and in the community.
Become a fan of UNO on Facebook and follow UNO's Twitter updates. 
Contact Us
If you have a story idea, news tip, or other question, please email the UNO News team at unonews@unomaha.edu.