Virtual Dissection Equipment Takes STEM Education at UNO to Next Level
published: 2019/07/22
contact: Charley Steed - University Communications
phone: 402.554.2129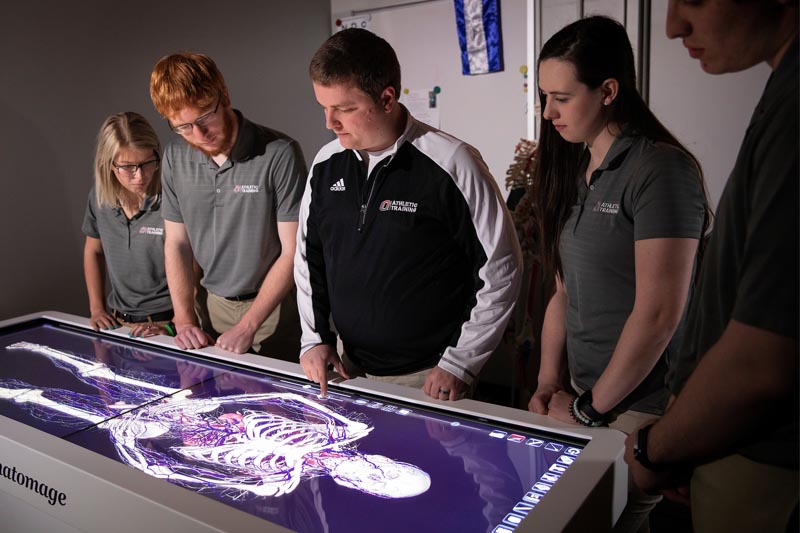 For many the best way to learn something is to do it themselves. Not surprisingly, though, this can be particularly difficult for students need to understand the innerworkings of the human body. Until now.

Earlier this year, UNO's School of Health and Kinesiology purchased an "Anatomage Table," a first-of-its-kind virtual dissection table that allows students to learn and discover everything from blood flow to muscle structure to the way certain traumas can lead to medical issues - all hands on.

"Students love using it because it's completely interactive," explains Adam Rosen, assistant professor in the School of Health and Kinesiology. "You know, I could talk about anatomy and normally you'd see the images we use in the table on a slide but now you can actually interact with it and use your fingers to manipulate the body, peel off layers as you are going and really understand how things work together."

The table is developed by California-based tech company Anatomage. The product recently released its sixth version in 2018 and has been used in schools, universities and hospitals around the world.

Rosen, who specializes in athletic training and biomechanics, says the table has already been used in several classes at UNO and will be incorporated more fully in the months and years to come.

"We're learning new things every day about the table. There are some potential funding opportunities that even come from it in terms of bolstering anatomy education in Omaha and in the region, but there are also some definite ways to improve patient care as well."


---
What Tools Does the Anatomage Table Have?


Interactive Segmentation of the Human Body

Fully Annotated Diagrams of Body Parts

Hands-On Clinical Case Study Examples

Quizzes and Self-Studying Tools

Blood Flow Animations
---

The Anatomage Table is also assisting with UNO's mission of engagement thanks to the BODYMODELS program, which launched last summer as part of a three-year grant to bring high-tech resources and biomechanics lesson planning to area K-12 educators.

Earlier this month, Rosen joined other UNO College of Education faculty in demonstrating the table for dozens of teachers like Mike Klug, a facilitator for elementary school students in the High Ability Learners program at Papillion La Vista Community Schools.
"They've put a lot of cool technology in our hands to be able to use, give us demonstrations, give us time to use it, and then the ability to make lessons and plans," he says. "Most staff development workshops that you go to is sit-and-get where presenters feed you information but this was really more of a dialogue back and forth."
This approach is by design, explains Amelia Lanier Knarr, COBRE Outreach Coordinator for UNO's Biomechanics program, who is a Co-PI on the grant. She says being in the second year has helped develop the structure of the program.

"This year's cohort has the benefit of also working with Master Teachers, who completed the institute last summer, so they get great advice and feedback. The content hasn't changed much from last year, but I think what has changed is we have been able to focus in on the best order to teach certain concepts."

Klug says that one of the most important things educators can do is present knowledge in a way that meets students where they are at and, anymore, that isn't in the form of a traditional text book.

"I think that is what this BODYMODELS program is trying to do - is to get teachers to embrace this idea that the best research is the research students are coming up with and so really empowering them to go out and explore and let's figure out a way to make this technology work to get to help answer the questions you have."

Rosen adds that BODYMODELS isn't the only opportunity K-12 educators will have to work with technology like the Anatomage Table. In fact, Benson High School also has a version of the table and Rosen is joining other faculty in building lesson modules that teachers can use in their classrooms.

Ultimately, while technologies will continue to change, it is the relationships and engagement opportunities developed by working closely with K-12 educators through programs like BODYMODELS that makes UNO a leader in STEM Education; though it certainly doesn't hurt, Rosen says, to have state-of-the-art equipment like the Anatomage Table to help things along.

"It's definitely a fun piece of equipment to show off."
Learn More
UNO Department of Biomechanics
About the University of Nebraska at Omaha
Located in one of America's best cities to live, work and learn, the University of Nebraska at Omaha (UNO) is Nebraska's premier metropolitan university. With more than 15,000 students enrolled in 200-plus programs of study, UNO is recognized nationally for its online education, graduate education, military friendliness and community engagement efforts. Founded in 1908, UNO has served learners of all backgrounds for more than 100 years and is dedicated to another century of excellence both in the classroom and in the community.
Become a fan of UNO on Facebook and follow UNO's Twitter updates. 
Contact Us
If you have a story idea, news tip, or other question, please email the UNO News team at unonews@unomaha.edu.