Slip Study Gets off the Ground with NIH Grant
published: 2019/07/08
contact: Sam Petto - University Communications
email: unonews@unomaha.edu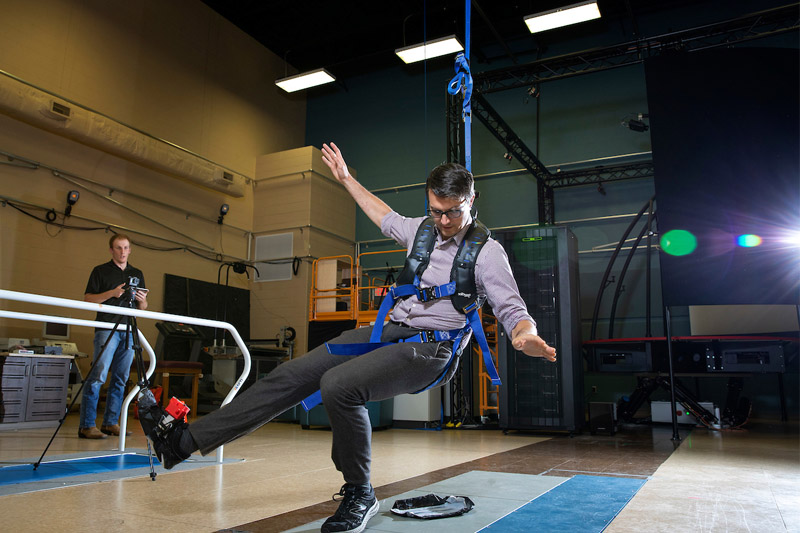 Falls are the nation's leading cause of injury and many of those falls are related to slips. With help of a federal grant, the University of Nebraska at Omaha (UNO) is poised to make strides in slip prevention research.
The two-year R15 grant from the National Institutes of Health (NIH) provides over $420,000 for research on how each phase of a step relates to slip severity and how physical responses, like flailing arms or shifting hips, impact efforts to regain balance.
Nate Hunt, Ph.D., an assistant professor in the Department of Biomechanics, is leading the research. He and his team of graduate students will collect data in UNO's nationally unique Biomechanics Research Building using motion capture equipment, a harness and a shoe device that can slip on-demand via wireless trigger. Hunt calls it a remote-controlled banana peel – something he and his students spent the last two years developing.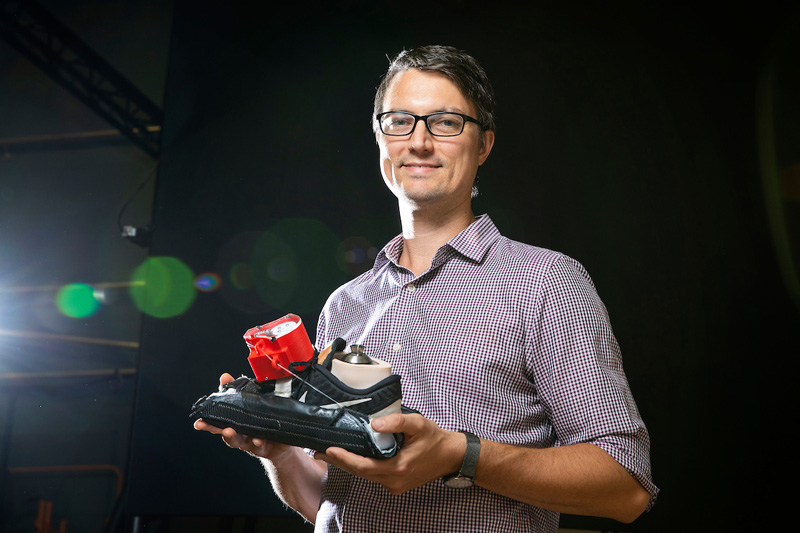 "The new apparatus we developed opens up many possibilities for generating different kinds of slips in the lab. That capability was a key factor in getting this proposal funded," Hunt said. "We've learned from recent research studies that people fall in a surprisingly wide variety of ways, and that we need to do a better job of understanding exactly how those falls occur, as well as how people may react to regain their balance. This study is designed to tell us exactly that."
Because slopes, curving paths and impromptu slips are difficult to emulate in a lab, many past studies do not translate to how most people actually lose traction. This will be the first research that comes close to mirroring the diversity of slips encountered in real life, thanks to the shoe device and custom terrain.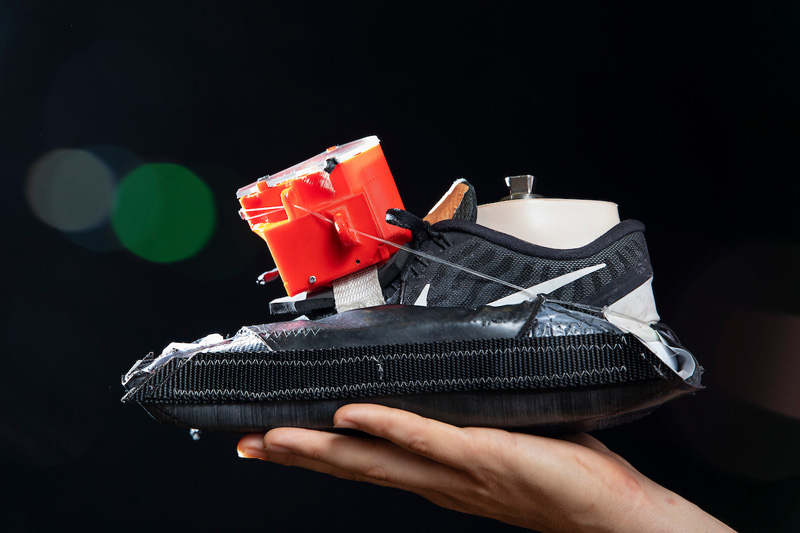 Research takeaways could be used in slip prevention training. Nick Stergiou, Ph.D., assistant dean of the Division of Biomechanics and Research Development in UNO's College of Education, said Hunt's findings could inform future studies that focus on vulnerable populations.
"The research work by Dr. Hunt could revolutionize the way we prevent falls in the elderly," Stergiou said.
The grant comes as construction on a privately-funded expansion to the Biomechanics Research Building wraps up. The expansion is set to open in Sept. 2019 with new laboratories and instructional space, providing much-needed space for continued innovative research and education.
The grant is the Biomechanics Department's second R15 in less than a year – a significant accomplishment given the competition and rigorous criteria applicants must meet. Also known as the Academic Research Enhancement Award (AREA), the grant's purpose is to fund novel research and expose undergraduate students to research early in their education, strengthening the overall research environment of an institution.
"These recent grants underscore the quality of work and constant innovation we see within our Biomechanics Department," said Ken Bayles, interim associate vice chancellor for research and creative activity. "What most excites me about projects like this one is how our faculty are creating exceptional hands-on research experience for our students, preparing them to be leaders in this field after graduation."
Additional funding for student and faculty support has come from UNO's Office of Research and Creative Activity, including the Fund for Undergraduate Scholarly Experiences (FUSE), Graduate Research and Creative Activity (GRACA) and University Committee on Research and Creative Activity (UCRCA) funding. These funds help by initiating student involvement and enabling faculty to pilot ideas prior to external grant submission, making the proposals more competitive.
This research is primarily funded through the NIH's National Institute on Aging. This press release is a summary of the research and does not necessarily represent the official views of the National Institutes of Health.
About the University of Nebraska at Omaha
Located in one of America's best cities to live, work and learn, the University of Nebraska at Omaha (UNO) is Nebraska's premier metropolitan university. With more than 15,000 students enrolled in 200-plus programs of study, UNO is recognized nationally for its online education, graduate education, military friendliness and community engagement efforts. Founded in 1908, UNO has served learners of all backgrounds for more than 100 years and is dedicated to another century of excellence both in the classroom and in the community.
Become a fan of UNO on Facebook and follow UNO's Twitter updates. 
Contact Us
If you have a story idea, news tip, or other question, please email the UNO News team at unonews@unomaha.edu.