ISSUED: (Friday, March 13, 2020 17:00 PM)
CAMPUS ANNOUNCEMENT
UNO campus remains open; classes moving to remote learning mode March 30.
More Information
CLOSE

X
UNO Professor Uses Data to Correctly Predict College World Series Winner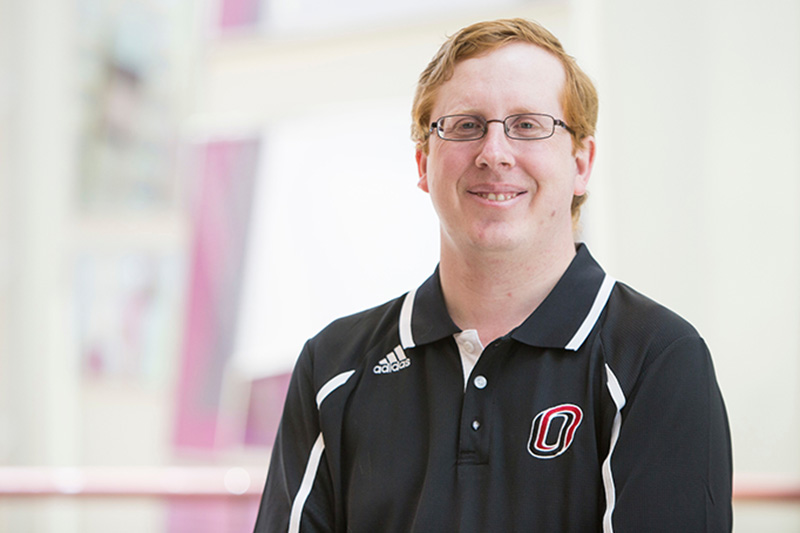 OMAHA – A field of 64 teams, which included the University of Nebraska Omaha's (UNO) own Mavericks, gave way to the final eight who earned a spot in the College World Series (CWS).
At the beginning of the 2019 CWS, teams from Texas Tech, Michigan, Arkansas, Florida State, Vanderbilt, Louisville, Mississippi State, and Auburn made their way to Omaha for the double-elimination tournament which began on Saturday, June 15.
But which one would leave town with a trophy?
As data and analytics have become increasingly commonplace in collegiate and professional sports, it seems appropriate to look for the story hiding in the numbers before play began. In the days leading up to the first pitch, Andrew Swift D.Sc, associate professor within UNO's Department of Mathematics, and Andrew Tew MS, delved into the data to project a winner of the 2019 College World Series.
While the end results ultimately came down to what happened on the diamond at TD Ameritrade Park, the data projected that Vanderbilt would take home the trophy.
And take home the trophy, they did.
Swift and Tew's models looked at each team's road to Omaha, which includes the outcomes and scores of each game played by each team throughout the regular season. The models also take a few other variables into account before running all eight teams through a simulated CWS thousands of times.
The resulting calculations reflect an average of how often each team won in each model and, in turn, could reflect their odds of leaving Omaha as champions. Here is what the data shows:
2019 CWS Projected Winner
Vanderbilt
23.99%
Mississippi State
23.15%
Arkansas
13.83%
Texas Tech
11.48%
Louisville
11.46%
Michigan
7.52%
Florida State
4.32%
Auburn
4.25%
Swift recognized that the data essentially sorted the teams into three groups: The favorites (Vanderbilt and Mississippi State), the middle of the pack (Arkansas, Texas Tech, Louisville), and the underdogs (Michigan, Florida State, Auburn).
The projections held true and the Vandy Boys were crowned champions for the second time in six years. It's worth noting that Michigan represented the underdogs group in the finals and even won a game in the finals series, but like a long pop fly to center field, their CWS championship hopes died on the warning track.
Data can be a helpful tool to predict outcomes based on past results, but what happens on the diamond doesn't always match up.
That's also the beauty of baseball. Never count out the underdog. But this time, it's the projected favorites, Vanderbilt, who left Omaha as champions.
About the University of Nebraska at Omaha
Located in one of America's best cities to live, work and learn, the University of Nebraska at Omaha (UNO) is Nebraska's premier metropolitan university. With more than 15,000 students enrolled in 200-plus programs of study, UNO is recognized nationally for its online education, graduate education, military friendliness and community engagement efforts. Founded in 1908, UNO has served learners of all backgrounds for more than 100 years and is dedicated to another century of excellence both in the classroom and in the community.
Become a fan of UNO on Facebook and follow UNO's Twitter updates. 
Contact Us
If you have a story idea, news tip, or other question, please email the UNO News team at unonews@unomaha.edu.