College World Series Brings Substantial Economic Impact to Omaha, says UNO Professor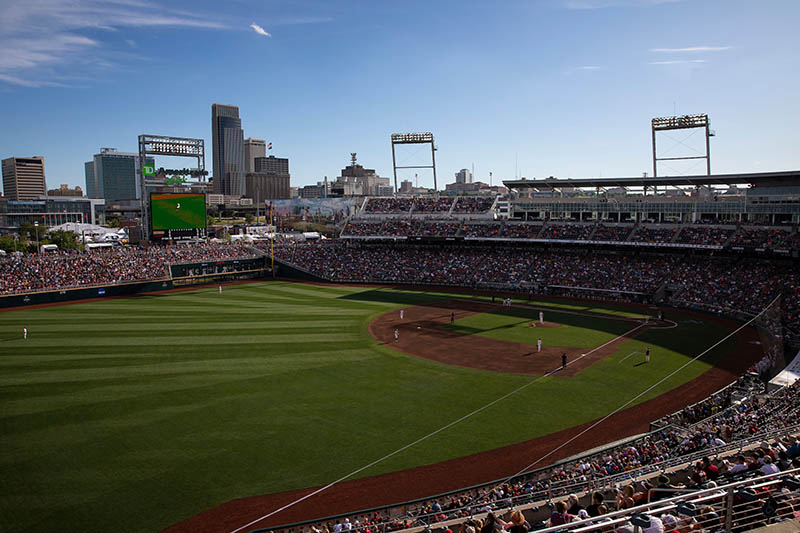 OMAHA – The Omaha World-Herald recently interviewed Chris Decker Ph.D., professor and chair of the Department of Economics in UNO's College of Business Administration about the economic impact of the College World Series.
According to Decker, economic impact projections and studies focus on factors such as how many people from outside Omaha visit the city, attend the games, and spend money at restaurants, hotels, and retailers. A study by CWS of Omaha, Inc. cited in the article found that the event brought in about $70 million over two weeks in 2016.
Decker provides context to these numbers by translating that into jobs created to meet demand. "You've got people living in the community who are experiencing increased income due to that employment," he said. "That's about 800 jobs they wouldn't have had if not for the College World Series."
In addition to the benefit of jobs created to directly support nearby businesses and the CWS itself, the city and state receive an influx of tax dollars due to increased spending. "That is money that gets put into the coffers for the city and the state that can be used for things like road repair and expansions, downtown revitalization efforts, and so on. Those show up not immediately as visible benefits of an event like this, but they ultimately show up."
What isn't clear, according to Decker, is the impact of the city's time in the national spotlight. How many out-of-town CWS fans would return to Omaha outside the CWS? How many viewers nationwide see the Omaha skyline in the background or other key destinations in the city as part of ESPN's coverage and then think about visiting?
"I don't believe impact studies do a good job capturing that legacy effect," Decker said. "Is there an impact there? I would wager yes, but has it been measured? Not to my knowledge."
The full article can be seen in the Omaha World-Herald.
About the University of Nebraska at Omaha
Located in one of America's best cities to live, work and learn, the University of Nebraska at Omaha (UNO) is Nebraska's premier metropolitan university. With more than 15,000 students enrolled in 200-plus programs of study, UNO is recognized nationally for its online education, graduate education, military friendliness and community engagement efforts. Founded in 1908, UNO has served learners of all backgrounds for more than 100 years and is dedicated to another century of excellence both in the classroom and in the community.
Become a fan of UNO on Facebook and follow UNO's Twitter updates. 
Contact Us
If you have a story idea, news tip, or other question, please email the UNO News team at unonews@unomaha.edu.