Chancellor Gold: UNO, UNMC, Nebraska Medicine Boost State's Economy
Chancellor Gold discusses UNO, UNMC and Nebraska Medicine's significant, and ongoing, contributions to the state of Nebraska.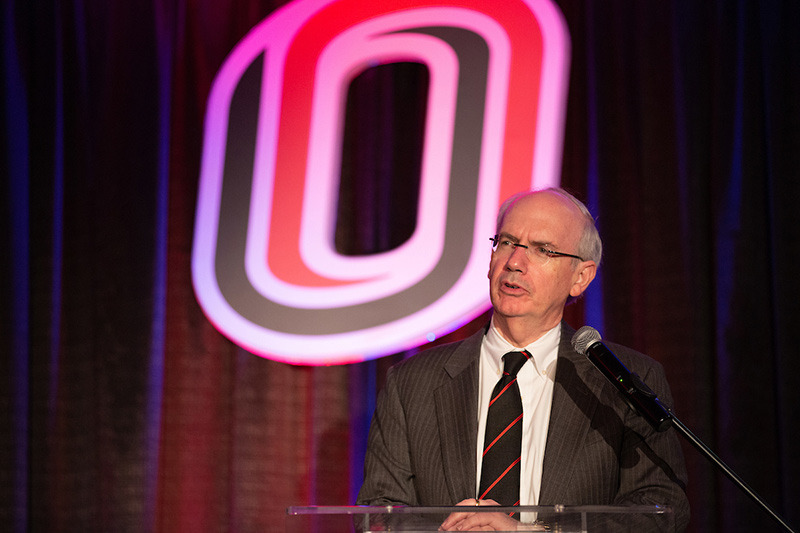 Located only two miles apart, three organizations have a more than $5 billion impact on the state's economy, according to an independent analysis of the university's significant and far-reaching impact on Nebraska's growth and prosperity.
Those are the findings of Tripp Umbach, a leading national consultant with expertise in economic impact studies, regarding the collective impact of the University of Nebraska at Omaha, University of Nebraska Medical Center and UNMC's primary clinical partner, Nebraska Medicine – all based near midtown Omaha.
"These three organizations, along with the entire University of Nebraska system, are an economic powerhouse for the state of Nebraska," said Jeffrey P. Gold, M.D., chancellor of both UNMC and UNO. "UNO, UNMC and Nebraska Medicine each are strong contributors to the area's education, research, health care, innovation, and economic and workforce development.
"The UNMC/Nebraska Medicine mission is to 'lead the world in transforming lives to create a healthy future' and we know that starts here, in each of our communities across the state," Dr. Gold said, noting that UNMC has campuses in Scottsbluff, Kearney, Norfolk and Lincoln. "Additionally, UNO is one of the premier metropolitan universities in the country and provides access to exceptional higher education opportunities for all students, regardless of their background or stage in life."
"A strong vibrant economy is important to our state, but what is most gratifying is that Nebraska Medicine can provide world-class health care directly in the community, without the need for patients to travel long distances," said James Linder, M.D., CEO of Nebraska Medicine. "We are constantly looking to grow and improve the scope of our programs to serve the needs of the region, and to provide clinical research and leaning opportunities for the next generation of healthcare professionals." 
According to Tripp Umbach's findings (based on data supplied by the university for fiscal year 2017-18):
UNO supports 6,255 jobs and has a statewide annual economic impact of $716 million. This includes economic activity driven by more than 3,000 graduates each year, community resources like Baxter Arena and research-driven intellectual property development from world-class faculty.

UNMC/Nebraska Medicine, and its affiliates, have a statewide annual economic impact of $4.8 billion and create and support 42,132 jobs (13,917 direct jobs). Together, they generate $165.1 million annually in state and local taxes and UNMC graduates working throughout Nebraska yield $4.4 billion in economic impact (in 2018 alone).

The Fred & Pamela Buffett Cancer Center at UNMC/Nebraska Medicine generates $8.5 million in state and local taxes. Completed in 2017, the $330 million investment in research and clinical facilities has an annual economic impact of $246.8 million and creates employment for 2,334 Nebraska residents.
"These are significant, and ongoing, contributions to the state," Dr. Gold said. "And, they show the incredible return we provide for Nebraskans' investment. We take our responsibility to the state seriously because we know that when the university is growing, so, too, is the state."
Overall, Tripp Umbach reports that the University of Nebraska has a deep impact on the economic vitality of the state: 
38,000 jobs are supported by NU in total. One out of every 26 jobs in the entire state is directly or indirectly supported by the University of Nebraska.

Approximately one out of every seven working-age Nebraskans holds a degree from a University of Nebraska campus with 11,000 new graduates added to the workforce each year, adding $2.4 billion to the state's economy annually.

Nebraska's well-being is linked to the University of Nebraska with NU employees alone annually providing $100 million in charitable donations and volunteer services. 
About the University of Nebraska at Omaha
Located in one of America's best cities to live, work and learn, the University of Nebraska at Omaha (UNO) is Nebraska's premier metropolitan university. With more than 15,000 students enrolled in 200-plus programs of study, UNO is recognized nationally for its online education, graduate education, military friendliness and community engagement efforts. Founded in 1908, UNO has served learners of all backgrounds for more than 100 years and is dedicated to another century of excellence both in the classroom and in the community.
Become a fan of UNO on Facebook and follow UNO's Twitter updates. 
Contact Us
If you have a story idea, news tip, or other question, please email the UNO News team at unonews@unomaha.edu.