UNO Magazine: Renaissance Role Playing
How one UNO professor is helping bring the past back to life.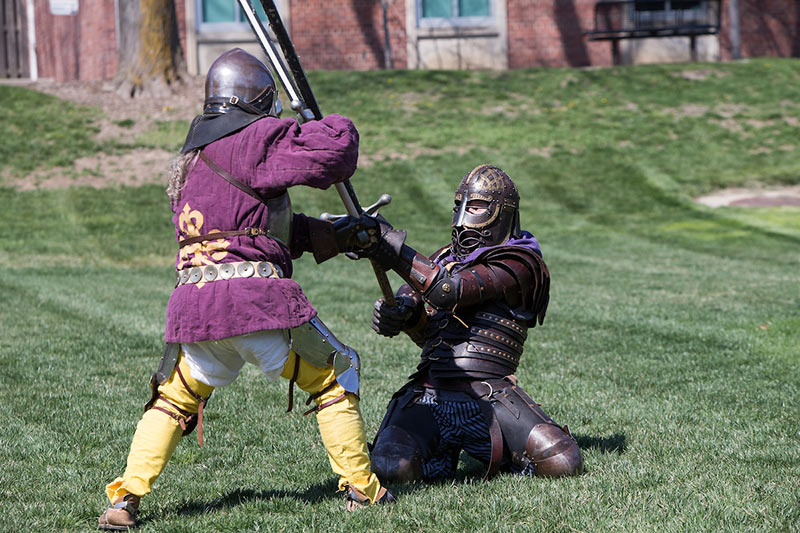 The following story appeared in the
 

most recent issue

 

of the UNO Magazine, which highlighted h

ow professors are serious about play, studying how it aids learning and development, using it to teach math or to aid recovery from a stroke, or just to have fun.

 Read the magazine online as a

 

Flipbook

 

or

 

download a PDF.
---
Growing up in Rapallo, Italy, Martina Saltamacchia, an associate professor of history at UNO, was accustomed to walking by medieval structures. Her students, however, often find it more difficult to comprehend life in medieval Europe when many of them have never seen a building more than 200 years old.
For the past few years Saltamacchia, who is also the director of the Medieval/Renaissance Studies program at UNO, has been leading "roleplaying" sessions in her "World Civilizations I," "Building Cathedrals," "The Medieval University" and "The Crusades" classes.
"I was looking for new ways to reach my students," Saltamacchia said. "I was looking for ways to bring the past to life."
This effort, called "Reacting to the Past" (RTTP), consists of elaborate games, set in the past, in which students are assigned roles informed by classic texts. These class sessions are run entirely by students; instructors only advise and guide before grading students' oral and written work.
For example, one reenactment of the events of the Second Crusade involved playing characters from the time, such as Frederick Barbarossa, King Louis VII and Emperor Conrad. After some brief instructions, the students dove into verses from the Bible, the Quran and other ancient texts before jumping into dialogue with each other. Every student had his or her own agenda, with the ultimate goal of winning the war.
Once the activity is over, students learn that things could have played out much differently. But, as the saying goes, history is written by the victors.
"I immediately feel the difference because when I go back to a normal lesson they start questioning everything I say," Saltamacchia said.
Another way history is brought to life is the annual "Encountering the Past: Costumes, Crafts, & Combat" event organized by Medieval/Renaissance Studies every September in the Pep Bowl. Students have the chance to wear and interact with armor comparable to what was worn by knights in the middle ages, as well as view combat demonstrations provided by the Barony of the Lonely Tower Omaha's chapter of the Society for Creative Anachronism, a group with the aim of studying and recreating mainly Medieval European cultures and their histories before the 17th century.
The armor is heavy, uncomfortable and hot in the summer heat. As students help each other strap on the gear, they experience what soldiers of the era had to endure. 
"Today it is hard for students to get fully engaged into something," Saltamacchia said. "Anything that brings to life the past is something they respond to very well."
Many students get so immersed in the roleplaying experiences that they far above and beyond what is required for class.
For example, when Saltamacchia mentioned that an international symposium on the Crusades would soon be held in St. Louis, ten of her students raised money to attend.
Saltamacchia says it is through "play" in class that has allowed her students to personally experience ancient history in a brand new light.
"The most important thing to realize is that history is not made up of events and dates, but people."
About the University of Nebraska at Omaha
Located in one of America's best cities to live, work and learn, the University of Nebraska at Omaha (UNO) is Nebraska's premier metropolitan university. With more than 15,000 students enrolled in 200-plus programs of study, UNO is recognized nationally for its online education, graduate education, military friendliness and community engagement efforts. Founded in 1908, UNO has served learners of all backgrounds for more than 100 years and is dedicated to another century of excellence both in the classroom and in the community.
Become a fan of UNO on Facebook and follow UNO's Twitter updates. 
Contact Us
If you have a story idea, news tip, or other question, please email the UNO News team at unonews@unomaha.edu.