UNO Magazine: Board Games and Bonding
Criss Library started collecting board games several years ago and has since amassed dozens of titles.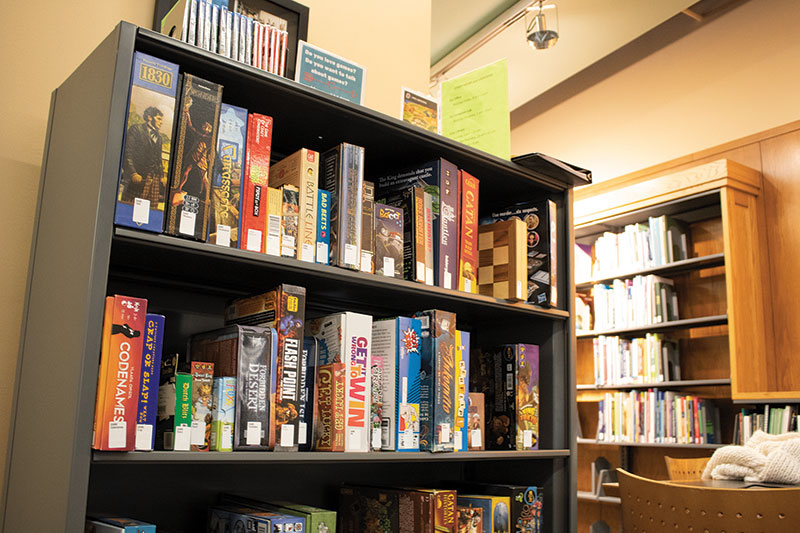 The following story appeared in the
 

most recent issue

 

of the UNO Magazine, which highlighted h

ow professors are serious about play, studying how it aids learning and development, using it to teach math or to aid recovery from a stroke, or just to have fun.

 Read the magazine online as a

 

Flipbook

 

or

 

download a PDF.
---
"Here you can play." Those words might seem unexpected coming from a librarian, but Tammi Owens, outreach and instruction librarian at the Dr. C.C. and Mabel L. Criss Library, and others at UNO are working to change that. 
"Here you can play" is the title of a chapter Tammi Owens, also an assistant professor at UNO, and Criss Library reference associate Claire Chamley recently contributed to a soon-to-be published book on gaming and gamification in academic libraries. 
Criss Library started collecting board games several years ago and has since amassed dozens of titles. The collection, now curated by Chamley, is in circulation and available for checkout. 
"As a library it might seem weird," Owens says. "But university libraries should have more than just an academic resource. With the game collection we're taking care of the whole student. Students need time to destress and engage their brain in different ways." 
When you start breaking it down it's exactly what we're working towards here at the university," Owens says. "What are we about? Learning new things and coming up with new ideas." 
Owens said while they may not be writing a research paper, students are learning how to be creative, solve problems, work with others towards a common goal, and play by the rules. All skills that will benefit them in their lives in the classroom and beyond, she said. 
Charles Fisher, Creative Production Lab supervisor at the Criss Library, agreed. Fisher said he's had great success using gaming in settings like debate camps. 
"Students need to step into the role they're going to play, know the rules and go in prepared from a research basis to operate within those rules," he says. "It tests all of their basic problem-solving skills."  
Fisher says he's also seen board games become more popular among adults as a social pastime. One example? Spieldbound Board Game Café, founded by UNO alum Scott O'Dell. Spielbound offers a library of hundreds of board games that patrons can check out to play in a coffee shop setting. The café recently celebrated its fourth anniversary. 
"Adults are realizing that creative play is rewarding and satisfying in a way that being online isn't," says Erin Painter, creativity librarian at the UNO-KANEKO Library. "It's a lot more meaningful and tangible." 
"Carving that time out for creative play and coming together – especially right now with lots of tension and divisiveness in the world – reminds you what is means to be human and be part of a community," she adds. "Doing that more can help you remember why you want to be a part of a community to begin with." 
Community is a big part of what motivated Chamley to host a regular game night with the same group of friends for the past four years. She said it's something to count on and look forward to as a social outlet. 
"Maybe I had a bad day, but I can forget about everything except how to be this character and make it through this (fictional) desert without dying," Chamley said. 
The storytelling aspect of gaming is a draw for many. "Gaming is such a great way for someone to take a step out of their regular day-to-day and expand their mind," Owens said. "You're developing a whole new world, developing a back story." 
Games like Dungeons and Dragons (also commonly referred to as D&D), a fantasy role-playing game set in an imaginary world that's loosely based on medieval myths, are a perfect example of when storytelling and gaming converge. 
Owens said she's thrilled to see students developing research, critical-thinking , problem-solving and other skills that will also help them navigate the library and their academic lives. 
UNO student Liam al-Hindi said that playing Dungeons and Dragons has taught him "how to tell a good story" over the past few years as a member of the Dungeons and Dragons Club on campus. 
But storytelling isn't the only takeaway al-Hindi has gained from his "passion" for D&D over the years. "I've learned how to push people to succeed when they think they can't, and most importantly, how to understand that there are times in our life that are just up to chance." 
Beyond community, research and storytelling, Owens says there is one big, sometimes overlooked, benefit to playing games: being open to taking risks. 
"Games allow people to fail with a really nice safety net. You can lose and it can even be fun. And it's going to be fine." 
About the University of Nebraska at Omaha
Located in one of America's best cities to live, work and learn, the University of Nebraska at Omaha (UNO) is Nebraska's premier metropolitan university. With more than 15,000 students enrolled in 200-plus programs of study, UNO is recognized nationally for its online education, graduate education, military friendliness and community engagement efforts. Founded in 1908, UNO has served learners of all backgrounds for more than 100 years and is dedicated to another century of excellence both in the classroom and in the community.
Become a fan of UNO on Facebook and follow UNO's Twitter updates. 
Contact Us
If you have a story idea, news tip, or other question, please email the UNO News team at unonews@unomaha.edu.