Student Commencement Stories: May 2019
Congratulations to our newest graduates! At the heart of every Maverick is a story that is still being written.
---
Deena Keilany - College of Arts and Sciences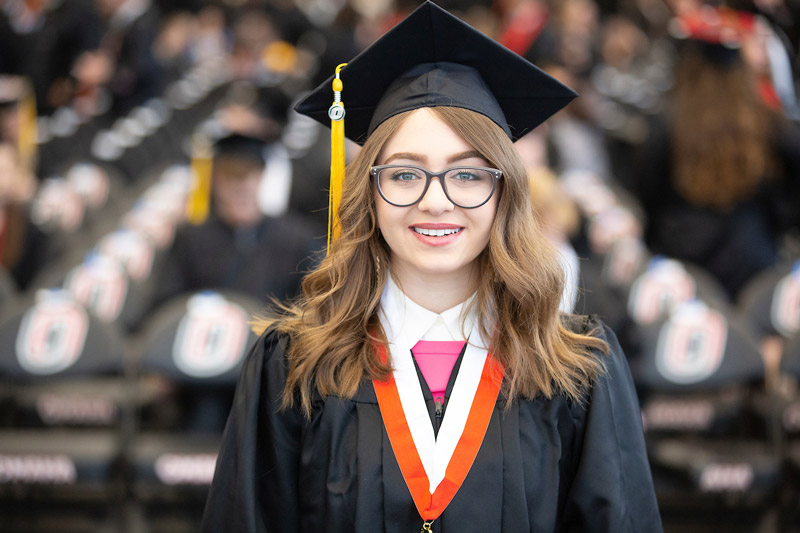 Pursuing a career in law and politics while still remaining diligent in her academic studies didn't leave Deena Keilany much time for anything else. Yet somehow, she managed to do all that and much more.
Throughout her time at UNO, Keilany worked with a plethora of local organizations including Omaha Girls Rock, Nebraska Appleseed and Planned Parenthood of the Heartland. She also interned at Kasaby & Schmoke (an immigration law firm), managed a local campaign for a Nebraska legislative seat and, after a victorious campaign, has since gone on to work with the senator as her chief of staff in the Nebraska Legislature.
As part of her degree in political science, Keilany is graduating with a concentration in law and the courts, as well as with minors in philosophy and leadership and public policy.
"This fall, I will begin my legal education at the University of Nebraska-Lincoln College of Law. Motivated by my desire to live a fulfilling life marked by positive change, I hope to one day put my legal education to use as a public servant dedicated to the betterment of my community."
Keilany, a dual citizen of the United States and Syria and a graduate of Elkhorn High School, attributes part of her success to her UNO peers and their hard work.
"My fellow students' dedication to their academic pursuits and their contributions to university activities are what make UNO's campus atmosphere so vibrant. Their brilliance has inspired me to work harder, explore farther, and be better every day."
With skills in research, public speaking, and strategic planning, coupled with Keilany's deep desire to help others and be a voice for those who may not have one, it is clear that she is not only ready, but fully prepared for a career in law.
---
Mohamed Hassan - College of Business Administration and Graduate College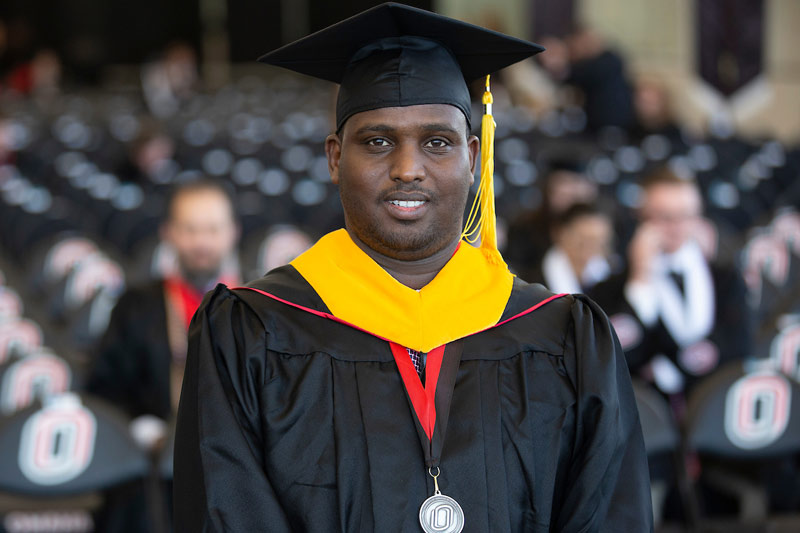 When he was a child, fleeing war-torn Somalia with his family, Mohamed Hassan never imagined his journey back home would involve a detour to Omaha to earn a master's degree.
Initially, the collapse of the Somali government in the 1990s took Hassan and his family to Kenya and the Dadaab Refugee Camp, which is the world's largest refugee camp. It was here that he had the opportunity to enroll in Kenya's education system where he quickly stood out among his peers.
"As the conflict intensified and became protracted, the hope to return to Somalia diminished and every refugee learned to accept the cruel reality of life in Dadaab camp and was now a place to call home," Hassan says. " Despite lack of adequate teaching staff, scarcity of school text books, the pressures of poverty, security problems and harsh weather, many students exceeded expectations and even outshined many Kenyan government schools that were well equipped."
Flash forward to 2016 and Hassan's resettlement to the United States. Already earning degrees in business administration and public administration from universities in Kenya, and serving as an operations officer for the United Nations' Food and Agriculture Organization, Hassan knew his next step was to keep continuing his education.
"I knew I had a unique opportunity to develop myself professionally," he says. "I thought that advancing my education at a reputable institution like UNO is another opportunity to take my career to another level. I always had the passion to learn and strongly believed that education is power."
As he sets forth on his goal to begin helping his home country rebuilt, Hassan said that his time at UNO has provided him a "second home" thanks to friendly people, state-of-the-art facilities and supportive faculty and staff.
"There are a lot of public reforms taking place in the country aimed at improving resource allocation and management; increase program efficiency and effectiveness; and above all, a concerted effort to rebuild public trust in government. I believe that necessary skills I gained from UNO will help participate in the reconstruction of my country."
---
Tiffany Hunter - College of Business Administration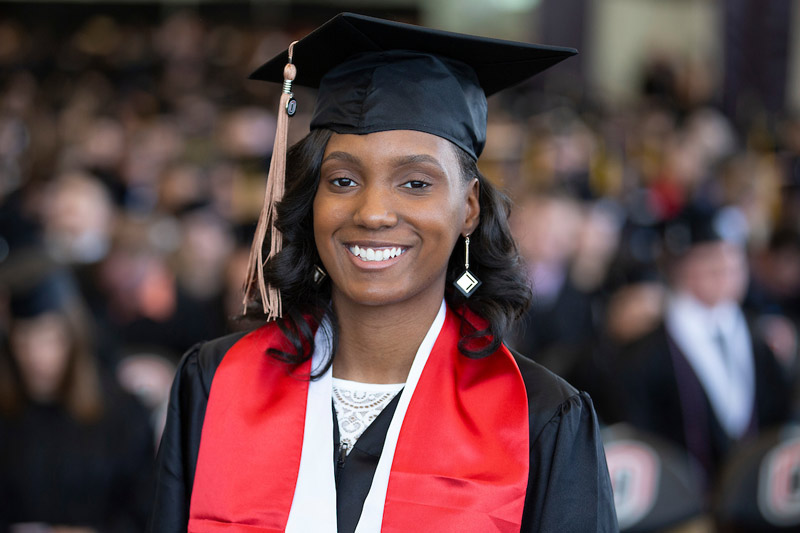 Inspired by growing up in North Omaha, business administration student Tiffany Hunter has her sights set on developing her community's infrastructure and buildings "to contribute to the betterment of the overall community, including public schools."
Pursuing her business degree in real estate and land use, Hunter has developed a passion for real estate and longs to bridge the gap between low-income communities that lack proper economic development and the benefits of commercial real estate.
"I learned how behind the curve North Omaha is compared to other neighborhoods," she says. "West Omaha is fairly nice and developed and South Omaha has a lot of space for small businesses, which benefits their neighborhood economy – but in North Omaha there isn't too much of either of those."
After graduation, Hunter hopes to begin taking the situation head on and she is well on her way.
As a real estate intern for Union Pacific, Hunter garnered helpful, real-world experience that has given her an abundance of valuable skills and abilities that she can use throughout her career. In fact, she was hired by Union Pacific for a full-time position in the Fortune 500 company's finance department.
Because of her great work both inside and outside of the classroom at UNO, Hunter was awarded a highly-coveted national scholarship from the Commercial Real Estate Women (CREW) Network Foundation. As the first UNO student to earn this prestigious scholarship, and as one of just 20 students from across the country to win, Hunter exemplified hard work and dedication to both her current academics and future career.
"Something that people may not realize is how important these scholarships are to people like myself. Even just a $5,000 scholarship is helpful and inspires students to become further engaged in what they are studying and make a change in whatever industry they plan to go into."
---
Sophie Clark - College of Communication, Fine Arts and Media and College of Arts and Sciences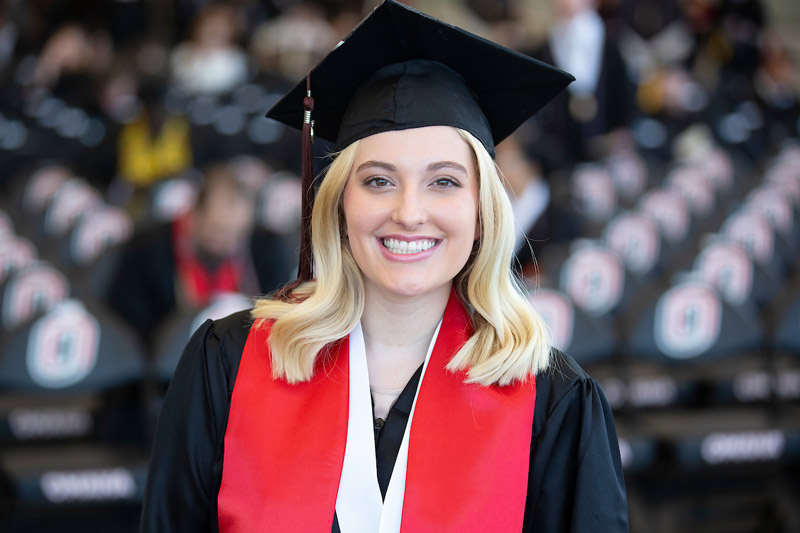 From playing in a band and writing for UNO's literary magazine, to her interest in marketing and honing her communication skills, Sophie Clark's passion that underlies it all is simple. Writing.
The Omaha native and Westside High School graduate wanted to use her college experience to not only learn how to write well, but to also read the work of others. Clark's honors thesis was a reflection of that.
"At the start of Fall 2018, Dr. Morrison encouraged me to build my honors thesis off of my poems in the form of a creative introduction and individual analyses. Therefore, using my English/nonfiction skills, I've written a creative introduction to the work—highlighting overall themes—and also analyzed each poem to examine how it connects to other poems and fits into the collection as a whole."
Going above and beyond an average student's involvement in the classroom, Clark helped her mentor Lisa Fay Coutley, Ph.D., create a publishing course in which the "13th Floor Magazine;" a student publication where Clark has served as an intern, poetry editor, and editor-in-chief; would be published each semester.
"I've always known I wanted to write in some capacity, and creative writing and English are two of my greatest passions," she says. "After graduation, I am considering graduate school, but also am looking to pursue work in marketing or advertising. I've had some great internships during undergrad, like interning in Union Pacific's corporate relations department."
A student with many talents, Clark also performs vocals and plays the keyboard for her band Clark and Company. Along with the Clark triplets (Sophie, Simon, and Cooper) is Cameron Thelander, who represents the "Company" in the band name.
Although most people assume the group is studying music, Clark is quick to turn down that idea. "We all have our interests too...we have different things that we are into, and we love UNO for that."
---
Gaby Amador - College of Education
As a first-generation high school graduate and now a first-generation college graduate, Gaby Amador is passionate about education.
Not only has the South Sioux City native, Thompson Scholar, and Project Achieve student excelled in the classroom, as a teacher education student with dual endorsements in elementary education and English as a Second Language (ESL), but she has become engaged locally, nationally and internationally.
In addition to her experience in the classroom in the Millard School District and teaching Spanish to third grade students at Omaha Public School's Castelar Elementary School, Amador also was a teacher at UNO's Child Care Center, gained education experience abroad in Peru, as well as Trinidad and Tobago, and will be spending the next academic year as an English teaching assistant in Spain thanks to being selected for a Fulbright grant.
"Growing up, my dad always enforced school and talked about its importance. He would say, 'Education is something you will always have. You are so fortunate to live in America where education is free. Don't take it for granted and always do your best.'"
Earlier this year, Amador was selected as the recipient the Senior Vice Chancellor Outstanding Leadership Award and College of Education Dean's Award. In 2017 she also received UNO's Service Learning Award for her work on the College Prep and Family Learning project for the Learning Community of South Omaha, a program that helps ESL families prepare their children for college by providing resources like campus tours and financial aid literacy classes.
Each experience - from engaging with UNO's youngest students at the Child Care Center to her time abroad - she says is something she attributes to being a UNO student.
"Coming from a small town in northeastern Nebraska, moving away from home was a choice I knew I would make since my senior year in high school," she says. "I think back to that and I wonder what would've been different if I had chosen a different school. The experiences that I've had have been incredible and I wonder if I'd have been so successful at a different institution."
---
Brent Reiger - College of Engineering (UNL)

At 6-foot-8 inches, there is no question that Brent Reiger is a natural basketball player; however, it's the type of basketball he plays that has helped him excel during his time as a student on the UNO campus as part of the University of Nebraska-Lincoln's College of Engineering.
An inaugural member of UNO's Wheelchair Basketball team, Reiger has been a standout—even earning a place on the 2017 U.S. Men's U23 World Championships Team. He joined the program when it launched in 2016 and credits his teammates and coach, Mike Kult, for providing him life-changing experiences.
"This team has led to building many lifelong friendships as well as led to many opportunities that I thought I would never have," he says.
Reiger, a Henderson, Neb., native, will be graduating with a Master of Science degree in mechanical engineering. He credits his family for helping him find Omaha and the Peter Kiewit Institute.
"I was drawn to UNO because my sister was already enrolled in the College of Education here when I started my college search, so UNO made the short list," he says. "This allowed me to visit campus a few times and I was really drawn to the fact that a large school can have a small school feel." 
"I am excited to be able to call myself a college graduate. Between getting my bachelor's and master's, the past six years have been filled with more stress and trials then I could have ever expected, but finally have the end in sight makes all that work worth it."
Brent says his next steps after graduation are, first, to get married to his fiancé, Helen, and then begin his career as a mechanical designer. He advises any and all UNO students to take the time to meet new people and try new things.
"The relationships that standout to me are the ones I have built with my classmates of the past six years. These relationships have helped me build a network of young professionals over hours of late night study groups. Getting involved in any way at UNO will help you meet new people as well as create new friendships."
---
Simon Saqueton - College of Information Science & Technology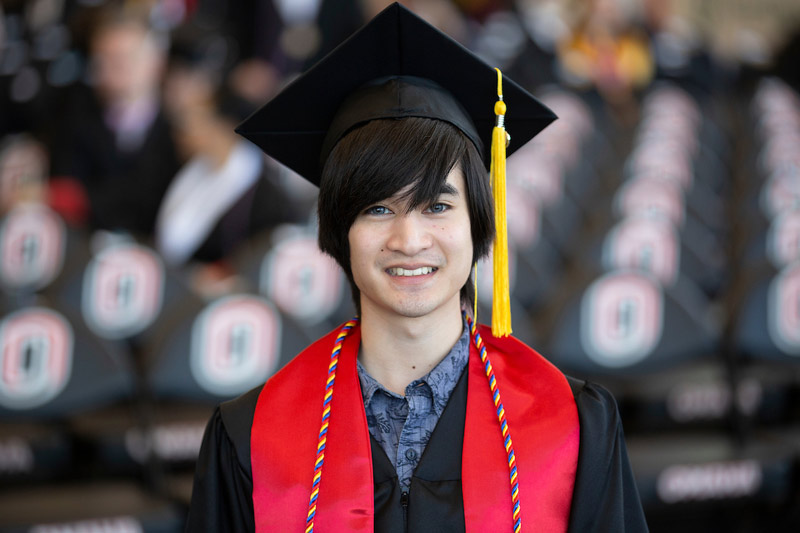 Computer Scientist. Mathematician. Creative Writer. Artist.
No matter what path he's on, Simon Saqueton has made it his own thanks to support from his faculty advisors and his participation in two UNO learning communities: the Goodrich Scholarship Program and University Honors Program.
"Goodrich provided excellent resources in the form of connections to people and academic support; without them I would not be where I am today. The Honors Program also helped by having facilities open 24/7 for a place to study, even late at night, if you don't want to be home."
For his Honors thesis, Saqueton, a computer science and mathematics double major from Papillion, produced an original comic book on time travel. It was part of a course he took outside of his major through the Goodrich Scholarship Program.
"Through the whole semester, I was reading books and comic books that relate to time travel, understanding the theory behind each story to see if it is scientifically possible in our reality."
This experience is one that he says has opened his eyes to many possible career fields.
After graduation Saqueton will work at Omaha-based Werner Enterprises as a software developer; however, he says that he isn't done being a lifelong learner and may return to UNO for a master's degree in something "completely unrelated" to his current degree - like graphic design or data science.
He recommends that all students - whether they are currently enrolled or soon to be enrolled - take the opportunity to explore different courses and opportunities.
"Enjoy your life as a student. Do as much as you can, and commit to them. For example, I know many graduates who regret not studying abroad as an undergrad. Also, you don't have to decide what you want to be yet. What you are studying now may not be something you do in the far future."
---
  
Lauren Doehass - College of Public Affairs and Community Service
While many students were earning their driver's license, Lauren Doehass was earning her high school diploma. At just 16 years old, the criminology and criminal justice major from Garden City, Kansas, was already showing her true Maverick Spirit.
Her tenacity proved to serve her well during her time at UNO, where she spent the majority of her time out of the classroom working for the Transportation Security Administration (TSA). In fact, during the recent government shutdown, Doehass had to balance her studies with the stress of not being able to pay her bills.
"During the government shutdown, my academic advisor, Katie Hansen, reached out to me because she knew I had been affected as a TSA employee," she says. "The due date for my college fees was closely approaching and I was silently drowning. Thanks to the efforts of UNO faculty members, administrative staff, and my direct advisor, I received a hardship support award and was able to push through a very stressful season."
As for Doehass' next step? She says her passion for criminal justice is not tied to a specific job title or agency. Instead, she needs to know that at the end of the day, she is helping people.
"My ultimate goal in life is to find a job that, when I come home at the end of a long day, I know I spent it protecting people from harm. And on the days that I cannot protect from harm, I want to be there to help victims pick up the pieces and seek justice on their behalf.
"In the words of professor Robert Francis Cryne, spoken to a class full of UNO students: 'Whatever you decide to be, be a good one.' At the end of my life, all I desire is to know that I was a good one."
As her undergrad career comes to an end, Doehass says she will remember the love and support she has received from her UNO community.  
"I am honored to be a part of the Maverick family, and I will always be proud to say I 'Know the O.'"
---
Anthony Starke - College of Public Affairs and Community Service and Graduate College
As a graduate of UNO's nationally-ranked public administration doctoral program, Anthony Starke is aware of how important the right support system can be to a person, or a community's success. In fact, it's how he came to UNO in the first place.
After several years working for local nonprofits, Starke realized he needed to learn more about the field and enrolled at Virginia Commonwealth University to pursue his master's degree in public administration.
"I met with my mentor, Susan Gooden, to talk about Ph.D. programs. We looked over the different programs and she highly suggested UNO. I don't think Nebraska had ever crossed my mind before."
It is a decision that has not only helped Starke earn a doctoral degree, but has helped the Omaha community as well.
During his time as a doctoral student, Starke has examined the status of Omaha's safety net programs for Spanish speaking populations; assisted UNO Academic Affairs in analyzing campus community engagement efforts; authored or coauthored four journal articles, two book chapters, and two technical reports; and presented at 11 national and international conferences.
Last year he was named the recipient of the University of Nebraska's Presidential Fellowship award, which assisted him with his dissertation research on how persons of color are affected by public policy. He also found strong support from UNO's faculty and his fellow doctoral students.
"Ethel Williams, my dissertation chair, and Omowale Akintunde, my friend and mentor in the Black Studies Department, have been like surrogate parents to me," he says. "My doctoral cohort have become some of my closest friends. When I moved to Omaha to begin the program I never expected to have such amazing people at my side."
As he prepares to take on a position as an assistant professor of public affairs at the University of Colorado-Denver, Starke says his advice for any incoming graduate or doctoral student attending UNO is to enjoy all the opportunities the campus provides.
"Relish the experience because it is about so much more than what happens in the classroom. It is a process of refinement that works with all of the raw materials that you bring to it. It changes you in beautiful ways that you could not begin to imagine. Let it."
About the University of Nebraska at Omaha
Located in one of America's best cities to live, work and learn, the University of Nebraska at Omaha (UNO) is Nebraska's premier metropolitan university. With more than 15,000 students enrolled in 200-plus programs of study, UNO is recognized nationally for its online education, graduate education, military friendliness and community engagement efforts. Founded in 1908, UNO has served learners of all backgrounds for more than 100 years and is dedicated to another century of excellence both in the classroom and in the community.
Become a fan of UNO on Facebook and follow UNO's Twitter updates. 
Contact Us
If you have a story idea, news tip, or other question, please email the UNO News team at unonews@unomaha.edu.