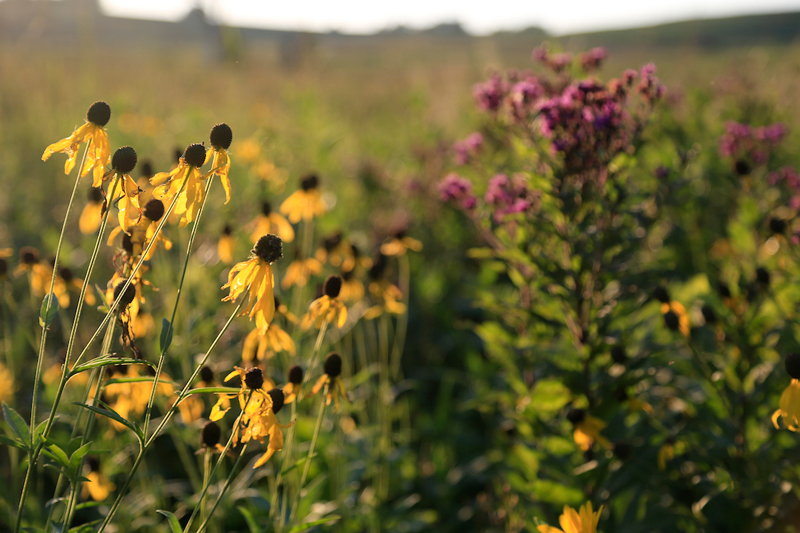 The saying goes that April showers bring May flowers, but according to a pair of new University of Nebraska at Omaha (UNO) studies, controlled burns can also play an important role in plant growth. Among the takeaways: burning in the fall under the right circumstances can result in more wildflowers.
One of the studies, published in "Rangeland Ecology and Management," looks at 34 years of prescribed tallgrass prairie burns in Nebraska. Timothy Dickson, assistant professor of biology and director of Turkey Creek Preserve, Thomas Bragg, professor of biology and director of UNO's nature preserves, and Barbara Hayes, an environmental scientist, conducted the research at UNO's Glacier Creek Preserve, a 424-acre preserve located in north-central Douglas County, Nebraska.
The group found annual spring and summer burns increased tallgrass plant production, while annual fall burns led to a boost in wildflowers. Switching between the different seasons led to a middle ground, what the researchers call an intermediate stage. Burning just once every four years, a common practice in nature preserves, did not have a measurable impact on production of flowers or grass.
"Dr. Bragg started a great study when I was just a child," Dickson said. "This is the first long-term study that looks at both burn frequency and seasons in North America. Beyond prairie management, our findings are pointing to future research questions about grazing fields that could help ranchers be more efficient."
Although the study area was not grazed, if the same results hold true for areas managed for forage production, ranchers could burn in the fall as well as the spring, spreading the release of smoke over longer periods of time instead of concentrated spring burns that can dramatically impact downwind air quality.
In the other study, published by "Ecosphere," Dickson digs into soil temperatures. Burning and mowing in any season can lead to more overall plant production, but the reason why that happens has been a mystery. One popular idea is that burning and mowing increase soil temperature.
Dickson compared plant production and soil temperature after both mowing and burning, finding both actions led to increased growth but that only burning impacted soil temperatures. His conclusion: soil temperatures aren't the big factor driving growth; instead, it might be increased access to light or nutrients.
UNO's Glacier Creek Preserve, managed by the Department of Biology, is active in prairie management research and practice. Information about the preserve is available online.
About the University of Nebraska at Omaha
Located in one of America's best cities to live, work and learn, the University of Nebraska at Omaha (UNO) is Nebraska's premier metropolitan university. With more than 15,000 students enrolled in 200-plus programs of study, UNO is recognized nationally for its online education, graduate education, military friendliness and community engagement efforts. Founded in 1908, UNO has served learners of all backgrounds for more than 100 years and is dedicated to another century of excellence both in the classroom and in the community.
Become a fan of UNO on Facebook and follow UNO's Twitter updates. 
Contact Us
If you have a story idea, news tip, or other question, please email the UNO News team at unonews@unomaha.edu.