Students, Projects Shine at Honors Symposium
published: 2019/04/19
contact: Charley Steed - University Communications
phone: 402.554.2129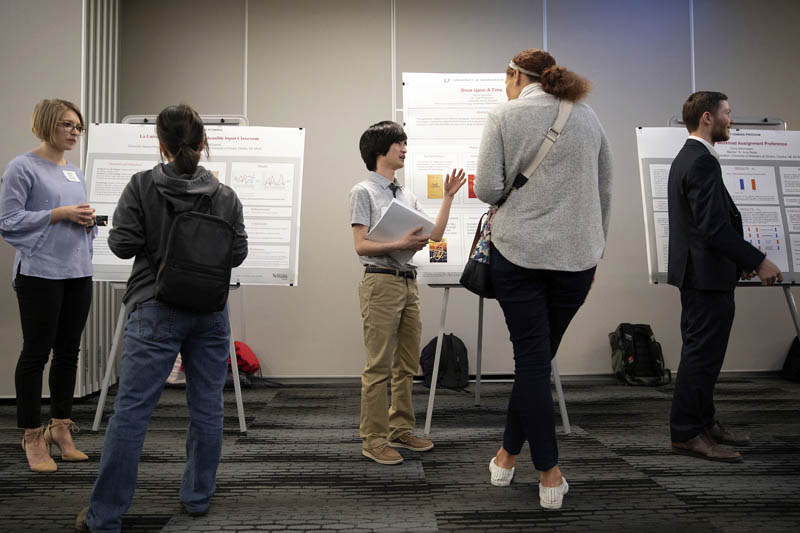 From AIDS research to dance choreography, a collection of 31 student projects from across each of UNO's six colleges were on recently on display as part of the 2019 University Honors Program Symposium, which was held on Thursday, April 18, in the Milo Bail Student Center Ballroom.
The event, which celebrates the scholarly and creative work of University Honors Program students as they approach graduation and the completion of their degrees, was attended by a UNO administrators, faculty and staff, as well as family members and supporters.
"The Honors program is truly remarkable here," UNO Chancello Jeffrey P. Gold, M.D. told the crowd at Thursday's symposium. "As I've had the opportunity to walk around and look at some of the poster boards, but, more importantly as I've had the opportunity to meet and talk with some of the faculty and mentors who have guided you, and as I've had the opportunity to meet many of you at the events I've had the honor of participating in over the last couple of years, it's clear this is a truly remarkable group of young women and young men."
Students - both incoming fresmen and current students - have the opportunity to apply to the UNO University Honors Program, which is run by Lucy Morrison, Ph.D.
All told, thousands of UNO students have been a part of the program in its 50-plus year history. 
Just some of this year's accomplished students and presentations included:
---

Elise Beal
Bachelor of Science in Education, Physical Education
Thesis: "Dance: Music, Movement, and Performance"

Whether it's a stage performance in front of thousands, or a one-on-one therapy session, Elise Beal knows that the human body, mind and soul can be transformed through music and dance.

As a Physical Education major, as well as a Dance Minor student at Creighton University, Elise hopes her years of ballet and choreography experience can be used to improve the lives of individuals experiencing mobility issues.

"Since I am a dancer, physical therapy seemed like a profession that incorporates the mind body connection which I have fostered in dance," she explains.

In her Honors Thesis, the Omaha native details the creative process of choreographing, staging and performing an original piece, which she will be performing on May 5.

"I wanted to highlight an understudied aspect of dance since many people are unaware of the time and planning that goes into developing a piece. My project aimed to bring to light the different aspects that a choreographer has to think of when staging their work."

After graduation, Elise plans to pursue a doctorate in physical therapy at Washington University in St. Louis. Her recommendation for current and future UNO University Honors Program students? Don't be afraid to explore outside your major.

"During my fall semester senior year, I took a colloquium course in Omaha Art. The course opened my eyes to the different mediums and styles of art found in Omaha. I would recommend trying courses that interest you in the Honors Program and allow yourself to discover new ways of learning."


---

Sam Underwood
Bachelor of Science in Architectural Engineering
Thesis: "Application of Effective Noise Control Strategies in Speech Perception Testing Rooms"
When building a new facility, many may first think about looks or space, but Sam Underwood's mind immediately goes to how a building sounds.

As a student earning a bachelor of science in architectural engineering degree on the UNO campus through UNL's College of Engineering, Sam plans to use his degree as an acoustical consultant in the architectural engineering industry. This means he will ensure the "peace and quiet within our homes, hospital and offices" through the work he does as a consultant.

For his University Honors Program thesis, Sam worked with the team from the Center for Brain, Biology and Behavior beneath UNL's Memorial Stadium.

"The goal of the project was to take acoustical measurements, identify the metrics that are the most useful in determining how suitable a space is for speech perception testing, and make treatment recommendations for the space. A key part of my findings is that speech perception testing standards are rather under-developed, and further research needs to be done on what levels of ambient noise are permissible for speech perception labs."

In addition to his work in the classroom, Sam is a member of multiple student committees and organizations, Sam exemplifies hard-working leadership. Along with his involvement specific to engineering includes his involvement in multiple honor societies including Phi Kappa Phi and Tau Beta Pi (engineering honor society).

For any students who may be just starting their time as a member of the UNO University Honors Program, Sam says that students should use their time in college to "branch out."

"The Honors colloquium are great opportunities to do this, but I also encourage students to consider taking advantage of the other non-contracted Honors courses available--many align with UNO requirements while still allowing students to develop themselves in other areas."


---

Simon Saqueton
Bachelor of Science in Computer Science and Mathematics
Thesis: "Once Upon a Time"
For Simon Saqueton, computer science and mathematics go together like Batman and Robin - much like his interest in fantasy and science fiction helped inspire his University Honors Program thesis.

"Through the whole semester, I was reading books and comic books that relate to time travel. Understanding the theory behind each story to see if it is scientifically possible in our reality. With this exposure, I am writing and drawing my own comic book centered around time travel."

Although Simon was born in Tampa, Florida, he has lived in Papillion, Nebraska, for most of his life. He joined UNO after graduating Papillion La Vista High School and not only became a member of the University Honors Program, but of the Goodrich Scholarship Program as well.

He originally began his college career as a mathematics major, but quickly learned that he could apply many of the same skills to computer science as a double major. Now he will be graduating with both degrees in May.

He recommends that all future Honors students take advantage of opportunities like early registration and support facilities.

"Early registration is the most amazing benefit that I've experienced here at UNO. I really appreciate it, happy to get all the classes I want. I also like that the Honors Program facilities are open 24/7, having a nice place to study, even late at night if you don't want to be home."


---

Sophie Clark
Bachelor of Fine Arts in Creative Writing and English
Thesis: "Sunday Dinners"
Any author will tell you that to craft a great piece of literature requires time and a passion for the written word, which is exactly why Sophie Clark has dedicated her academic career at UNO to writing every opportunity she had - culminating in a collection of 25 poems she calls "Sunday Dinners" that she presented at this year's Honors Symposium.

"At the start of Fall 2018, Dr. Morrison encouraged me to build my Honors thesis off of my poems in the form of a creative introduction and individual analyses. Therefore, using my English/nonfiction skills, I've written a creative introduction to the work--highlighting overall themes--and also analyzed each poem to examine how it connects to other poems and fits into the collection as a whole."

A double major earning degrees in Creative Writing and English, Sophie was involved with "13th Floor Magazine," UNO's literary magazine since she was a freshman. During that time she has served as an intern, poetry editor and editor-in-chief. In fact, she even helped design a course where students could help produce the magazine each semester.

"Above anything else, I wanted to use my college experience not only to learn how to write and write well, but to expand my creative horizons and read others' works. UNO's Writer's Workshop is unique in that it allows students a safe space to develop their creative work and gain valuable feedback."

After graduation, Sophie plans to pursue either graduate school or a job in marketing or advertising, thanks to her experience as an intern in Union Pacific's Corporate Relations Department. Her advice to future students? Don't hesitate to reach out for help if you need it.

"The Honors Program is there to guide you to success. Keep up with the requirements and take as many courses as you can, because I have experienced nothing but wonderful discussions and connections with other students. I am proud to graduate from the Honors program, my parents are proud and am so glad I stuck with it."
---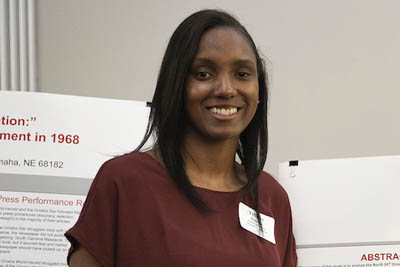 Tiffany Hunter
Bachelor of Science in Business Administration
Thesis: "Revitalizing the Street of Dreams"
North Omaha has meant a lot to Tiffany Hunter. Not only is it where she grew up and went to school, including graduating from Omaha Central High School, but it is where she hopes she can make a significant impact as a commercial real estate developer.

Tiffany's goal, to redevelop the North 24th Street corridor, from Ames to Cuming Street, not only helped her develop her thesis, but even helped her achieve a coveted $5,000 scholarship from the Commercial Real Estate Women (CREW) Network Foundation in 2018.

"My thesis project is on how commercial real estate development can be an impetus for economic development in a low-income community. For my project, I've consulted several people in the local community and multiple real estate professionals in Omaha."

As an intern for Union Pacific, Tiffany has gained experience communicating with customers, valuating properties and drafting, or evaluating, real estate contracts. She plans to transition from an intern to a full time employee after graduating in May.

"I want to get involved in my community by working on developing its infrastructure and buildings to contribute to the betterment of the overall community, including public schools," she explains. "Many people don't realize how important the surrounding real estate is to how those schools get funded. The property taxes in an area go to support schools, and in the community I grew up in, there are a lot of delinquent property taxes due to abandoned properties and the lack of investments."

She encourages anyone with the opportunity to qualify for the University Honors Program to take full advantage of the resources it offers.

"The University Honors Program is very effective at its job, which is to develop students and push them to become the best version of themselves. The program has exposed me to a wide variety of disciplines and helped me become knowledgeable on a host of topics from art to business startups. Also, the program allowed me to challenge myself by becoming an independent and critical thinker not afraid to step outside of the box and challenge the 'norms'."


---

Mark Carter
Bachelor of Science in Neuroscience
Thesis: Current Challenges Facing Physical Therapists in Urban Nebraska
From early on in his UNO career, Kearney native Mark Carter knew he wanted to help people be healthy. It was why he was named to the inaugural class of UNO's Urban Health Opportunities Program (UHOP) and why he wanted to understand the issues facing healthcare providers, specifically physical therapists, in the state.

In his project, Mark not only found that many patients need to travel to urban centers like Omaha, Lincoln and Grand Island because so few physical therapists are employed in their counties, but the physical therapists who are seeing these patients are also struggling.

"I orally interviewed physical therapists in Omaha and asked questions to gauge what the most important issues are facing physical therapists in general, what issues is Nebraska facing compared to other parts of the country and Omaha community as well," he explains. "All of them referenced in insurance, but also interprofessionalism - working with other providers, technological changes in the field and also patient education due to limited resources."

Mark hopes his thesis research is the start of a long future of collecting important healthcare data that can be shared with policymakers and other influencers to help improve statewide health.

"I think it's really important, as long as we not only keep acquiring the knowledge that we need but also spreading awareness of the issues and also what I, individually, could do as a patient to be more aware of options like telehealth."

Mark credits the Honors program for helping introducing him to research and data collection methods through a colloquium course that had him interview community members about their experiences with religious violence. Utilizing the resources of the University Honors Program is something he says any Honors student should do.

"The classes that I've taken have pushed me to go above and beyond in terms of the things I'm seeking out of classes and what knowledge I am trying to gain and otherwise wouldn't know if I had been less involved."
---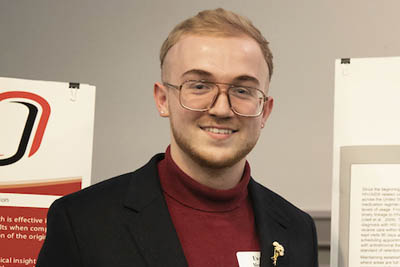 Evan Meduna
Bachelor of Science in Social Work
Thesis: Case Manager and Client Relationships for HIV Related Care Services in Rural Areas
Many individuals and families across rural Nebraska lack the same resources found in urban, metropolitan settings like Omaha. This can often mean that these same individuals and families do not have the ability to vital services to deal with the treatment and management of chronic, sometimes deadly diseases like HIV and AIDS. It is a reality that Evan Meduna hopes to help change. 
"I had the opportunity, as part of my thesis practicum as part of the social work program to work with the Nebraska AIDS Project and I was a case manager on staff there," he explains. "What I did was work one-on-one with clients to get the services that they needed for everything from rental needs, utilities assistance - you name it - anything tied to financial stability for people living with HIV."
A native of Fremont, Nebraska, Evan will graduate in May and has already been accepted to a graduate program at Westchester University in Pennsylvania. Ultimately he hopes to continue his passion for social work and take a graduate assistant where he can continue to make an impact in communities dealing with HIV as well as resources for LGBTQIA individuals. 
"Social work is definitely been a program that I have been interested in since high school," he says. "I had a friend who experienced a lot of trauma growing up and he had a great caseworker for a good majority of their childhood and told me great things about social work and what it's done for them."
In providing advice for future members of the Univeristy Honors Program, Evan says to utilize the resources available across campus.
"Always reach out professors in the program, especially Dr. Morrison, was always great at meeting me where I was. I would say I wasn't always the most involved person in the program but when I needed help from them they were absolutely right there."
About the University of Nebraska at Omaha
Located in one of America's best cities to live, work and learn, the University of Nebraska at Omaha (UNO) is Nebraska's premier metropolitan university. With more than 15,000 students enrolled in 200-plus programs of study, UNO is recognized nationally for its online education, graduate education, military friendliness and community engagement efforts. Founded in 1908, UNO has served learners of all backgrounds for more than 100 years and is dedicated to another century of excellence both in the classroom and in the community.
Become a fan of UNO on Facebook and follow UNO's Twitter updates. 
Contact Us
If you have a story idea, news tip, or other question, please email the UNO News team at unonews@unomaha.edu.