Escobar-Serrano Named Truman Fellowship Finalist
published: 2019/04/29
contact: Charley Steed - University Communications
phone: 402.554.2129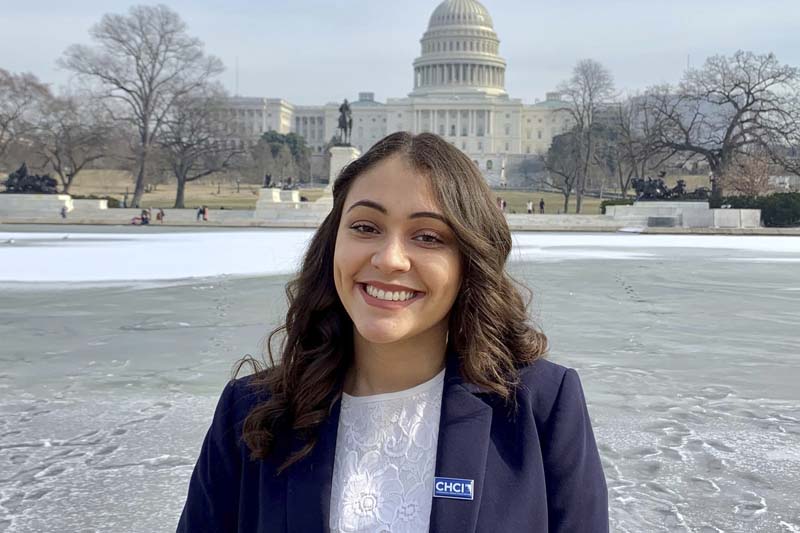 Alejandra Escobar-Serrano was recently selected as a Truman Fellowship Finalist from among a pool of more than 800 applicants. She recently returned to Omaha after a semester-long internship in Washington D.C. with the Congressional Hispanic Caucus Institute.
Junior Alejandra Escobar-Serrano knew when she came to UNO that she would spend her time as a student making a difference in the community. That drive and initiative is what helped the political science and business major, who is also a first-generation student, be named alongside 198 other students as a finalist for the Harry S. Truman Scholarship.
For 40 years, the Harry S. Truman Scholarship Foundation has been supporting students from across the country, awarding approximately 60 scholarships each year to junior-level college students in a public-service related degree program to help support their studies.
Despite not being named one of the 60 scholarship recipients for 2019, Escobar-Serrano's journey to rise to a finalist position from well over 800 other applicants is evidence of her commitment to the community and to education.
"A lot of what I wrote about in my application for the Truman Fellowship was about mentoring students because I volunteer my time and give back to my old high school, South High, and provide my time to help edit their essays and encouraging them to go into higher education," she explains. "That is my focus; getting more people of color into higher education."
In addition to her work as a mentor, Escobar-Serrano is a member of the UNO University Honors Program, CBA Scholars Academy, the Beta Gamma Sigma Honor Society and even just finished a three-month internship in Washington, D.C., as part of the Congressional Hispanic Caucus Institute.
"They partner us with a member of Congress and so I interned as the House of Representatives and worked to understand the issues that happen at the federal level."
As part of her application to be a Truman Scholar, Escobar-Serrano had to find a way to get from her internship in Washington, D.C., to do an in-person interview in Colorado with the scholarship program's review board. That is where UNO stepped in to help her find a way to cover her airfare and hotel.
"I was incredibly thankful for the support from UNO and from the National Scholarship and Fellowship Office," she explains. "Dr. Morrison and the office were incredible in helping me with scheduling interviews and gathering UNO faculty to do mock interviews with me. They worked around my schedule in D.C. and so that was incredibly helpful that they were able to accommodate and help me."
Escobar-Serrano already has plans to participate this summer in Princeton University's Public Policy and International Affairs Fellowship Program and use that as a springboard into graduate school once she earns her degree from UNO. Her goal? To find ways to increase more access to higher education for underserved populations.
"I appreciate the support from the UNO community, especially through my first year in college. I want to provide that to other students in the future."
About the University of Nebraska at Omaha
Located in one of America's best cities to live, work and learn, the University of Nebraska at Omaha (UNO) is Nebraska's premier metropolitan university. With more than 15,000 students enrolled in 200-plus programs of study, UNO is recognized nationally for its online education, graduate education, military friendliness and community engagement efforts. Founded in 1908, UNO has served learners of all backgrounds for more than 100 years and is dedicated to another century of excellence both in the classroom and in the community.
Follow UNO on Facebook, Twitter, Instagram, TikTok, LinkedIn, and YouTube.