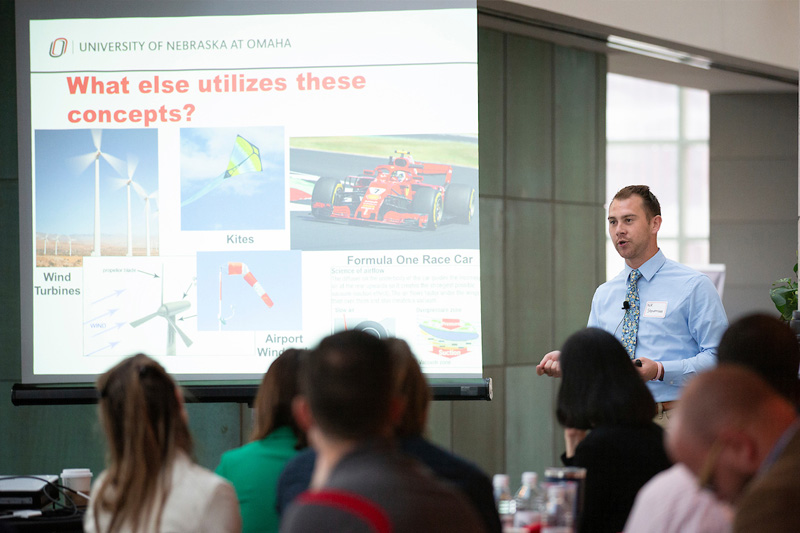 The University of Nebraska at Omaha's (UNO) newest center will help grow campus teaching, research and outreach programs to meet a pressing state and national need in workforce development and interdisciplinary STEM projects surrounding research as a pedagogical tool for life-long learning.
On Thursday, May 30, the Nebraska Coordinating Commission for Post-secondary Education (CCPE) reviewed and unanimously approved the creation of the Science, Technology, Engineering and Mathematics Teaching, Research and Inquiry-Based Learning (STEM TRAIL) Center, commenting positively on how the center will meet the needs of the community. The center, which received University of Nebraska Board of Regents approval in March, will support existing UNO STEM programs and provide the infrastructure to grow and establish new efforts.
Organizers say they will measure success by gains in recruitment, retention and graduation in STEM disciplines; training lifelong learners for key workforce needs in Nebraska; increased external funding for STEM programs; and engagement with stakeholders including the area school districts.
Christine Cutucache, UNO's Haddix Community Chair of Science, will serve as acting executive director of the center until a permanent director is established. She said she expects to see more interdisciplinary STEM initiatives at UNO, and in collaboration with partners around the world, as a result of the administrative support and structure the center will provide.
"The conversations I've had with faculty and community members about this initiative have been energizing," Cutucache said. "We are excited to engage all learners through research as a pedagogical tool to engage in inquiry-based practices to lead to innovations across STEM disciplines. With this new support, we aim to grow STEM educational pathways and opportunities in Nebraska."
The center proposal emphasizes the national demand for STEM professionals, including teachers, citing the need for even more aggressive action to train students who can fill these high-demand, high-skill and high-wage careers.
"The proposed STEM TRAIL Center will be uniquely positioned to capitalize on this work and will provide the necessary organizational structure, vision, and direction necessary for taking UNO STEM to the next level nationally," it reads.
The center is a collaboration between UNO's College of Arts and Sciences, College of Education, and College of Information Science and Technology. The executive director and UNO's STEM community chairs will work in collaboration with a steering committee and subcommittees to direct and oversee center operations.
"The conversations I've had with faculty and community members about this initiative have been energizing,"
- Christine Cutucache, Haddix Community Chair of Science
A combination of grant and university funds will cover new administrative personnel. Faculty hope to identify a shared physical space for center operations, with a long-term goal of a facility specifically for STEM efforts.
STEM is one of UNO's academic priorities. UNO offers a wide variety of undergraduate and graduate programs in STEM fields, including (but not limited to) aviation, bioinformatics, biology, biomechanics, biomedical informatics, chemistry, computer science, computer science education, cybersecurity, geography, geology, IT innovation, management information systems, mathematics, and mathematics education, science education (biology-education; chemistry-education; physics-education) and physics with strong collaboration among all UNO colleges. The STEM Leadership Team also leads extensive co-curricular programming and outreach programs aimed at engaging K-16 students in STEM fields.
Learn more in this Maverick Minute interview:
Read more in the Omaha World-Herald:
About the University of Nebraska at Omaha
Located in one of America's best cities to live, work and learn, the University of Nebraska at Omaha (UNO) is Nebraska's premier metropolitan university. With more than 15,000 students enrolled in 200-plus programs of study, UNO is recognized nationally for its online education, graduate education, military friendliness and community engagement efforts. Founded in 1908, UNO has served learners of all backgrounds for more than 100 years and is dedicated to another century of excellence both in the classroom and in the community.
Become a fan of UNO on Facebook and follow UNO's Twitter updates. 
Contact Us
If you have a story idea, news tip, or other question, please email the UNO News team at unonews@unomaha.edu.