Service Learning Projects Provide Educational Support for Joslyn Art Museum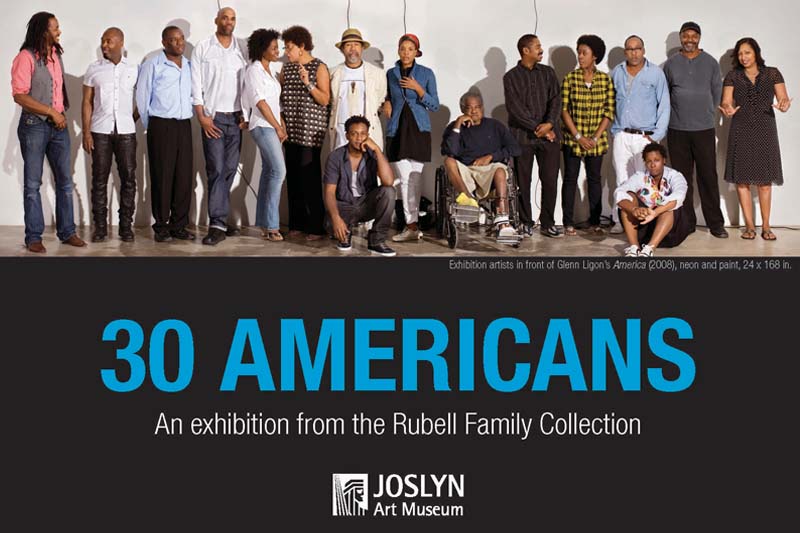 Those traveling to Joslyn Art Museum in the coming months may experience the results of two recent service learning projects that UNO students completed last semester.
Each effort is set to play a major role in the experience of families and young learners, reflecting just a small sampling of the important community partnerships UNO students, faculty and staff engage in each and every day through service learning.
Family Gallery Guide
Public Art Curriculum Guide
For information on all the different options the Service Learning Academy provides, visit sla.unomaha.edu.
---
Family Gallery Guide
Beginning on Saturday, Feb. 2, Joslyn opens its newest exhibition: "30 Americans." The exhibit, which will be on display through Sunday, May 5, highlights three decades of work from contemporary African American artists. Last semester, Peggy Jones, associate professor of black studies, led her class in a collaborative service learning project with Joslyn and students from Nathan Hale Middle School.
The effort was part of the UNO Service Learning Academy's P-16 Initiative, where students from UNO are partnered with a P-12 school and community member for a semester-long service learning project. With support from Joslyn, the two classes were tasked with creating a document that families exploring the "30 Americans" exhibit could use to prompt important discussions on race, culture and identity.
"We discovered how cultural realities can affect aesthetic judgements," Jones explained. "For example, there were Karen students from Burma (Myanmar) who shared experiences of oppression there and here in the U.S., along with friendships and positive exchanges."
Laura Huntimer, director of school programs and interactive media at Joslyn, says the service learning experience is one that is core to the museum's mission.
"Hearing what students want to know more about; listening to their opinions and ideas; and developing materials for art interpretation essentially 'by students for students' is a vital part of that mission," she said.
Ultimately, Jones says the experience is one that prompted important conversations between age groups that she hopes will be reflected in the conversations parents have with their children as they explore the exhibit.
"This exhibit offers many rich areas for discussion in these turbulent political times. The guide comprises verbal and visual aids to enrich a surface viewing, along with prompts to create the opportunities for personal connections."


---

Public Art Curriculum Guide
Public art is one of the most common but also misunderstood forms of art. As part of a larger effort between Joslyn, Omaha by Design and the Omaha Public Art Commission, students from Matt Patton's University Honors colloquium course spent the Fall 2018 semester learning about and visiting various public art spaces throughout the metro area in order to develop curriculum guides that the Joslyn could share with area teachers that features some of the work created through the mural arts team from Joslyn's Kent Bellows Mentoring Program.
Patton says some of the big lessons his students learned in working on the project were the realities of public art scarcity, with many public art projects are concentrated in some areas while other areas have none, as well as gaining an appreciation for all the work that goes into creating course curriculums.
"I am very proud of the fact that the students created a map of Omaha's public art inclusive of the walking tours they designed and the public art deserts that exist throughout the city," he explained. "Their application of knowledge was a lot of fun to watch unfold throughout the semester."
Huntimer says an understanding of how art and museums like the Joslyn are part of the larger community is one of the major benefits of partnering with UNO on service learning projects.
"When students are given the opportunity to be heard and to make a difference, you better be ready because they will blow you away," she said. "Many times projects result in tangible or digital interpretive materials that will be used by young Museum visitors or by children in a school classroom. Who better to create something for students, than students?"
Patton agrees and hopes more faculty take advantage of what service learning efforts have to offer.
"Not only do students get to apply what they're learning, they get to do so in ways they know are helping the community. Each service learning course takes on a life of its own and enriches the learning experience and these experiences stick with students far beyond the semester. For me, nothing can beat this."
About the University of Nebraska at Omaha
Located in one of America's best cities to live, work and learn, the University of Nebraska at Omaha (UNO) is Nebraska's premier metropolitan university. With more than 15,000 students enrolled in 200-plus programs of study, UNO is recognized nationally for its online education, graduate education, military friendliness and community engagement efforts. Founded in 1908, UNO has served learners of all backgrounds for more than 100 years and is dedicated to another century of excellence both in the classroom and in the community.
Become a fan of UNO on Facebook and follow UNO's Twitter updates. 
Contact Us
If you have a story idea, news tip, or other question, please email the UNO News team at unonews@unomaha.edu.