UNO Magazine: Tweet. Post. Snap.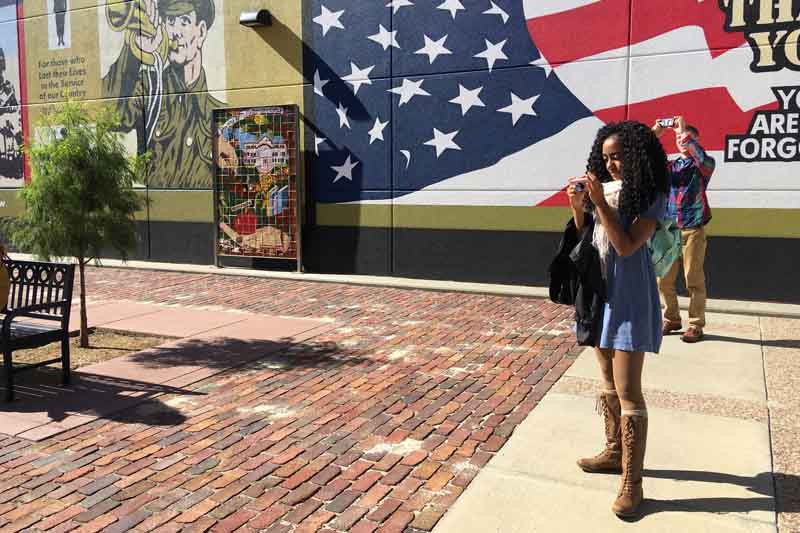 UNO student Kylie Kight collects data for a social media audit of Nebraska City to help the area leverage new technologies to improve civic engagement.
The following story appeared in the most recent issue of the UNO Magazine, which highlighted many of the ways UNO touches all part of the state of Nebraska. Read the magazine online as a Flipbook or download a PDF.
-----
Over the past decade, social media have become key to how people stay connected. This has meant major shifts for how communities spark new interest in civic engagement.
This past fall, UNO students from Jeremy Lipschultz's Social Media Measurement and Management course teamed with the University of Nebraska Extension offices in Ashland, Ravenna and Nebraska City, as well as the Purdue University Center for Regional Development and the University of Nebraska-Lincoln (Nebraska) Agricultural Economics Department, to address how rural communities could leverage social media to connect with their citizenry.
Through funding from the Nebraska Rural Futures Institute (RFI), Lipschultz and long-time collaborator Charlotte Narjes, special projects coordinator for the Nebraska Agricultural Economics Department, are aiming to cultivate best practices for smaller communities across Nebraska and the nation.
"It's begun a little differently in each of the three communities," Lipschultz explains. "The students broke up into three teams and conducted social media audits. From that environmental scan, Maverick Social Media (MSM) account executives developed and presented social media plans."
The students found that each community had unique needs. For example, in Ravenna, the Chamber of Commerce identified needed help with business development.
"After we determined that they wanted more dollars spent in their community I went around to get to know the businesses in that area," explains UNO senior Jurge Cruz-Alvarez, an MSM project leader and Social Media Lab technician. "They were doing things well already, but we wanted to enhance those efforts."
Cruz-Alvarez says there was a need to focus on how the Ravenna Chamber of Commerce could emphasize the uniqueness of each business while also reflecting the Chamber's personality in each of its social media posts.
As a benchmark, students utilized last August's solar eclipse, which brought thousands of visitors to Ravenna. Lessons learned have already been used to help guide promotion for the town's annual Annavar festival, which took place in June.
"They had a major influx of interaction online [during the eclipse] that translated into dollars spent in the community," he explains. "We wanted to see if we could find a way to match that level of engagement."
However, enhancing social media engagement in these communities goes well beyond improving local commerce. For Robert Gallardo, assistant director of the Purdue University Center for Regional Development, it is also about issues of safety and equality.
"There are issues that are time sensitive and if you rely on your traditional methods, you may not be responsive enough," he says. "But more importantly you must listen to all sectors of your residents, not just a particular type that tends to show up to town hall or city hall meetings."
Lipschultz presented his students' plans this summer to the Purdue University Center for Regional Development and University of Nebraska Extension offices. The three communities also met in workshops in January and May, as they refined their social media plans and proposed campaigns that Lipschultz's students are launching throughout the current academic year.
"We are developing best practices that will be useful across Nebraska," Lipschultz says. "As a result, they will also have applications elsewhere."
About the University of Nebraska at Omaha
Located in one of America's best cities to live, work and learn, the University of Nebraska at Omaha (UNO) is Nebraska's premier metropolitan university. With more than 15,000 students enrolled in 200-plus programs of study, UNO is recognized nationally for its online education, graduate education, military friendliness and community engagement efforts. Founded in 1908, UNO has served learners of all backgrounds for more than 100 years and is dedicated to another century of excellence both in the classroom and in the community.
Follow UNO on Facebook, Twitter, Instagram, TikTok, LinkedIn, and YouTube.