Incoming Students Share Common Experiences, Make New Connections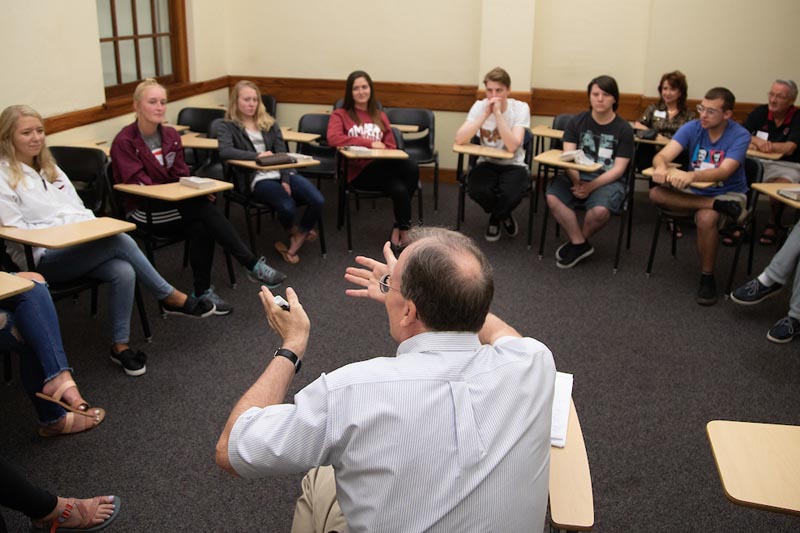 English professor Charles Johanningsmeier leads a discussion of incoming students as part of the Common Reader Experience program, which provides students the opportunity to read the same book in the summer before the start of their first year and then discuss it with other incoming students, as well as returning students, faculty and staff
Reading a good book can be a profoundly unique and personal experience. It can also be a rich and layered way to connect with others who may share – or challenge – your opinions.
For multiple millennia, storytelling has been a key element that has helped bring people together. Regardless of a person's race, gender, religious beliefs, sexual identity or cultural background, we can all come together and enjoy a powerful story.
This year, thanks to a program called the "Common Reader Experience," each and every new incoming student – all 2,100 them – had the opportunity to do just that.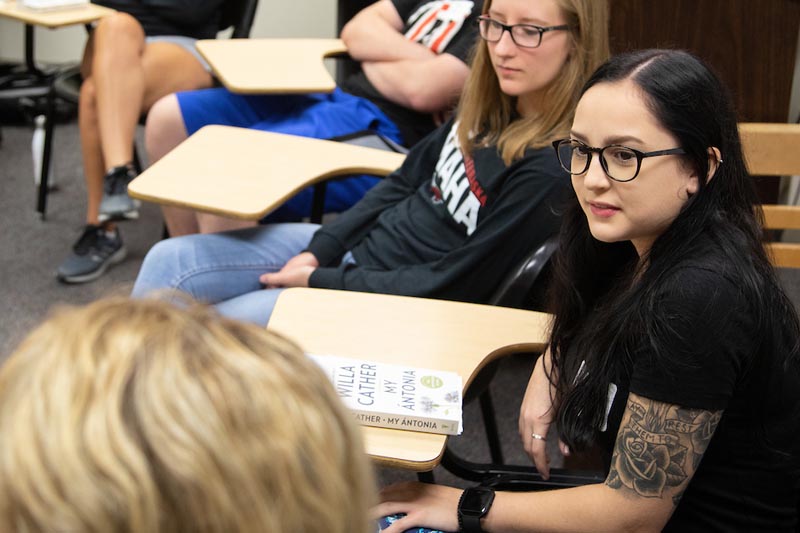 Erin Wiebe (far right), a senior philosophy and English major, has been a part of the Common Reader Experience program since it first launched as a University Honors Program initiative in 2015. This year she served as a student discussion moderator.
The First Chapter
Launched in 2015, the Common Reader Experience began as an initiative led by the University Honors Program. Each summer, new and incoming honors students would be assigned the same book; then, prior to the start of the school year, each student would come to campus in small groups, moderated by faculty, community members and fellow students, to share their experiences.
One of the first students to get involved in the project was Erin Wiebe, a senior from Papillion, Neb., who is double majoring in philosophy and English. The experience is one that influenced her so much she has been back every year since to serve as a student discussion leader for each new group of incoming students.
"It really kicked off the year giving me a taste of why it is important to surround yourself with good, supportive people," she says. "I have friends in the Honors Program to this day that I'm really lucky to have met and to have this experience with that I don't think I would have come into contact with otherwise."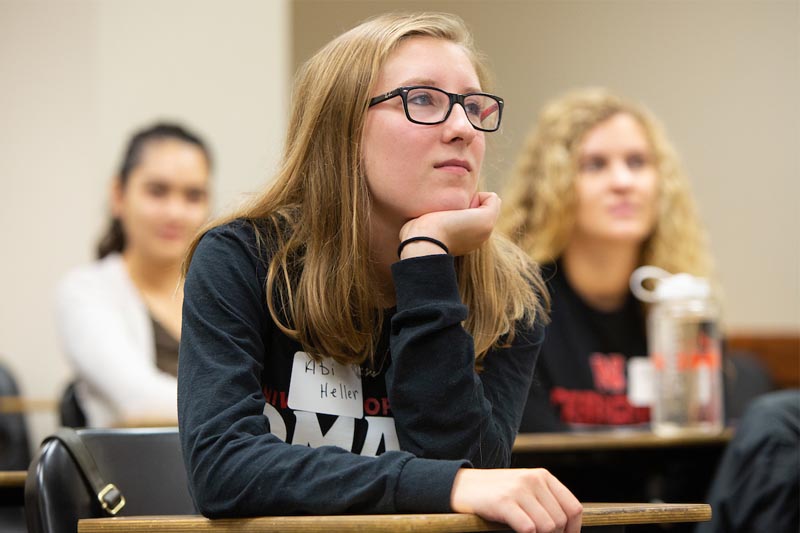 Senior Abi Heller, a neuroscience major, listens to a discussion of Willa Cather's "My Antonia." She participated as a freshman and has continued to be engaged in the program ever since.
New Opportunities
This fall marked the first time the Common Reader Experience expanded beyond the Honors Program to UNO's entire incoming class.
On Sunday, Aug. 20, before the first day of classes, each student, regardless of their major or program, came together to read Willa Cather's classic "My Antonia," which tells the story of an orphan from Virginia and the daughter of immigrants who both meet in Nebraska as early pioneers.
Students were also encouraged to submit their own original artwork, poems, essays and stories tied to the novel, which were then shared with other participants who helped pick their favorites.
"The Common Reader Experience is so important because it provides a shared learning experience where students can find commonalities and divergences of understanding all while having read the same piece of literature," explains B.J. Reed, Ph.D., UNO senior vice chancellor for academic affairs. "It provides the opportunity to do something not connected directly to a student's educational goals or her or his disciplinary focus. We often learn more by stepping back from the narrow focus of our interest to something universal you can explore with others."
Senior Abi Heller, of Elkhorn, Neb., has also participated in the Common Reader Experience all four years. Across all four years, the neuroscience major has found that regardless of the topic, engaging in new experiences has continued to be a common theme.
"The theme of navigating new territory, and what it is like to be a new person and in strange place always comes up," she says. "Some people connect more to that message or the characters, but usually everyone has something to say about what this new, life changing experience, being a college freshman, may be all about."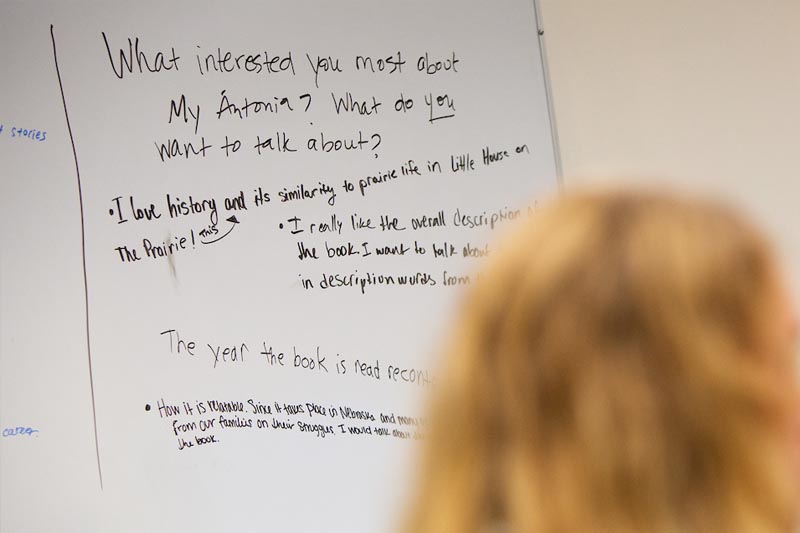 The Common Reader Experience allows first-year students to begin their college careers by sharing the same experience as other students, as well as faculty and staff. The opportunity provides ways for students to become engaged with campus early on.
Common Reader, Common Goals
Lucy Morrison, director of the UNO University Honors Program and coordinator for the Common Reader Experience, explains that the opportunity to meet with fellow students who have similar questions, apprehensions and fears helps creates a support system that can follow a student throughout their entire collegiate career.
"The Student feedback we've received truly underscores that this event makes students feel at home and confident as they begin classes here at UNO," she says. "Opening the Common Reader Experience to all first year students coming to campus is a great way for the Maverick community to support all our new students as they start their academic careers."
The Common Reader Experience follows in the footsteps of other successful learning communities that have been a part of UNO for decades. Statistics show that students who are a part of learning communities are significantly more likely than the student population at large to both stay enrolled and earn their degree.
Dalton Meister, a junior social work major, has not only been a University Honors student and participant in the Common Reader Experience for three years, he is also a member of UNO's Thompson Learning Community, which was created in 2008 to support high achieving students who need financial assistance in order to attend college. Many Thompson scholars are among the first in their families to pursue higher education.
"Classroom discussions take a much different shape and form in college than those of a high school classroom, in the approach and the preferred outcomes," he says. "It's a nice way to bridge the high school and college experiences for students because they get to see what a college classroom looks like if they haven't prior and they will feel more comfortable coming in in the next day - there will be less shock."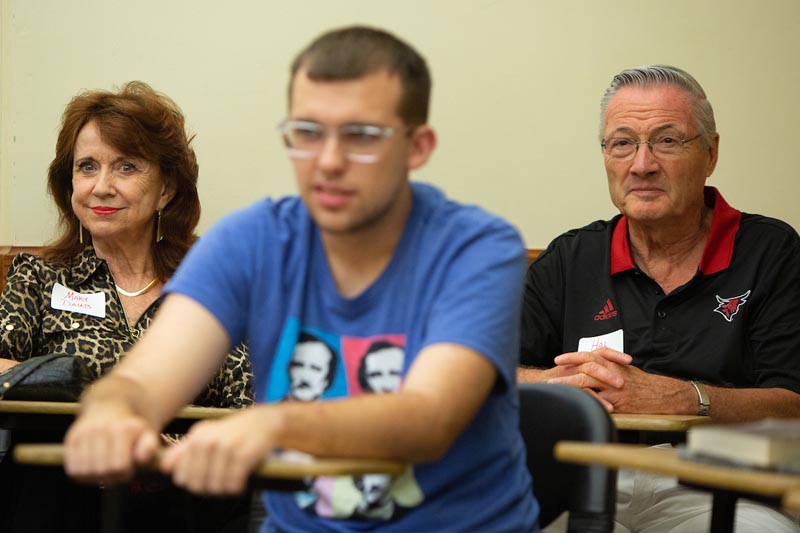 The Common Reader Experience engages members across the UNO community, including members of the Board of Regents. In 2018, Regent Hal Daub and his wife, Mary, helped lead one of the student group discussions.
A Story of Success
Because the Common Reader Experience occurs so early in a student's career, it provides a unique first step toward getting involved with campus on a much larger scale. For example, Wiebe plans to participate in UNO's Research and Creative Activity Fair next spring, Heller is a member of the Nu Rho Psi neuroscience honor society and Meister is involved with UNO Student Government, Sustained Dialogue and a peer mentor in the Thompson Learning Community.
Additionally, Common Reader Experience participants are regularly invited to events throughout the school year, many of which connect them with other generations of Common Reader Experience participants, helping to expand the group's peer network.
"UNO is committed to ensuring that all students can have the opportunity to find multiple meaningful connections on campus," explains Deborah Smith-Howell, associate vice chancellor for academic affairs and dean of graduate studies. "The Common Reader Experience is a way for our newest students to begin making those connections, with other new students, returning students, faculty and staff, even before they take their first class."
Wiebe agrees, adding that the program can benefit all students.
"The reasons I've found the Common Reader so valuable, I don't think, are just limited to one specific type of student or one specific student with a certain experience. I think it's something that really is or at least can be helpful for everyone coming into college."
Campus leaders are already planning for next year's book choice, but no matter what it is, students like Heller say it will make an impact.
"I'm sure it will be unlike anything we have ever done with Common Reader before," Wiebe adds. "I encourage next year's students to go into it with an open mind. Some of the best experiences you will have will be new and even outside of your comfort zone. Now is the time to try it!"
About the University of Nebraska at Omaha
Located in one of America's best cities to live, work and learn, the University of Nebraska at Omaha (UNO) is Nebraska's premier metropolitan university. With more than 15,000 students enrolled in 200-plus programs of study, UNO is recognized nationally for its online education, graduate education, military friendliness and community engagement efforts. Founded in 1908, UNO has served learners of all backgrounds for more than 100 years and is dedicated to another century of excellence both in the classroom and in the community.
Follow UNO on Facebook, Twitter, Instagram, TikTok, LinkedIn, and YouTube.