Think Tank to Bring Clinical Innovation to Fruition
Thang serves as a bridge between UNMC's Department of Emergency Medicine and potential partners at UNO's Peter Kiewit Institute.
published: 2018/06/15
contact: Karen Burbach - UNMC Public Relations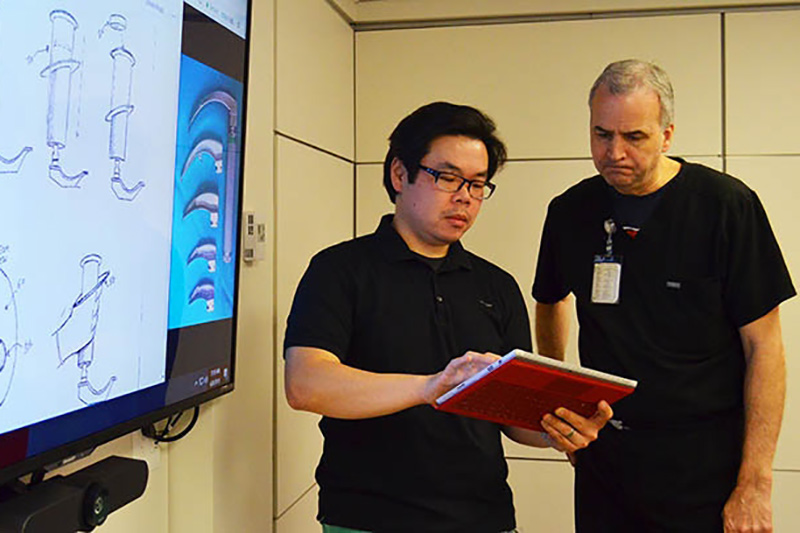 Glance inside Thang Nguyen's 1-1/2 inch thick black book and you'll find pages of innovative ideas for new medical inventions, devices and software.
Now, the adjunct instructor in UNMC's Department of Emergency Medicine hopes to bridge the gap from having innovative concepts on paper to actual prototypes that can be tested and, eventually, marketed.
"I enjoy innovation," he said. "It's been fun, but mostly frustrating."
Which is why he and the emergency medicine department have created an innovation think tank alongside the University of Nebraska at Omaha Peter Kiewit Institute, the UNO Biomechanical Research Center and UNeMed to bridge the gap between idea and prototype.
Since February 2017, the group -- currently known as "the health care accelerator program" -- has provided a streamlined process to bring clinical innovation to fruition.
"Thang has served as a bridge between our department and potential partners at UNO/PKI," said Michael Wadman, M.D., chairman of the UNMC Department of Emergency Medicine. "The health care accelerator grew out of the relationships he has established and we hope it will facilitate faculty innovation in several key areas."
The strategically linked chain will help bring innovation to the marketplace, and potential revenue to the university, Nguyen said, noting how the process begins with the innovator and then moves to the think tank, UNeMed (UNMC's technology transfer and commercialization office) and finally, UNeTecH, the UNO/UNMC institute designed to identify promising start-up companies and help them become successful.
The group soon hopes to launch "WeChart," a mock electronic medical records software that the emergency medicine department developed to safely train students. "We've been sitting on this for four years, but now have an actual prototype we'll use with our students and eventually extend to other areas," Nguyen said.
The software includes smart logic that will help guide students as they type in patient symptoms. It also will enable supervisors to provide real-time feedback and note where, in a student's treatment assessment, learning deficiencies exist. Most importantly, it will enable students to become familiar with an electronic medical record system without working in an actual patient record.
Along with a team of artificial intelligence experts at UNO, the think tank is working on building a database of patient encounters that could help patients better understand their symptoms, as well as developing 3-D models of airway management devices of interest to the military.
The think tank's steering committee plays a key role, Nguyen said, as its experts guide - and vet - innovative concepts, connect key players and provide funds to move projects forward. At times, they'll dismiss ideas that aren't worth pursuing, he said, which saves faculty time and resources.
Anyone interested in learning more, or being involved with the think tank, should contact Nguyen, who hopes to expand the group campuswide, as well as grow its sources for funding innovative projects.
About the University of Nebraska at Omaha
Located in one of America's best cities to live, work and learn, the University of Nebraska at Omaha (UNO) is Nebraska's premier metropolitan university. With more than 15,000 students enrolled in 200-plus programs of study, UNO is recognized nationally for its online education, graduate education, military friendliness and community engagement efforts. Founded in 1908, UNO has served learners of all backgrounds for more than 100 years and is dedicated to another century of excellence both in the classroom and in the community.
Follow UNO on Facebook, Twitter, Instagram, TikTok, LinkedIn, and YouTube.