Mom to Earn Degree 11 Years After First UNO Class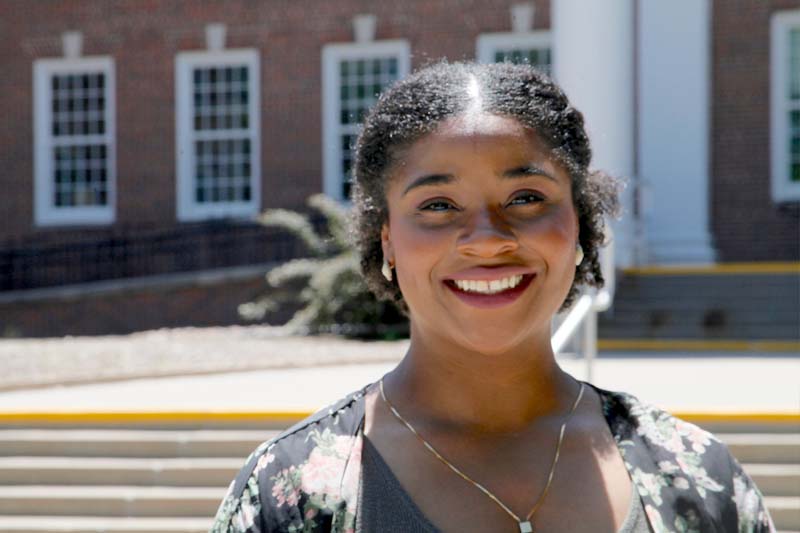 Danielle Goodwin will graduate with her Bachelor of Multidisciplinary Studies degree in August, almost 11 years after she first stepped on campus as a freshman
The University of Nebraska at Omaha is home to thousands of Mavericks; they are "independent thinkers" that chart their own paths, even if it sometimes requires them to work a little harder and a little longer.
Danielle Goodwin's Maverick path began more than a decade ago, but through obstacles and opportunities, she was able to discover her true passion and is now set to graduate this August.


From Full-Time Student to Full-Time Parent
In the fall of 2007, Goodwin had recently graduated Omaha Central High School and came to UNO hoping to earn her degree. Initially, her love of statistics drew her towards a Mathematics degree, but she soon switched to Business and Finance.
"It was an up-and-down process and journey because I worked full time through part-time jobs," Goodwin explains. "I knew the importance of education and I always have, but [I didn't understand] the focus factor."
In addition to working full time and going to school, Goodwin was a member of the Goodrich Scholarship Program, a merit-and-need-based scholarship that helps provide access to college for those who otherwise couldn't afford it.
In 2011, Goodwin gave birth to her first child and decided that her short-term plans needed to change.
"I just made the decision [to leave] because things shifted priority-wise and so I stayed with her, then I had my son in 2013, and stayed home with my children," Goodwin says.
"Danielle was a jewel of a young lady," Michael Carroll, a retired UNO faculty member within the Goodrich Scholarship Program. "I know her parents emphasized the importance of getting a degree, but for a student already facing personal financial difficulties, having a family and going to school is like swimming against a current."


A New Sense of Purpose
Goodwin spent the next two years caring for her children before taking on a job with Omaha Public Schools, first as an administrative assistant at Hartman Elementary and then as Hartman's "School and Family Behavior Support Interventionist," which allowed her to make sure each student was getting the right support in their personal and academic lives.
"I really enjoyed that position; it showed me my passion for children but also just the dynamic of improvement," she says. "We are all at different stages, but I think especially for children we have to promote this. It's not ever about comparing yourself being at a certain place, even though there are certain goals to be set, but there should be continuous improvement from wherever you are."
The role also helped to inspire Goodwin to return to her original goal of earning a college degree. It was something she knew she needed to accomplish, no matter what path she needed to take to get there.
"I personally just had to make the decision where I wanted to go from surviving to striving to thriving and part of that decision was to go back to school," she explains. "I will say I look back and in that time frame from 2011 to 2015, when I didn't go to school, and in retrospect I would have taken one class a semester even if I had to pay it out of pocket just to get it done in spite of what I was going through. I think sometimes we don't realize the ambition and resilience that is needed to continue despite whatever you are going through, but it can be done."


Turning Obstacles into Opportunities
After two years of taking summer courses at Metropolitan Community College, Goodwin re-enrolled at UNO in the Bachelor of Multidisciplinary Studies program. Now, with experience both in and out of the classroom, she had a clear focus on what she wanted to do for a career. In August, she will graduate with a degree emphasis in general administration and a minor in management information systems, 11 years after she first came to UNO.
"With my kiddos I realized they wanted to do what mommy did, so it sets that precedent," she says. "That's partly why I came back to school, because I don't care what you study and you may not even use your degree - maybe you have some amazing idea - but mommy wants that to be a requirement, that you go to college. Because it does have you think from a different perspective and it allows you to explore opportunities that you may not have had."
One of those experiences? Being a student worker in UNO's Office of Institutional Effectiveness, which helps analyze data to find trends in everything from course completion rates to enrollment rates and graduation rates. It is a hands-on experience that has helped Goodwin discover her passion to be a project manager. It also helped her reflect on her long journey towards earning her own degree.
"It can be hectic at times," she says. "It can be go-go-go; nonstop. For me, my day went to dropping the kids off, going to work, going to class, and then after my classes I would sometimes go back to work or study and then go pick up my kids, dinner, bath, bed for them, get ready for the next day, bed for me and then doing it all over again. It really just took preparation and me looking at the dynamics of things, what makes the most sense."
Donna Dufner, Ph.D., a UNO associate professor of information systems and quantitative analysis, served as one of Goodwin's mentors after her return to the classroom.
"Danielle has a tremendous set of skills; people skills, technical skills and project management skills," says Donna Dufner, Ph.D., associate professor of information systems and quantitative analysis. "I think we will be looking back at her as a proud alumna, saying 'we knew her back when'."
These skills Goodwin possesses, earned over a decade in and out of the classroom, have helped guide her toward her passion. It is something that has given her perspective on her fellow students who may similarly be working, raising a family and earning their degree.
"It's interesting as a nontraditional student being here in 2007 and coming back in 2017, 10 years later; it's really interesting to see the growth and the opportunities that the university offers students," she says. "I walk across campus there are times that I see moms with strollers and fathers, you see a mixed dynamic of people in your classes and so, I think sometimes we don't realize the ambition and resilience that is needed to continue despite whatever you are going through, but it can be done."
"Over a quarter of all undergraduate students are raising children while attending college and women, like Danielle, comprise 71 percent of these 4.8 million student parents," explains Christine Billings, director of UNO's Division of Continuing Studies. "In DCS, we've come to realize that 'nontraditional' is a term no longer applicable to our students who balance multiple competing priorities while pursuing their education. Danielle's tenacity and resilience is typical of the adult and contemporary learners enrolled in our program."


Raising the Next Generation of Mavericks
Through that same tenacity and resilience, Goodwin has taken on each new challenge as an opportunity. Even when the challenges seemed too much to overcome, she credits her family and her support system at UNO for helping make her dreams come true. It is something she hopes her children will learn from as well, as future Mavericks themselves.
"UNO is special to me and it's a place where the education is attainable at an affordable price. It's a great university and being involved in OIE gives me a perspective of how, whether it's areas we know are great and continuing those efforts but also look at your issues, to see how the university does look at that and is working towards improvement continuously. It makes it even more of a dynamic experience for me. Any time I talk about UNO or drive by they literally say 'I'm going to go to UNO' and so for me that tells me that my kids are paying attention to what I'm doing and it's setting that precedent for excellence."
About the University of Nebraska at Omaha
Located in one of America's best cities to live, work and learn, the University of Nebraska at Omaha (UNO) is Nebraska's premier metropolitan university. With more than 15,000 students enrolled in 200-plus programs of study, UNO is recognized nationally for its online education, graduate education, military friendliness and community engagement efforts. Founded in 1908, UNO has served learners of all backgrounds for more than 100 years and is dedicated to another century of excellence both in the classroom and in the community.
Follow UNO on Facebook, Twitter, Instagram, TikTok, LinkedIn, and YouTube.