Students Use Social Media to Combat Hate
published: 2018/04/18
contact: Jessica Wade - University Communications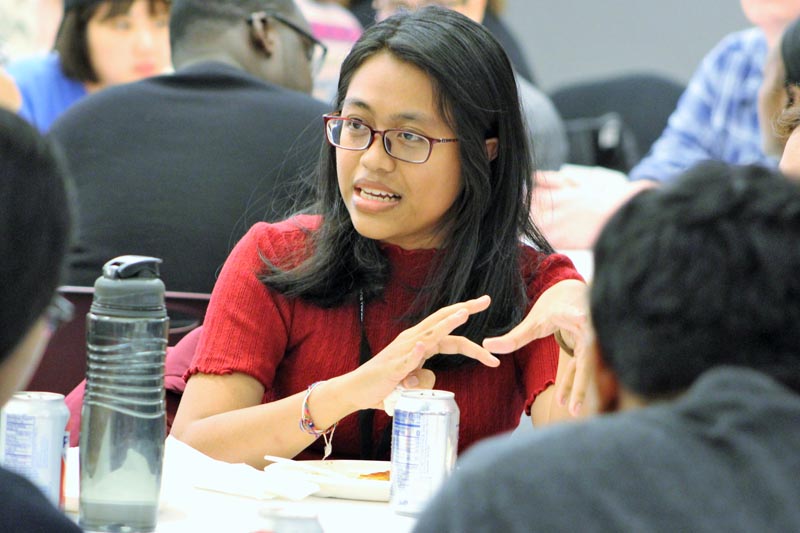 Participants engage during a "Room at Our Table" event facilitated by Sustained Dialogue at UNO
In early 2017, a group of UNO University Honors students presented a social media campaign, The Refugee Perspective, in Washington D.C as finalists of the Peer to Peer (P2P) challenge, a national competition sponsored by the marketing firm EdVenture Partners and the United States Department of State with the goal of countering violent extremism.
For one of those original team members, Virginia Gallner, her motivation for the campaign did not stay in D.C. after returning home. Now, as the team's leader, Gallner has begun a new social media initiative.
"There's only one other remaining member from that team, so now it's called 'Room at Our Table'," Gallner said. "It started as part of the background research for my honors thesis, which centers on the effects of intergroup conflicts and resource scarcity on whether refugees are welcomed into new communities."
The campaign was again implemented as part of an EdVenture Partners competition in collaboration with the Anti-Defamation League's Innovate Against Hate program.
The team is competing with 19 other universities across the country, each with the goal of launching a social media marketing campaign that will work to counter hate and extremism on campuses and in society. For the Room at Our Table team, that means sharing the stories of local refugees through video, photos and other online content.
To measure the effectiveness of the campaign and show a return on investment of effort, the team are using UNO's Social Media Lab in the Barbara Weitz Community Engagement Center and the Jack and Stephanie Koraleski Commerce and Applied Behavior Laboratory (CABlab) at Mammel Hall. The CABlab, specifically, allows for the tracking and analysis of eye movement to show what campaign elements are most effective.
Though they are competing as a social media campaign, the Room at Our Table initiative doesn't exclusively work online.
On April 5, the team co-hosted an event about welcoming refugees with Sustained Dialogue at UNO featuring guest speakers from Lutheran Family Services and the Anti-Defamation League of Nebraska. With over 60 attendees, the event was a great success in starting conversations on campus.
Besides working to win the competition, Gallner said there are a few goals for the campaign.
"If we do get placed as finalists there's a chance this could be implemented across the country. Regardless, we would like to continue this both within the Omaha community and as part of the wider Midwest region," Gallner said. "It is important to share their stories because I believe that's how we can develop greater empathy, and that's how communities can grow to understand the situations from which they are coming."
The team is led by Gallner under the direction of Gina Ligon, associate professor in management in the UNO College of Business Administration. Other team members include Alexis D'Amato, Josie Jastram, Amber Johnson, Rachel Pruch and Lauren Zimmerman.