New Student Body President, Vice President Sworn In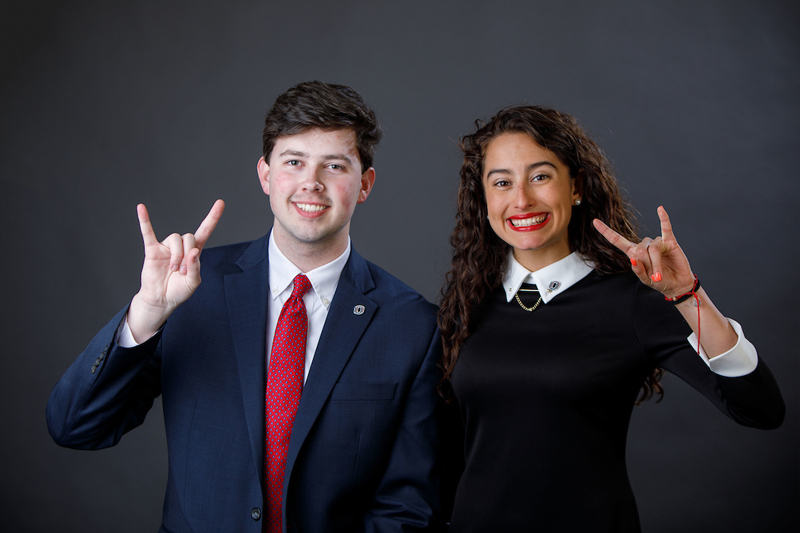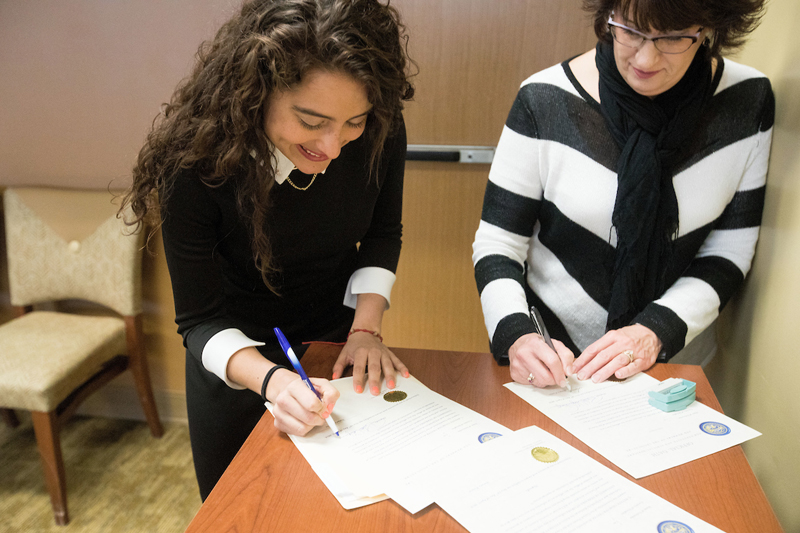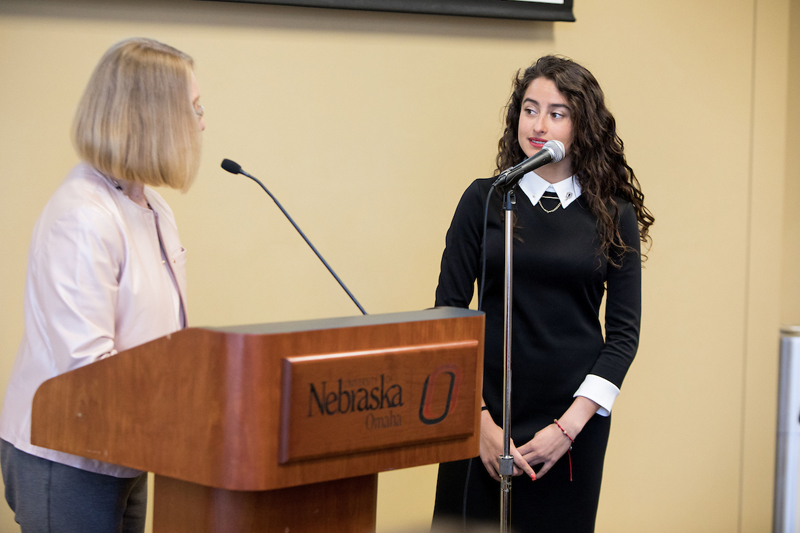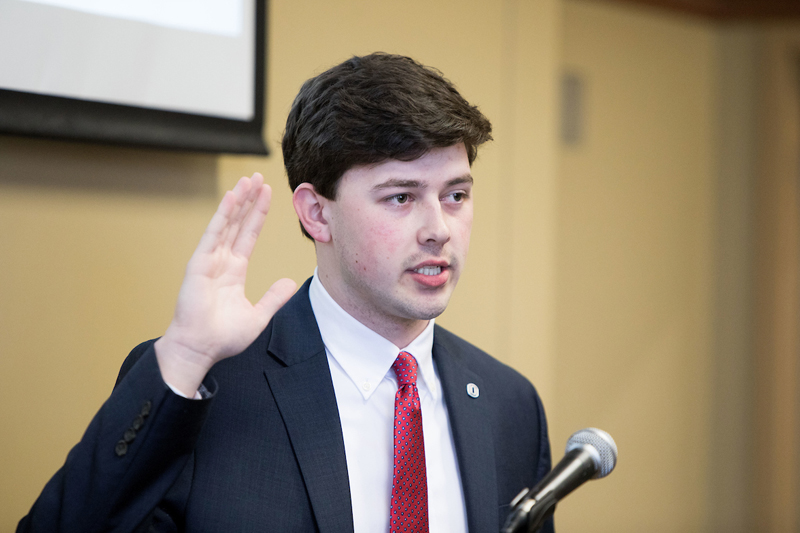 2018-2019 Student Body President/Regent Renata Valquier Chavez and Vice President Benji Fountain were sworn into office on Monday, April 16.
Valquier Chavez is studying biotechnology and political science. She is a student-athlete (Cross Country / Track) and a member of the UNO Honors Program. University Communications asked her to share some information about her vision for UNO and why she loves being a Maverick.
---
Q: Why did you run for president?
A: I ran for President because I felt the need to. I have been heavily involved in various organizations and active throughout campus since I started school at UNO in the fall of 2016, and over time of restless event planning or volunteering, I realized I care a lot about the people around me and this University. I remember talking to a colleague about how current events were leading to them feeling helpless in the situation and that they felt there was nothing they could do to make a positive influence on the people being affected. My heart was heavy after that conversation because no person should ever have the sense of helplessness when there are organizations like Student Government that exist to serve and help the student body. I considered just increasing my involvement in other organizations and taking a step back from SG-UNO in order to best serve the school, but I had a gut feeling that I can't give upon SG-UNO, because it has the potential to do amazing things for the students of UNO. I decided to run because I care an immense amount about the people around me. In this chapter in my life, these people are fellow students and faculty. If the best way I can help other people is by using my skills and drive as President, then it is worth a shot to run. Even though I received criticism for running as just a sophomore, I do not regret my decision. In a time of adversity and uncertainty, there isn't time to waste on inactivity just because "I'm not old enough" yet. There isn't an age bracket for fighting for what is right and for striving to help other people. UNO is a unique community that can't be summed up into one person. The best thing we can do is communicate with each other about the improvement we want to see for our university.
Q: What is something you want to accomplish during your time as president?
A: I want to establish a sense of connectivity with the student body. Student Government has the potential to unite us in this time of adversity and uncertainty. The biggest issues I want to focus on are to reform the by-laws the organization is founded upon in order to improve the senator experience and allow us to be more efficient during our term for the student body and to promote the mental health resources on campus. Each of us is radiating with a fresh perspective and ideas only known to ourselves. One way I plan on improving our transparency on campus is by establishing weekly "Coffee Talks with Renata" that will give a briefing on what Student Government is up to and events on campus. I want Student Government to be an accessible platform that allows all voices to be heard and enable Senators to reach out to everyone. I genuinely care about our university and it's an honor to serve the Mavericks as President/Regent. Go Mavs!
Q: Why did you choose to come to UNO?
A: I chose to come to UNO because I was impressed with the collaboration of the university with the City of Omaha. I knew I loved this city and UNO provided the academic programs I was interested in doing. The larger story that sets the Mavericks apart from other universities is our collaborative nature that comes so naturally. My older brother graduated from here and I was in awe with his stories from studying at UNO, so I knew I wouldn't be disappointed. Even the athletic program was a perk, because I can't think of a better team to run with than the Omaha Mavericks.
Q: What is one of your favorite things about being a Maverick?
A: My favorite thing about being a Maverick is suiting up every weekend to race for the team I love most.
---
Want to learn more? UNO's student newspaper, the Gateway, wrote a feature on Valquier Chavez.
Meet Renata Valquier Chavez: a UNO athlete, honors student and the next student body president
Congratulations, Renata and Benji!