Wengel Named Assistant Vice Chancellor for Campus Wellness at UNO and UNMC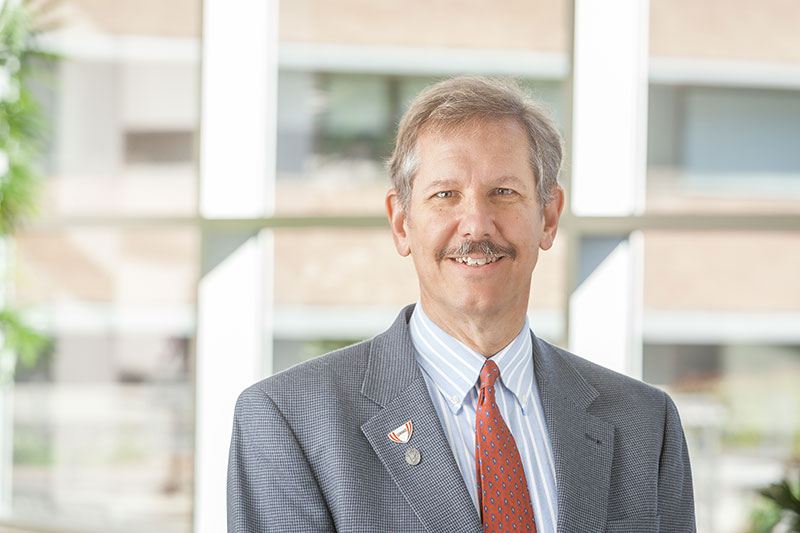 Dr. Steven Wengel, who has served as chair of the University of Nebraska Medical Center Department of Psychiatry for nearly 14 years, has been named to the newly created position of Assistant Vice Chancellor for campus wellness for UNO and the University of Nebraska Medical Center.
The appointment, which is effective Feb. 19, was announced by Chancellor Jeffrey Gold.
"We want to continue to take wellness and resiliency to the next level on both the UNMC and UNO campuses," Gold said. "By creating this new position, I'm confident we can continue this momentum.
"Dr. Wengel has long been a strong proponent of wellness and has incorporated it into his daily work. He is a highly regarded educator and health professional, with great breadth and depth in this area. We are excited that he is willing to take on this new challenge and look forward to seeing the tremendous benefits it will bring to our students, faculty and staff."
Brad Britigan, dean of the UNMC College of Medicine, saluted Wengel for his outstanding work in the department of psychiatry.
"Steve has been among the campus leaders in bringing wellness to the forefront," Britigan said. "He's a perfect fit for this new position, and I know he'll do a terrific job for both UNMC and UNO.
"Steve has done a tremendous job of building the psychiatry program. He was instrumental in getting the department moved back on the main campus after being located a couple miles east for several years. More than that, Steve and his team have been stellar in increasing interest in psychiatry among our students. He deserves every kudo for a job well done."
(Dr. Wengel's) research background and educational focus on helping students with resilience and coping skills will certainly compliment the excellent work already happening at UNO.
- Dan Shipp, Vice Chancellor, Student Success
Dan Shipp, Vice Chancellor for Student Success, said the new position is a good move for both campuses.
"We are excited for Dr. Wengel to join our wellness leadership teams at both UNMC and UNO," he said. "His research background and educational focus on helping students with resilience and coping skills will certainly compliment the excellent work already happening at UNO."
An Omaha native, Wengel earned his undergraduate degree from the University of Nebraska-Lincoln in 1981 and his medical degree in 1986 from UNMC. He did his psychiatry residency and geriatric psychiatry fellowship at UNMC and joined the UNMC faculty in 1991 as assistant professor. He was elevated to associate professor in 1998 and to professor in 2005. He was appointed interim chair in 2004 and permanent chair in 2005.
Dr. Wengel said he looks forward to the new position and the opportunities it will create. "I've been teaching patients, students and others how to reduce stress most of my career," he said. "It wasn't something that I learned in medical school, but rather something that I had to learn on my own as wellness and resiliency were not household words back then.
"The time is right. The need has never been greater to focus more energy on wellness on both campuses. The levels of stress in society are high. It's all about prevention – the things we can do on the front end to prevent burnout and stress. The new position will allow us to expand our scope and dedicate more time. We also plan to add a research component to this."
One possible example of research would be to look into the benefits of meditation. "We know meditation helps you feel better and sleep better," Dr. Wengel said. "What we don't know is how long do you need to meditate for it to be helpful for a wide variety of people?"
In his new role, Dr. Wengel will be working with Jonathon Sikorski, who has served as director of wellness at UNMC for the past 13 months.
Britigan said Howard Liu, associate professor of psychiatry and assistant vice chancellor for faculty development, has been named interim chair of the UNMC Department of Psychiatry. Liu will step down from his faculty development position but will continue to serve as director of the Behavioral Health Education Center of Nebraska (BHECN), a statewide initiative designed to get more behavior health professionals in Nebraska.
A search committee will be formed, Britigan said, to begin the search for a new chair. Rod Markin, professor, pathology/microbiology, associate vice chancellor for business development, and executive director of UNeTech, an institute that identifies promising start-up companies and helps make them successful, will head the search committee.
Major accomplishments under Dr. Wengel
Moved to Poynter Hall in 2012 after being off-campus since 1987 (in Dr. Wengel's opinion, this was his single biggest accomplishment).
Major expansion in Poynter Hall outpatient clinic providers, with outpatient volumes doubled in last five years.
Helped with creation of the Behavioral Health Education Center of Nebraska (BHECN) in 2009 as statewide resource to increase the behavioral health workforce.
Clerkship overhaul in 2010; student-focused Clinic for Outpatient Psychiatry Education (COPE) developed.
Psychiatry Interest Group is vibrant, active, and student-run.
Sixteen fourth-year medical students chose psychiatry at Match Day 2016.
New research program in development (Soonjo Hwang, M.D.) with emphasis on child/adolescent mood/behavior disorders and neuroimaging.
Campus-wide wellness program created in 2015, now with two dedicated faculty.
Contact Us
If you have a story idea, news tip, or other question, please email the UNO News team at unonews@unomaha.edu.