The Maverick Minute: Wheelchair Basketball
The Maverick Minute is a video series featuring Chancellor Jeff Gold interviewing members of the UNO community. In this edition, Chancellor Gold interviews Head Coach Mike Kult about UNO's Wheelchair Basketball Team, which is one of only a dozen in the country.
UNO Wheelchair Basketball Tournament at Sapp Fieldhouse:
Friday, Feb. 2, 2018
5:00 P.M. Missouri vs. SMSU

6:45 P.M. UNO vs. SMSU
Saturday, Feb. 3, 2018
*Game times on Saturday are subject to change if previous games end early*
9:00 A.M. Missouri vs. Madonna

10:45 A.M. UNO vs. Missouri

12:00 P.M. Madonna vs. SMSU

1:45 P.M. UNO vs. Madonna

3:00 P.M. 1 vs. 2

4:30 P.M. 3 vs. 4
See the full 2017-2018 season schedule here
.
---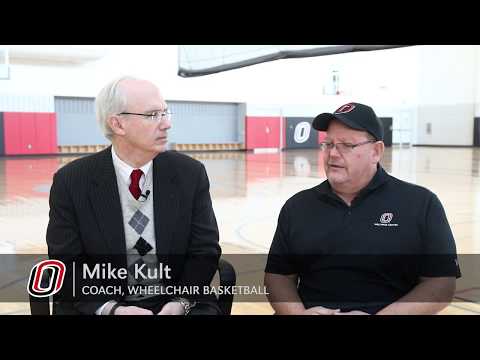 Full Transcript:
Chancellor Gold:
Hello, I'm Jeff Gold and welcome to another segment of Maverick Minute. I have the pleasure today of being joined by Mr. Mike Kult, Mike is not only the assistant director of our facilities programs here, but happens to be the coach of the Wheelchair Basketball team, Mike, thanks so much for giving us a few minutes today.
Mike Kult:
Thank you for having me.
Chancellor Gold:
So tell us, and tell me a little bit about this team, when it was started, why it was started, and what it is you hope to achieve.
Mike Kult:
Well, the team is all UNO students who have a physical disability of a lower limb, and it's a permanent disability. We started the team in 2015, then we, as a community type team, in 2016, we started as a University team, and we're in our second year. Our goal is to give young men and women who have a physical disability, the opportunity to participate and compete as an athlete. A collegiate athlete.
Chancellor Gold:
And is it just aimed at students, or do we have staff and faculty that are involved in the program, as well, other than yourself, of course.
Mike Kult:
Currently, to be on the team, and to play, you have to meet the guidelines as the NCAA Athlete, even though we're not considered NCAA, we follow the same guidelines. So, you must be a full-time student to be able to participate. We do have people on staff, we do have athletic trainers, myself, and volunteers who will help out, but to participate, and be a player, you have to be a student.
Chancellor Gold:
So how many students are involved now?
Mike Kult:
We have 11 right now. And we're always out there recruiting. Most of our kids, our athletes, are from the Nebraska area, and some from Iowa, but we do have athletes in Michigan, Illinois, South Dakota, and Missouri.
Chancellor Gold:
Wow, that's impressive. And what are the experience of these students like, I mean, obviously, if you've grown that much, with such a far geographic reach, it must be a really popular program.
Mike Kult:
We're one of only nine programs in the country. And so, we're unique there, and we're situated in the mid-west, which there's a lot of High School and Jr. High teams, so we can kind of recruit from. But it's one of those things, they are collegiate athletes. And they get to be treated like that, we do travel, we do the practices, they are required, they do everything a University athlete is, so they get that same benefit, and that same reward, and that working for a goal, as a team.
Chancellor Gold:
It must be a tremendous emotional lift for some of these students, to be able to have this kind of experience.
Mike Kult:
Yeah, it is, it's truly, it is one of those. And you hear that all the time. They always wanted to be, they wanted to do it. We also had a couple of our athletes who were injured veterans, and this is one of the things that is helping them deal with their disability, and their injury from the war, so their part of the team, where, before as a military service person, now they continue that on as an athlete.
Chancellor Gold:
Well it makes me really proud to be part of the Maverick family, to hear about this program, to know it's being hosted here, and to know that you're running it.
Mike Kult:
Well I appreciate it, thank you.
Chancellor Gold:
So if members of the community want more information, or if they want to reach out one way or another, how would they contact you?
Mike Kult:
The best would be to contact myself, at the University here, Mike Kult, at University of Nebraska Omaha Campus Rec. My email address is wkult@unomaha.edu, and we will talk to them right away, and see what we can do to bring them on board.
Chancellor Gold:
Well, thank you for everything that you do.
Mike Kult:
Thank you.
Chancellor Gold:
And thank you for being with us today, on this Maverick Minute.
Contact Us
If you have a story idea, news tip, or other question, please email the UNO News team at unonews@unomaha.edu.