French Consul General Visits UNO, UNMC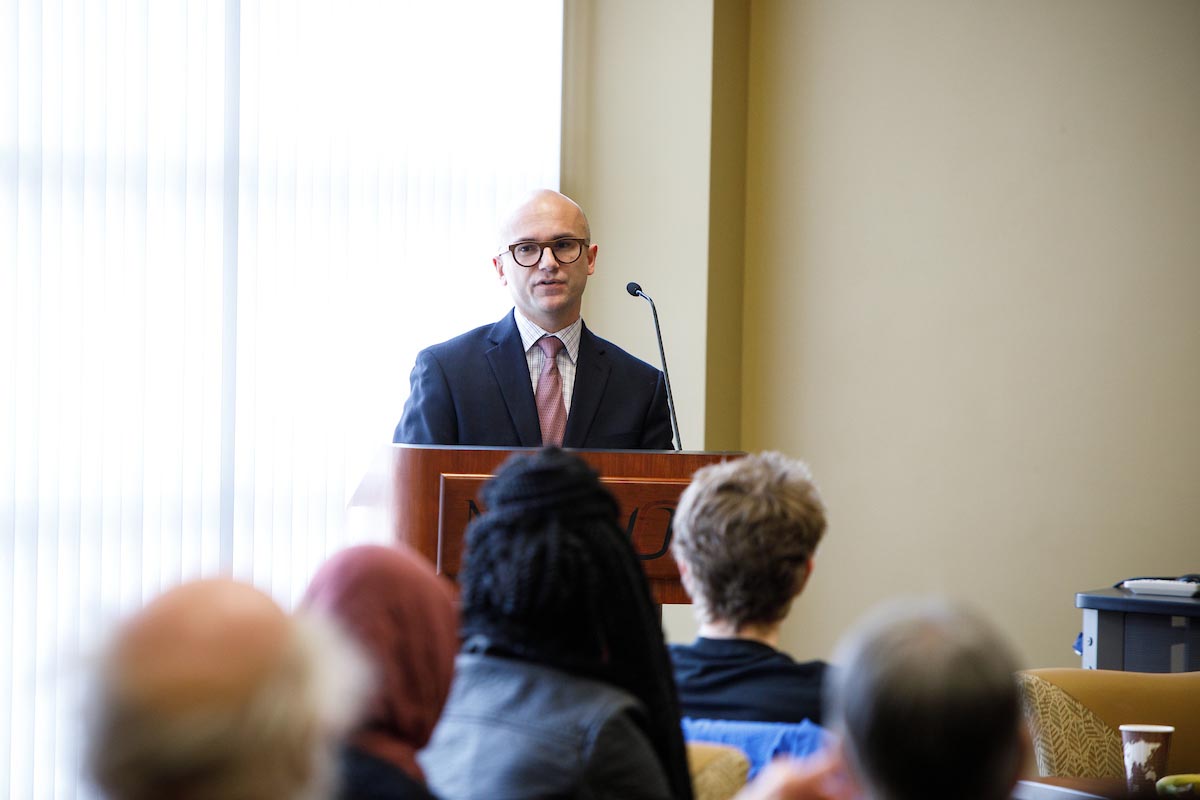 In a recent visit to the University of Nebraska at Omaha (UNO) campus, French Consul General Guillaume Lacroix said his main job is to "build bridges" between France and the U.S.
Lacroix, who is based out of Chicago, stopped by UNO during a trip to Nebraska where he expressed hopes for increased collaboration between Nebraskan and French academia.
"I don't want the French people to miss opportunities," Lacroix said. "I am strongly convinced that there are many opportunities here in Nebraska. It is my job to promote Nebraska in France and France in Nebraska."
UNO currently has study abroad and international exchange programs with four universities in France, including the Burgundy School of Business, which is located in Lacroix's hometown.
Four universities is a good start, but Lacroix, and students from French-speaking countries would like to see this number increase. There are six French students at UNO this year, and 29 from French-speaking countries such as Benin, Burkina Faso, Cameroon, Cote d'Ivoire, Gabon, Niger and Congo.
Sahfiya Mahamane, a UNO alumna and current UNMC student, came to UNO as an international student from Niger, which is a former French colony.
"I feel it is important for students to know what is going on in the world, not just in Omaha," she said.
UNO already has a very successful partnership with Oman, with over 150 Omani students currently enrolled at UNO. It is Mahamane's hope that UNO and French-speaking countries can have a similar relationship.
"It will open up all sorts of international career opportunities," she said.
In addition to meeting with French-speaking students and faculty, Lacroix's visit included tours of UNO's Biomechanics Research Building and the Barbara Weitz Community Engagement Center. He also provided a free, public presentation to a standing-room only crowd of visitors from on and off campus.
Earlier in the day, Lacroix also toured the Fred and Pamela Buffett Cancer Center at the University of Nebraska Medical Center (UNMC).
Lacroix stated that while he's heard the saying that the vast area of land between the coasts is called "flyover country," his visit completely dispelled that notion.
"I don't agree with it at all. There are many, many centers of excellence and Omaha is certainly one of them."
Contact Us
If you have a story idea, news tip, or other question, please email the UNO News team at unonews@unomaha.edu.