Former UNO Athletic Director Passes Away
The UNO community says goodbye to former Athletic Director Don Leahy.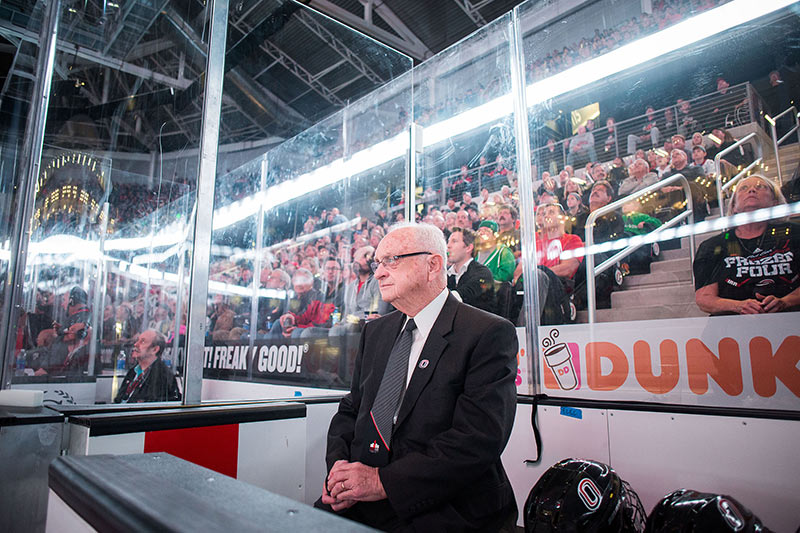 The following is a statement from the Leahy family and his children, John, Mary Bayne and Richard, regarding the death of Don Leahy. He was 88.
We are heartbroken to share the news that our father, Don Leahy, has passed away following complications resulting from a long bout with cancer and other health issues.
Don was our loving, father, grandfather, great-grandfather, uncle, friend and mentor to so many.
Don Leahy was a sports legend and a leader in the Omaha community. He served his community proudly as a teacher, coach, athletic director, and fundraiser. He exemplified the power of positivity. He was the quintessential coach and a consummate gentleman.
He remained an advocate of education and sports throughout his life. No matter what he did, he felt he was part of a team, and worked for the success of that team. His primary goal was to always leave things better.
"Our father was a devout Catholic with a strong faith," said daughter Mary (Leahy) Bayne. "He will be missed by so many people whose lives he touched for the better. Most anyone who ever knew Dad saw him as a leader with honesty and integrity. He had a keen sense of humor and wit. But best of all, he was humble.
"While we mourn the loss of a very good man, we also celebrate his remarkable life and hope that it serves as an example to young people and people of all ages to work hard to make their dreams come true and to selflessly serve others. Above all, he was a servant, a man for others."
Memorials to Creighton Prep, University of Nebraska-Omaha, and Creighton University, or the memorial of your choice.
Contact Us
If you have a story idea, news tip, or other question, please email the UNO News team at unonews@unomaha.edu.