Students Team With UNMC to Help Omaha Families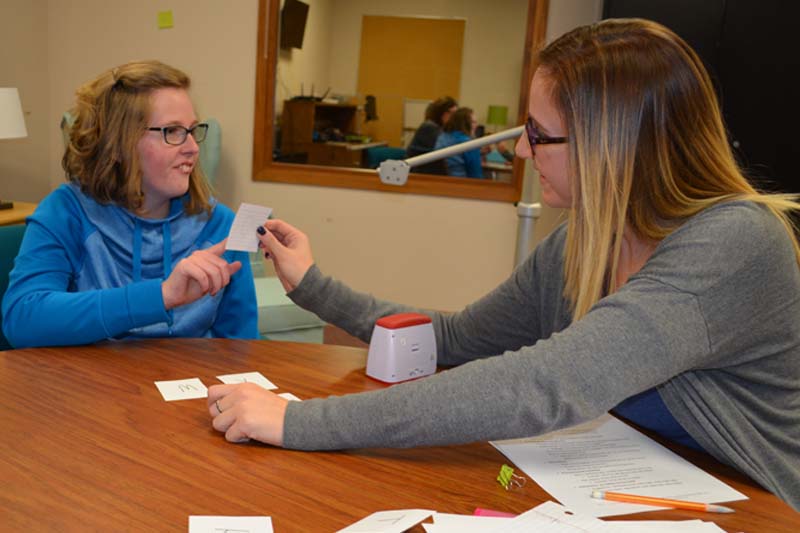 Mackenzie Smith taps the flashcard confidently, identifying the letter T.
"Great job!" says Nichole Cordle. "High five!" The two slap hands in celebration.
Cordle is a second-year graduate student in the UNO Department of Psychology while Mackenzie is a high school senior on the autism spectrum. They are working together at the Academic Evaluation and Intervention Clinic run by the Munroe-Meyer Institute's (MMI) Department of Psychology on the University of Nebraska Medical Center campus.
Each semester, second-year students like Cordle spend two semesters engaging each week with young students like Smith who need extra help to build their academic and social skills.
"A lot of these kids are already receiving extra attention as part of special education programs at their respective schools, but this allows them to get one-on-one attention and some extra instruction," Cordle explains.
The semester-long clinic also helps provide parental support sessions on issues such as special education, coordination with teachers, writing strong individualized education program goals and accessing community resources and respite services.
"Every week we do monitoring reports to indicate which areas each of the participants are making progress in," Cordle says. "For example, when Mackenize started in the program, she was mostly nonverbal and could only identify eight letters from the alphabet. Now she can identify 24 letters and even write her own name. It's amazing progress."
Sara Kupzyk, Ph.D., who oversees the program for MMI, says that the UNO students who assist in the clinic are getting real-world skills while also helping local families.
"They do assessments to pinpoint the students' strengths and areas for growth. They then develop an intervention and teach it to the parents, and the parents implement that intervention at home."
Mackenzie's mother, Stacy Smith, says the clinic has helped her family greatly,
"It gives us reassurance that we're on the right track and is helping building our confidence that we're teaching things correctly."
Cordle says that her experience has not only been rewarding, but has given her a skill set she hopes to carry over to her desired career as an elementary school psychologist. She will earn her Master's Degree next August and then wants to continue at UNO so she can pursue an Educational Specialist degree.
"The clinic really puts students in charge of setting a plan for the participants to follow, working directly with them on their skills and keeping their parents updated on their progress. It is such important practice for the intervention techniques I will need in working with children from all backgrounds in my professional career."
Meanwhile, for parents like Stacy Smith, the clinic and the work being done by UNO students on small things like using praise to motivate her daughter's progress is already paying dividends.
"A lot of other things don't motivate her," she said. "We are keeping track of the progress on what we're doing, and when you praise her, she works extra hard. This definitely is going to make a difference for her."
Contact Us
If you have a story idea, news tip, or other question, please email the UNO News team at unonews@unomaha.edu.