The Maverick Minute: Chancellor's Transition Final Report
Chancellor Gold, joined by by Thomas Walker and Dr. Laura Grams, discusses his transition advisory process.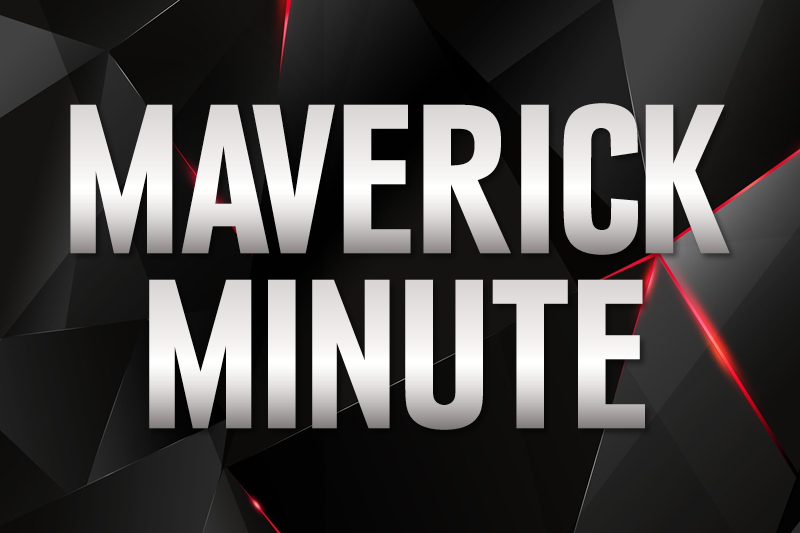 Full Transcript:
Chancellor Gold:
Hello, I'm Jeff Gold and welcome to this addition of the Maverick Minute. I'm joined today by Thomas Walker, the head of our staff advisory council and by Dr. Laura Grams, president of our faculty senate. Thank both of you for being with us today. I wonder if we could reflect because we've spent again, this time together for the last six months in this transition advisory process. And perhaps, I know you've been involved in every step of the way also and participated in all the meetings and all the prep sessions. Indeed, you gave several of the most important presentations that were given. Maybe you could talk a little bit about the amount of preparation and work that you participated in and how the process evolved.
Thomas Walker:
Thank you, Chancellor Gold. It was a wonderful process where we all - all the stakeholders that were a part of this - put in a lot of time, myself included where we spent countless hours reading, working together, coming up with these presentations to not only inform you, but inform everybody that was part of the council and team.
Chancellor Gold:
And again, were there any parts of the process that came as a surprise to you or do you think, to the group that you worked with?
Thomas Walker:
I think there was a definite insight about everybody knew that UNO was lean but knowing that we do so much with our leanness I mean, we're so efficient as our campus and we're obviously moving to be the premier metropolitan institute and we're always striving to be that university of tomorrow so I think those themes all kind of came together very well.
Chancellor Gold:
And do you have any thoughts about carrying this process forward? I know we spent a lot of time as a group talking about it, but in your leadership role as staff advisory council are you thinking about sharing it with members of the staff advisory council, and if so, what type of interaction would you like to see happen?
Thomas Walker:
I think the staff are always wanting to be engaged and so as you see from all your town halls, you're very well-tended from the staff
Chancellor Gold:
Very much.
Thomas Walker:
And the staff really enjoy being a part of every step of the way and so I will always keep them informed and we're going to continue to be an active, engaged member of your transition.
Chancellor Gold:
Well, I hope that they stay focused on the areas that were called out because the work product is just so powerful in terms of a blueprint for the important areas in the future. I know I plan to stay very focused on those areas and to talk about them in town hall meetings and in radio and video shoots and other such things because they really reflect the voices of hundreds of members of the UNO community. You know, we just finished what I would characterize as the culmination of the transition advisory process, dozens of meetings, preparation, etc. leading up to putting it all together into a single document. I wondered if you'd share maybe some of your thoughts on what the process was like because I know you were there day one. You've participated every step along the way.
Dr. Grams:
Well, I think one of the really nice things about it was that we got to have a lot of conversation with people from different parts of the campus or people from outside the campus that we might not have met or talked to before and have those kinds of conversations about what the future might hold and what current reality is. And I thought that was very edifying, it gave us lot of different perspectives to reflect on and figure out what we really think is important.
Chancellor Gold:
And were you surprised at any of the findings when they were synthesized earlier today?
Dr. Grams:
Well, I think not so much surprised but I think it's been really eye-opening to me where some of the areas of greatest potential might lie. Because they weren't things that as a faculty member were part of my day-to-day but stepping back for a minute and being able to talk to different people and see that big picture there were some areas where I felt like UNO has a lot of great potential and a very exciting future ahead, so I look forward to seeing how that gets developed.
Chancellor Gold:
Super, I know that there is a number of meetings that lie ahead in the near future including an important meeting of faculty senate. Do you think that this is something that is worth sharing
Dr. Grams:
Oh, yeah.
Chancellor Gold:
And getting some faculty reflection on?
Dr. Grams:
Yeah, I really, I look forward to being able to take this back to the group. I think that they will be very interested in this and that they will have a lot of really good ideas. They're full of very constructive ideas about how to develop some plans and carry forward things that we've been working on sometimes for a long time and sometimes brand new projects. So, I think that, I think you'll see them very enthused and eager to work on some of these things.
Chancellor Gold:
So I would like to take this opportunity to not only thank both of you but to thank all of the members of the advisory council and advisory team for six months of really hard work dedication, for their willingness to face the blatant truth and also for their very clear vision on the greatness of UNO. That's also another opportunity for me to wish each and every one of you a very happy and healthy holiday season. Thank you so much for being with us today.