Gateway's Holiday Book Drive
The Gateway Student Newspaper is hosting a holiday children's book drive for Jackson Elementary Students.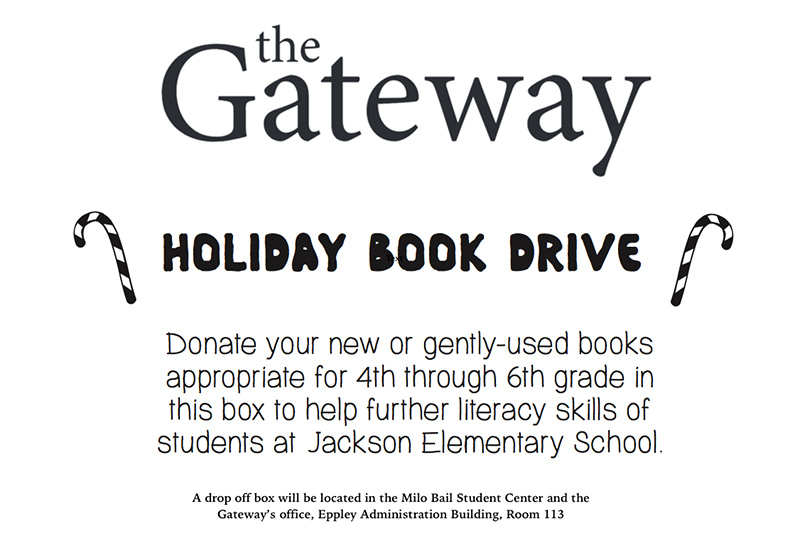 113 EAB – The Gateway Student Newspaper is hosting a holiday children's book drive for elementary students.
Students, faculty, and staff are encouraged to donate their new or gently-used children's books (appropriate for 4th through 6th grade) to help further literacy skills of students at Jackson Elementary School.
Jackson Elementary is a small but mighty school made up of a 235 dual-language students from pre-kindergarten through 6th grade who receive daily instruction in both English and Spanish. The majority of the students, 90 percent, qualify for free or reduced lunch. Jackson does not have a Parent Teacher Organization established and is heavily dependent on community assistance. The school is currently fundraising to update its library and create a computer lab to introduce technology and internet access to students who do not otherwise have digital access.
Gateway Editor-in-Chief Sophie Ford said her staff wanted to help promote literacy and generate a love of reading and learning for the young readers.
Ford says "Literacy is really important across the board no matter which field these kids decide to go into." Reading was such an important part of her own life, especially in middle school where she spent nearly every day. "We'd like to collect enough books for everyone who wants one."
The donation drive will run through Dec. 15.
So far, drop off bins are located in the Milo Bail Student Center's information desk; Arts and Sciences, Room 107; and the Gateway's office, Eppley Administration Building, Room 113.