UNO PRSSA Earns Record Recognition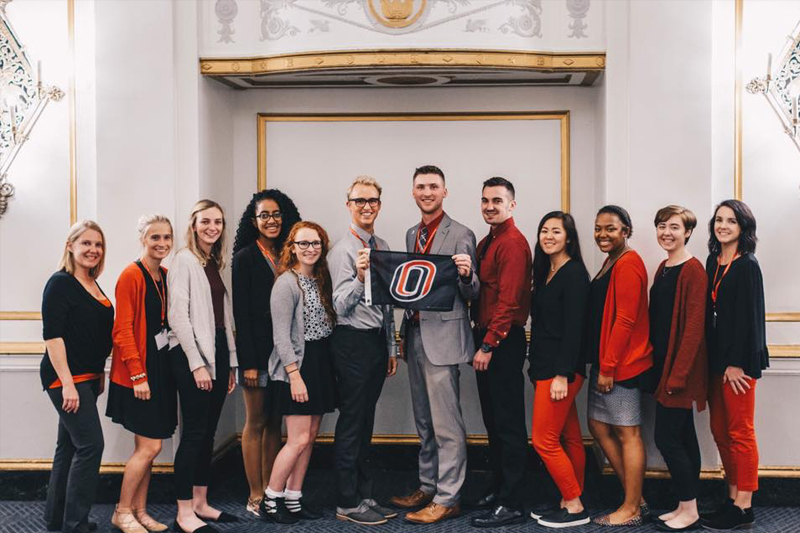 UNO PRSSA members "Show the O" at the organization's national conference.
It's a first for UNO's chapter of the Public Relations Student Society of America. UNO PRSSA earned three national outstanding chapter awards at the PRSSA 2017 National Conference.
Mavericks earned Dr. F.H. Teahan Chapter Awards for:
Outstanding Student Firm
Outstanding Newsletter
Outstanding Community Service
The Teahan Awards are the most prestigious honors a PRSSA chapter may earn. While UNO PRSSA has earned recognition for Outstanding Community Service six times since 2004, this marks the first time the chapter has earned a Teahan Award for Outstanding Student Firm and Oustanding Newsletter.

Three cheers for three awards! 🎉🎉🎉 #PRSSANC pic.twitter.com/CrwkuTe6Vo

— UNO PRSSA (@UNO_PRSSA) October 10, 2017
UNO PRSSA also received a Star Chapter Award, a distinction signifying the team met specific chapter and professional development goals, including community service, high school outreach, and public relations event attendance.
Faculty advisor Karen Weber says she couldn't be more thrilled.

"I am very proud of our students, who have all worked so hard to get here," Weber said. "This recognition is the result of applied learning, networking, and service our students take part in every semester, all of which has equipped them to excel in the workplace after graduating."

School of Communication Director Hugh Reilly calls it a proud moment.
"It's gratifying to see all of our students' hard work paying off. Under the outstanding leadership of Professor Karen Weber, they represent what is possible when you combine passion, persistence and ability."
The latest awards continue UNO PRSSA's strong momentum. The organization has been named the nation's top chapter three times in the last eight years, winning the Teahan Award for Outstanding Chapter in 2015, 2012, and 2009.