Community Engagement Spotlight | Sandra Jones
Sandra Jones brings science to life for the students in the STEM Ecosystem.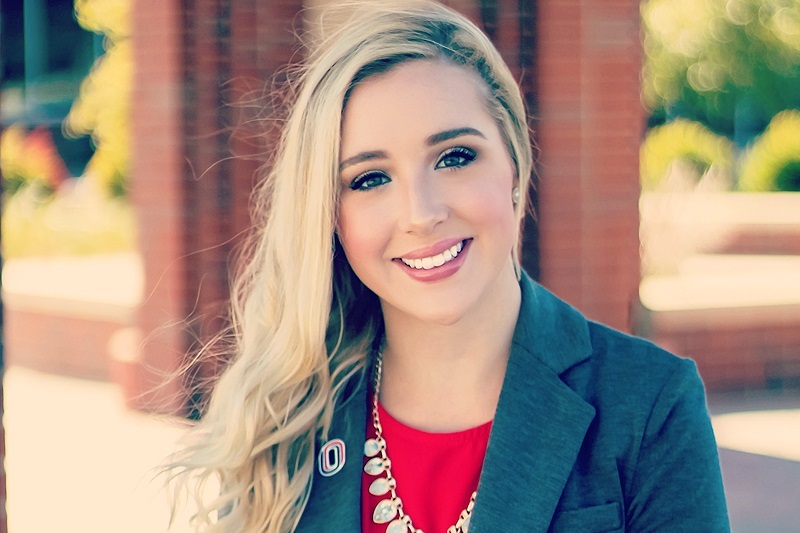 Sandra Jones is a senior undergraduate in the College of Education, majoring in Elementary Education with an endorsement in STEM. She is a first generation college student from a small town in southwest Nebraska. When she first came to UNO she didn't realize how much she would learn to love STEM education.

Jones says her STEM journey began when she joined the Omaha STEM Ecosystem, after meeting UNO STEM leader and advocate, Nealy Grandgenett, Ph.D. The Omaha STEM Ecosystem partners with schools, after-school and summer programs, science centers, museums and businesses to help deliver STEM learning for young children in the Omaha area.

Jones helps bring science to life for the students in the STEM Ecosystem, in one project showing them how to create wearable technology that uses weather-reading technology to suggest weather-appropriate clothing options. Jones loves fashion and now realizes that incorporating her students' own passions into projects is a very effective way to motivate and inspire students.
The experience helped Jones get her first internship with Microgravity University for Educators, a program funded by NASA. The program helps provide educators with an authentic STEM experience in experimentation. Jones says that it gives her hope to see so many organizations and community groups pushing for STEM education like Omaha Girls Inc.'s with their Eureka-STEM camp.

The Omaha STEM Ecosystem gave Jones opportunities to form meaningful relationships and connections, especially with fellow future educators who share her passion for STEM.

"It's helped me better my future as an educator as I form these experiences; it helps my future students, and of course, helped me get a NASA internship." Jones is now at the close of her second internship with NASA, at the Johnson Space Center.
---
Campus Commitment to Engagement
Community engagement and service are fundamental components of UNO's identity. This commitment to engagement is reflected in UNO's academics, student body, partnerships, and institutional framework. As an engaged campus, UNO values mutually-beneficial partnerships where information and expertise is shared and applied for the common good.
Share Your Story
Did you organize or participate in a community-oriented project or service? UNO wants to hear from you! UNO is committed to community engagement in its broadest form, and wants to feature your community service story.
Submit your story on MavSYNC or via e-mail.
Read other community engagement spotlight stories.
Contact Us
If you have a story idea, news tip, or other question, please email the UNO News team at unonews@unomaha.edu.