Community Engagement Spotlight | Jimmy Nguyen
Jimmy Nguyen has made a home at UNO. The student senator is involved with Habitat for Humanity, Students Against Hunger, and started South Sioux City alumni team of students. Project achieve helped start Jimmy down the path of volunteerism.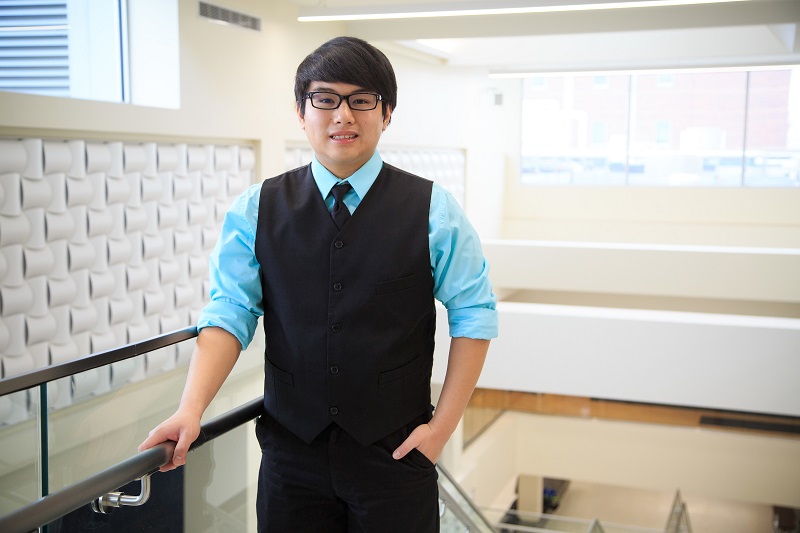 "Project Achieve helped introduce me to all these different areas, whether it's volunteering, job shadowing or just being involved in the community," he said."I felt so appreciated, recognized and they're like my second family over there. They've done more things for me than I could ever thank them for."
Jimmy Nguyen is majoring in biology with a minor in chemistry and plans to become a pharmacist. Through volunteering, he found a way to gain experience in the medical field and form lasting connections.
During his first semester, he volunteered at Methodist by bringing gift baskets and having conversations with patients to cheer them up. One connection he made formed a lasting bond beyond the hospital.
"I formed a connection with a specific patient. I visited him for about a month before rehabilitation," Nguyen said. "When he went through therapy at another location, he asked me to come with him. So we continued our relationship from there on."
Nguyen encourages other students to get involved in the community and find an organization where they belong. This is a way to make a lasting impact. "The way I see it, I won't be here forever, but the things I do will be," he said.
"You can't be a victim of circumstance. You have to be an instigator of change."
---
Campus Commitment to Engagement
Community engagement and service are fundamental components of UNO's identity. This commitment to engagement is reflected in UNO's academics, student body, partnerships, and institutional framework. As an engaged campus, UNO values mutually-beneficial partnerships where information and expertise is shared and applied for the common good.
Share Your Story
Did you organize or participate in a community-oriented project or service? UNO wants to hear from you! UNO is committed to community engagement in its broadest form, and wants to feature your community service story.
Submit your story on MavSYNC or via e-mail.
Read other community engagement spotlight stories.
Contact Us
If you have a story idea, news tip, or other question, please email the UNO News team at unonews@unomaha.edu.