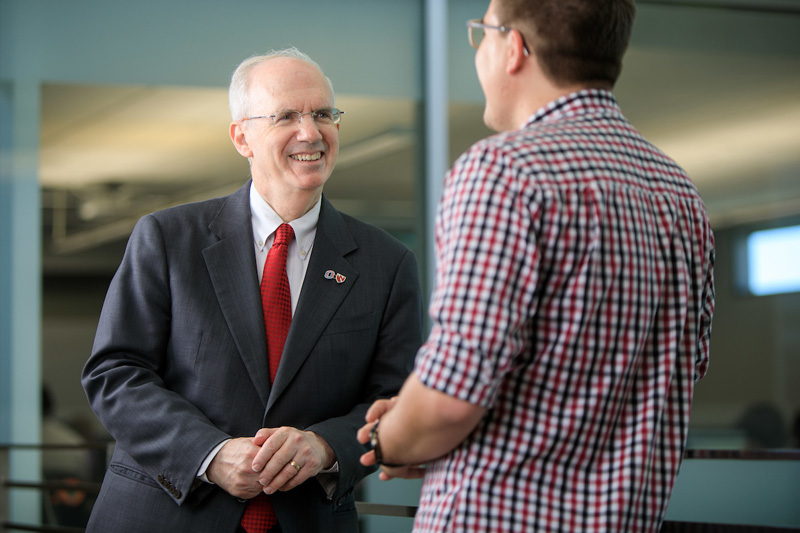 Having spent much of my life working in improvement of health care, I cannot say enough about the importance of taking an active holistic approach to wellness.
Well-being is so much more than eating right and staying physically active. It is just as vital that we have a sense of purpose, satisfying relationships and freedom to be creative in our daily lives. Each of the eight dimensions of wellness is important, and I am proud that UNO's campus culture makes them all a priority.
During this Wellness Week, you will see a number of messages sharing campus resources and programs that support health and wellness. From group exercise classes to online financial literacy courses, UNO has much to offer our students, faculty and staff. I encourage you to explore these abundant opportunities and learn more about balancing each dimension of wellness in your life.
As you focus on a specific dimension of wellness, I expect you will notice a ripple effect. For instance, time with friends will contribute to your social wellness, as well as your emotional wellness. Each dimension affects and overlaps with the others.
Similarly, your well-being influences that of our entire Maverick community. Your engagement will help us build a culture and environment where we can thrive. So, this week, and every week, I ask you to take time to take care of yourself and truly be well.
Sincerely,
Jeffrey Gold, M.D.
Chancellor
Find out how members of the UNO community practice the eight dimensions of wellness in their lives.
Contact Us
If you have a story idea, news tip, or other question, please email the UNO News team at unonews@unomaha.edu.