UNO Continues Maverick Momentum With Record-Breaking Incoming Class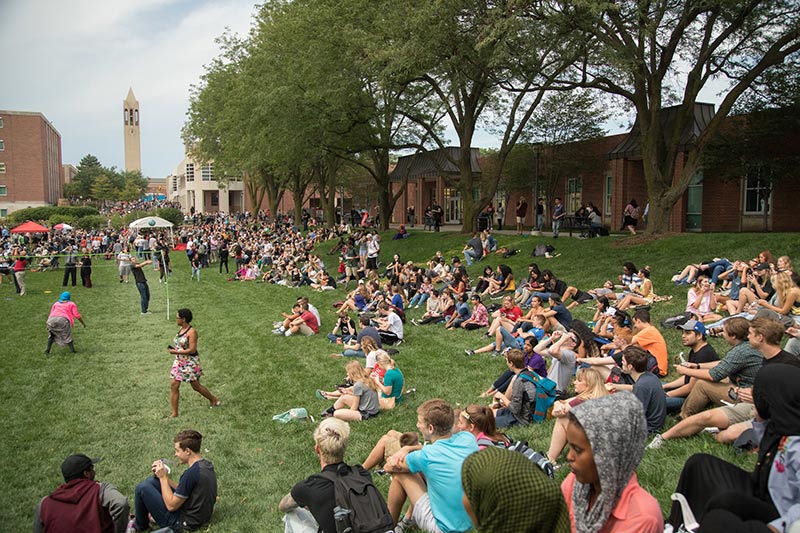 The University of Nebraska at Omaha (UNO) is continuing its 'Maverick Momentum' into the 2017-2018 academic year, achieving a record-breaking incoming freshman class for the third straight year and enrolling the second-largest graduate class in the school's history.
The 15,731 students enrolled at UNO for the new academic year includes 12,624 undergraduates, 2,105 of which are incoming freshmen, and a graduate class of 3,107, including 723 new students.
This continues a trend where UNO has grown or maintained its overall enrollment each of the last 10 years. Over the past decade, UNO has grown its undergraduate and graduate enrollment by more than 1,300 students.
"Access to excellence in education is at the very core of our metropolitan university mission and the size of our newest class shows we are doing more than ever to live that mission" said Chancellor Jeffrey P. Gold, M.D. "Students are excited to be Mavericks. They know that during their time at UNO they will learn from world-class educators, gain practical hands-on experience, and make important community connections."
The addition of nearly 3,000 new students, undergraduate and graduate, for 2017-2018 comes on the heels of a new alumni class of 3,123 recent graduates, maintaining the successes of the 2015-2016 graduating class, which was the largest in UNO's nearly 110-year history.
"We can measure our success with two key benchmarks: we are welcoming another record-breaking first-year class just a few months after celebrating another historic year of students getting past the finish line and earning their diplomas," said Dan Shipp, vice chancellor for student success. "This progress is the direct result of strategic investments, strengthened collaborations, and hard work. We are on the right trajectory and committed to building on this momentum."
The second-largest graduate student class in UNO history comes on the heels of five consecutive years of growth, growing enrollment by 17 percent since 2012.
"The number of Nebraskans who are choosing to advance their professional and academic careers continues to grow and our faculty stand poised to help them develop the advanced skillset they need to enhance their career options," said Deborah Smith-Howell, associate vice chancellor for Academic Affairs and dean of Graduate Studies. "We prepare our students to be leaders with experience-driven, affordable programs. Increased enrollment seems to show that for thousands of our alumni the investment is paying off and others are taking notice."
Continuing UNO's metropolitan university mission, this year's incoming class is, once again, increasingly diverse and representative of the state of Nebraska.
Nearly one third of UNO's incoming undergraduate class come from underrepresented groups while the graduate program has increased the number of underrepresented graduate students by nearly 15 percent over last year.
UNO also continues to serve a significant number of students who are the first in their family to go to college with 44 percent of UNO's undergraduate class being first-generation students.
With these numbers, UNO continues to enroll and educate more underrepresented students than any other school in the University of Nebraska system.
The state of Nebraska is also well represented at UNO.
The number of graduate students coming from the state is now at 77 percent, up nearly five percent over last year. The undergraduate class is made up of 87 percent Nebraskans, with 77 of Nebraska's 93 counties represented.
Overall, 85 percent of UNO's enrollment is made up of students who are from Nebraska, many of whom stay in Nebraska after graduation. Currently, UNO has more than 60,000 alumni currently living and working in the state.
"UNO has been, and continues to be, an integral educational and economic resource for the state of Nebraska" Gold said. "The future has never been brighter for the campus and there has never been a better time to be a Maverick."
Contact Us
If you have a story idea, news tip, or other question, please email the UNO News team at unonews@unomaha.edu.