UNO Student Named Buffett Early Childhood Institute Graduate Scholar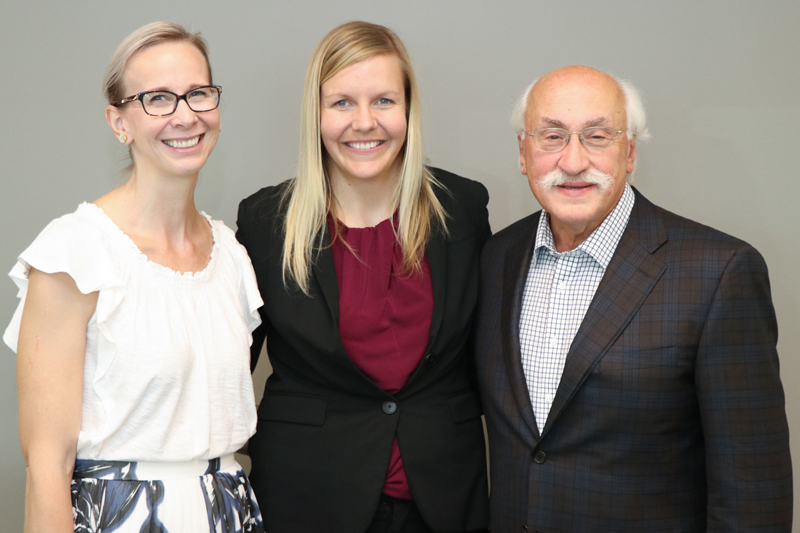 UNO doctoral student Jordan Wickstrom (center) poses with her mentor Jenna Yentes, assistant professor of Biomechanics at UNO, and Samuel Meisels, Buffett Institute executive director.
The Buffett Early Childhood Institute has selected University of Nebraska at Omaha (UNO) doctoral student Jordan Wickstrom as one of three students to be awarded with a one-year grant through the institute's Graduate Scholars program.
The program provides financial support and mentoring and is designed to foster the growth of diverse, exceptional graduate students conducting research about young children and their families. The program, now in its second year, is the first financial support program for doctoral students who have reached Ph.D. candidacy at the University of Nebraska that focuses on young children and their development.
Each of the 2017-18 fellowship recipients will receive up to $25,000 to support scholarly research that benefits young children.
Wickstrom, of Columbus, Nebraska, is an exercise science student (concentration in motor development and control) in the Department of Biomechanics. Her research seeks to improve early assessment of Autism Spectrum Disorder (ASD) through identifying early differences in motor development (specifically sitting posture control), eye gaze behavior, and social brain activation. Her findings could provide insight into the underlying factors contributing to developmental delays, improve early detection, and aid development of interventions to improve the quality of life for individuals with ASD. Her faculty mentors are Anastasia Kyvelidou and Jenna Yentes, both Biomechanics assistant professors.
The Buffett Institute's other two 2017-18 fellows, Sonya Bhatia and Amy Colgrove, are University of Nebraska-Lincoln students. Bhatia will study teacher-student interactions. Colgrove will study teachers' stress management.
"We are thrilled to continue our support of talented doctoral students and faculty at the University of Nebraska," said Samuel J. Meisels, founding executive director of the Buffett Institute. "The three recipients are exceptional students whose research will deepen our understanding of young children's learning and development."
The Buffett Institute Graduate Scholars program is intended to reach across traditional higher education boundaries, supporting high-quality research from diverse fields that impact young children, including health, education, social work, music, art, the neurosciences, and others. Multidisciplinary research and practice—particularly from disciplines not typically associated with the field of early childhood education—and new methodologies are encouraged. Scholars work with their faculty mentors on a dissertation that represents an in-depth exploration of early childhood issues. For more information, visit http://buffettinstitute.nebraska.edu/our-people/buffett-scholars.