UNO Alum Works With Current Students to Improve Literacy in Africa
Sister Rosemary Arrah, a UNO College of Education alumna, has spent the last five years working with UNO students to provide books to youth in her native Cameroon.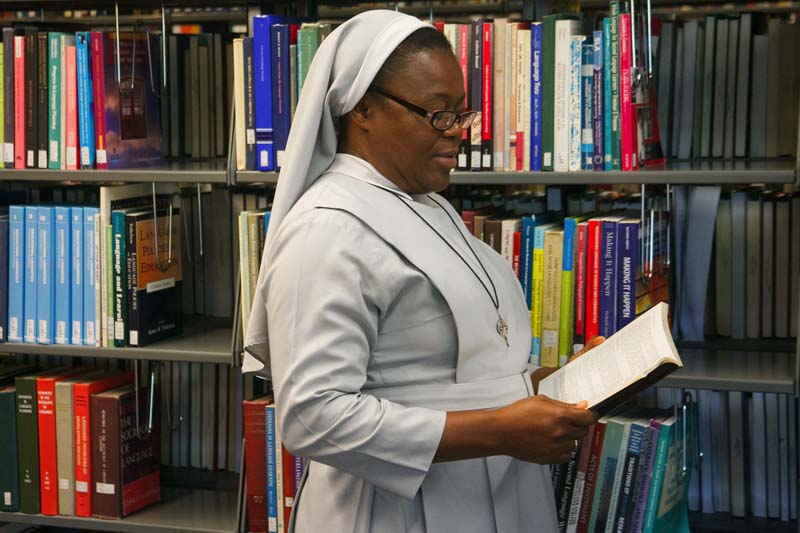 In 2013, Sister Rosemary Arrah was graduate student with a dream.
Now, four years later, her dream has become a reality, but the journey has not been without its challenges.
Arrah, who graduated from UNO in 2013 with a master's degree in special education and 2014 with another master's degree in educational leadership, is one of the founding members of the nonprofit Reading Drive for Africa. The nonprofit's mission is to improve literacy across central and western Africa by providing access to books through school libraries.
Prior to the formation of Reading Drive for Africa, it was almost unheard of for an elementary or middle school to have a school library.
"I couldn't remember reading a book in primary school because they weren't available," Arrah, who is a religious sister of the Handmaids of the Holy Child Jesus in Africa, told the Omaha World-Herald in 2013. "The more resources available, the more successful students can be."
With support from UNO, Arrah joined fellow students, now alumni, Larisa Akah and Benadette Ngamelue, as the first group to present at the Clinton Global Initiative University (CGIU), an extension of the Clinton Global Initiative, which seeks to solve world problems by bringing researchers together with funding resources.
Following their presentation at CGIU, Arrah, Akah, and Ngamelue were able to secure $5,000 and 8,000 books in donations. They soon traveled to Cameroon to turn an empty classroom at St. Joseph Primary School into a library and educate students and staff on the process of checking out and returning books.
"The books arrived before we got there and so the students were able to have some books available to them," Arrah says. "We also raised funds for the furniture in the library and set up the space so by October 2013 the library was functional and kids were checking out books and reading."
Flash forward three years to the start of the 2016-2017 school year and Reading Drive Africa had added four more libraries and another 8,000 books before an internal rift within the country effectively shut down a majority of the schools in the English part of Cameroon.
In November 2016, English-speaking teachers in Cameroon went on strike over issues with the dilapidating English subsystem of education. Schools and classrooms have been empty across the English-speaking part of the country ever since.
Arrah, now a principal of Ancilla Catholic Comprehensive College in Cameroon, says it has been one of the most difficult situations she's ever experienced.
"Most of my work, as a principal and as part of this organization, has been brought to a halt the last eight months," she says. "Everything was going well and we didn't realize it would be taking this long. We also don't know when it is going to stop."
Support of literacy is key in Cameroon with roughly only 71 percent of all men over the age of 15 and 78 of all women over the age of 15 being able to read and write.
Arrah says the ability for students to access and check out books is one of the best ways to ensure they are exposed to new ideas and retain key literacy skills.
"At my school we track the abilities of students to recall what they've read and at other schools they give assessments at the end of the term. We also get a report from teachers on the improvement of student outcomes in terms of reading and writing."
I couldn't remember reading a book in primary school because they weren't available
- Sister Rosemary Arrah
Because of the current crisis, Arrah has refocused her efforts on bringing books to the children who otherwise would access them through school libraries. To aide this new effort, she is planning to partner with UNO's Collaborative, a student-led initiative that organizes and coordinates university-wide community service and volunteering opportunities, to organize a fundraising effort that would allow Reading Drive for Africa to purchase text books locally rather than shipping books overseas from America.
"Not only will this help make the subject matter more relevant for the students but it will help infuse money into the local economy," explained Harnoor Singh, program coordinator for the Collaborative.
The effort builds on efforts already made by student workers in the Collaborative to establish a 10-day STEM camp for K-12 students in Cameroon. It is an effort that Singh says students plan to continue once schools reopen.
"Much of what they learn in science right now is rote memorization," Singh explains. "This effort was designed to get them access to hands-on science experiments."
Much of this new effort will involve bringing books to students in their communities and, when possible, provide access to books on mobile devices like World Reader.
"Now you can only get kids in the neighborhood or the churches and so that's the easiest way to access them," she says.
Additionally, Arrah would like to work with UNO students to bring the project back to where it got started. She hopes to have a new proposal and project that students can take to CGIU this upcoming April with the goal of increasing programs and staff in Cameroon to meet the needs schools will have when they do end up reopening.
She adds that there are also opportunities for research in Cameroon with graduate students and faculty, including projects that look at the impact of education efforts on literacy and learning.
"Children [in Cameroon] are eager to read, they only need the access to books and the opportunity."
Contact Us
If you have a story idea, news tip, or other question, please email the UNO News team at unonews@unomaha.edu.