A New Employee Development Program: Re-Imagining U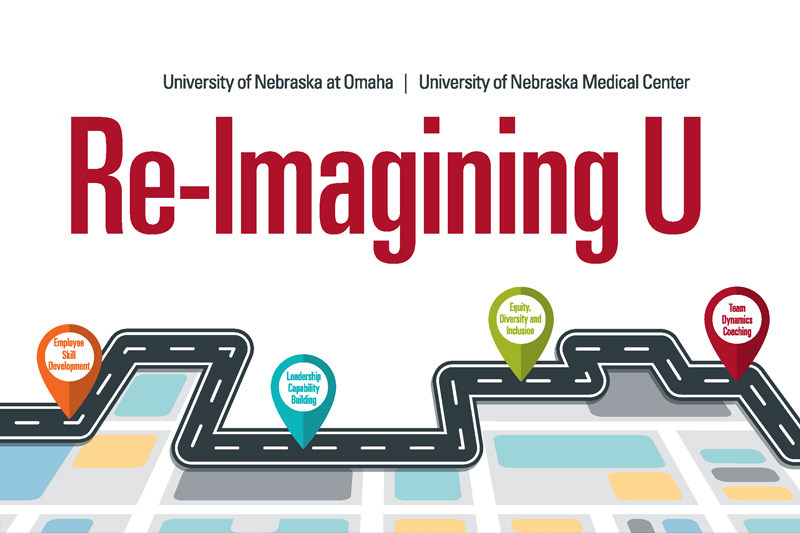 Ready to take charge of your professional development?
UNO's Office of Human Resources is pleased to announce Re-Imagining U, a new employee training and development program launching this fall in collaboration with UNMC Human Resources, which led the development of this new program.
Re-Imagining U was created to give employees the opportunity to customize their learning and skill development in a way that is right for them. Courses are offered individually. Employees can take courses in any order they desire.
As with any development opportunities, employees will need approval of their managers to attend these courses, so that office/department needs can be met while they are attending training.
While not required, Re-Imagining U offers both specific skill tracks and general learning certificates.
In addition to regularly occurring classes, Re-Imagining U will also feature one-time speakers and topics – called Electives. These Electives will cover deeper discussions; trending leadership topics; and equity, diversity and inclusion learning.
UNO employees will see a new Maverick Daily story at the start of each month, sharing the month's list of courses and any new Electives. Classes can also be viewed at any time through the course catalog.
Classes start Sept. 7 with "The Power of Followership."
Partnering for Better Programming
As part of the growing collaboration between UNMC and UNO, this new program benefits both universities through more robust programming and significantly reduced projected costs. Cost savings will directly benefit employees, as these resources will be redirected to support additional efforts in the development and retention of an outstanding and fully engaged workforce. Most importantly, Re-Imagining U is an opportunity for UNO and UNMC employees to learn from each other, as we strengthen our capability, inclusivity, collaboration and leadership.
Regardless of location, courses are open to all UNO and UNMC employees and parking solutions have been created at each campus for those attendees from the other campus.
Contact Us
If you have a story idea, news tip, or other question, please email the UNO News team at unonews@unomaha.edu.