Mission Critical
UNO graduates and former faculty are key members of the U.S. Air Force's 557th Weather Wing.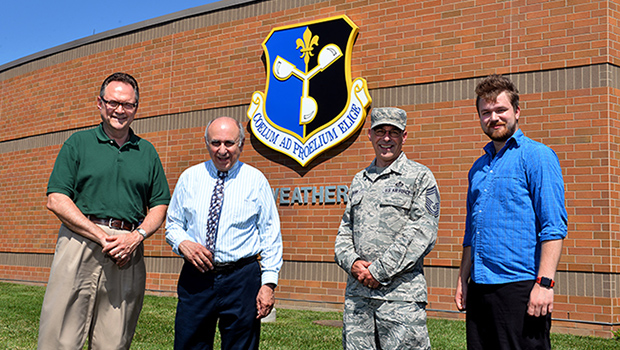 This story was first published in the Summer 2017 issue of the UNO Magazine
For three UNO alumni, one thing is sure: In the turbulent weather of spring and early summer, they never know for certain what the day will hold. They've learned to watch the forecast vigilantly, be flexible, and when a storm does flare, stay out of its way.
Chances are, your favorite television weather forecaster will rarely utter the word "haboob."
In case you're wondering, a haboob is a high-intensity sandstorm that strikes desert areas in the Middle East. It might not turn up on the evening news, but the haboob is something that Ted Lewiston and others in the 557th Weather Wing are known to ponder.
If you're flying a U.S. Army helicopter, you want to know if one of these storms is coming your way.
"One of our teams developed haboob forecasting," says Lewiston, a UNO graduate and IT specialist in the Wing's 16th Weather Squadron at Offutt Air Force Base. "So if we have military forces in the area, they could take defensive action. There aren't too many data centers in the world that do the kind of work that we do."
Serving Operations Around the Globe
The 557th Weather Wing serves as the premier weather forecasting and support center for U.S. Air Force and Army operations across the globe. Need to know if wind shears will limit a drone's effectiveness or if snow will make a mountain pass treacherous? The 557th will have your answer.
Far from the front lines, the Weather Wing provides a sense of mission and a daunting technical challenge for Lewiston and other UNO graduates, students and instructors. They are among 1,450 active duty, reserve and civilian employees with the Weather Wing.
These aren't peppy television meteorologists telling you if a weekend picnic will get washed out. Those who work at the Weather Wing—both at Offutt and at military installations around the world—process data from across the globe. For military personnel, the stakes couldn't be higher.
"Really, a lot of what we're doing is helping commanders make risk assessments," says Chief Master Sgt. James Slisik, who is enrolled in the Executive MBA program at UNO. "There is no National Weather Service in Afghanistan. That is our role."
Weather played a key role in military battles throughout history, including the D-Day landings during World War II. But weather and environmental conditions factor into less well-known military operations every day. The need to accurately forecast weather grows more important as technology pushes the limits of aircraft and advanced weapons.
"It's no secret, we're flying a lot of drones," says Bruce Telfeyan, a senior meteorologist with the Weather Wing who previously served as an Air Force ROTC instructor at UNO. "It's a whole new world, what type of turbulence those air frames can handle. If we're supporting spy aircraft flying at higher than 50,000 feet, they want to know what the winds and temperature are going to be up there."
Sometimes, a commander needs to know if soldiers will encounter muddy conditions. An accurate forecast will determine if an Air Force bomber will fly into a thunderstorm at a specific location, putting the crew at risk. Dust storms reduce a pilot's visibility and some equipment won't function properly if temperatures drop too low.
Telfeyan, who joined the Air Force in 1972, said an accurate forecast can protect soldiers. In Iraq and Afghanistan, U.S. troops faced deadly threats from improvised explosive devices when transporting materials in convoys. It made sense to use air drops instead, but that only works with a precise understanding of wind conditions at high altitudes.
"If you drop, say, four pallets filled with food, water and munitions, if you don't know what the wind speed and conditions are, it's not likely your parachute is going to come down in the right place," Telfeyan says.
Slisik, superintendent of the 2nd Weather Group, puts it in starker terms. "To have accurate information is life or death," he says."
To have accurate information is life or death.
- Chief Master Sgt. James Slisik
The UNO Advantage
It's no accident that some UNO graduates bring computer expertise to the Weather Wing. The 2nd Weather Group operates a $303 million high-performance computing complex. A powerful supercomputer crunches a dizzying array of variables to predict weather.
Lewiston, who spent 20 years in active duty, has a computer science degree and works in a civilian capacity with weather models that focus on precipitation rates, long-range forecasts and other specialized applications.
Zach Warman received a bachelor's degree in management information systems at UNO. He works as an IT specialist on a models team.
"I kind of fell into it," says Warman, who served in the Army Reserves and now works as a civilian in a Weather Wing squadron. "UNO has one of the best information technology schools out there. I jumped on it."
High-powered computing takes weather data collected from satellites and weather stations around the world. Some of the information is picked up from sensors placed in remote areas that lack advanced infrastructure. The data is put into forecasting models, analyzed and then sent back out so that commanders can make decisions in the field.
"Computing power enables us to solve more complex problems," Slisik says. "Speed is important but it's not everything."
Just like a forecast on TV, accuracy starts to break down after about 48 hours. Telfeyan believes that will change as computing power advances.
"Every 10 years, we get one more day of accuracy," he says. "The future is looking like it's going to be one of more accurate forecasts."
Number-crunching and computer algorithms aren't always the stuff of war movies. But those in the Weather Wing know that they make a difference every day. The motto of the Weather Wing is "choose the weather for battle." It's something Slisik and others take seriously.
"The challenge our folks work every day, there's no script for that," Slisik says. "These aren't easy problems. The fact that I'm part of a team that helps solve them is very rewarding."
Warman feels he's become part of something important. "When I was going to UNO, I interned at a corporate IT place," he says. "You respond to a customer and say, 'whatever.'"
"Coming to the 557th, even as a civilian, it does bring a sense of pride. It's a lot more worthwhile. It gives me a reason to go to work every day."
Telfeyan says their work also benefits humanitarian missions when the Department of Defense is involved. He recalls providing weather information for the rescue of a doctor facing a health crisis in Antarctica.
"There was six months of darkness and we had to make sure the temperature didn't fall below a certain threshold where the jet fuel froze," he says. "Then the plane crashes."
Loving Weather
At least some in the 557th have learned to love the weather as much as Telfeyan, who found his vocation at the age of 12 when Hurricane Donna struck the East Coast. "Since then, I've been hooked," he says.
In Nebraska, the Weather Wing has a building with a balcony. It's a place where those described as 'weather geeks' will gather to 'ohh' and 'ahh' when ominous clouds roll across the sky. Warman, who was once an architecture major, has joined that club.
"We saw a tornado on the deck," he says. "I was surprised how excited I got. My job has done this to me."
Lewiston, on the other hand, tends to stay inside when a storm is about to hit. He's more concerned about conditions affecting military personnel in some far-flung corner of the world.
"All the weather geeks go out on the balcony," he says. "The rest of us are inside saying, 'I'm glad I'm here.'"
---
This article appeared in the UNO Magazine - the flagship publication of the University of Nebraska at Omaha, for alumni, faculty, staff, students, donors and friends of UNO.
The most current issue is located online.
Contact Us
If you have a story idea, news tip, or other question, please email the UNO News team at unonews@unomaha.edu.