Taking Maverick Pride to a New Level
Tyler Lee takes the UNO Alumni Association's "Show the O" campaign to 12 countries.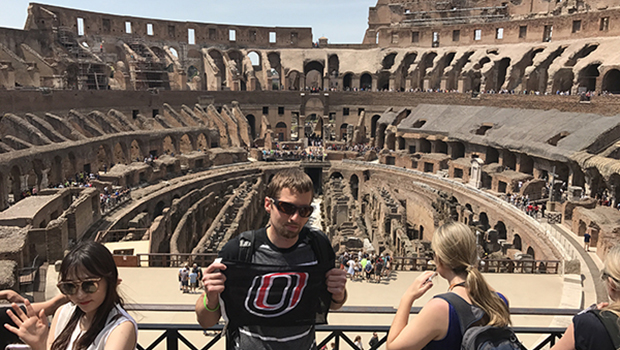 This story was first published in the Summer 2017 issue of the UNO Magazine


Tyler Lee this summer completed two journeys.
One is the kind you can plan for. The other is the kind you can't.
Lee, a 2013 UNO graduate (BS in education, emphasis exercise science), chronicled an 80-day trip across Europe on Instagram, simultaneously taking the UNO Alumni Association's Show the O campaign to a new level.
The campaign provides alumni with UNO flags they can use in photographs while traveling. Most people submit just a photo or two. Lee took dozens—in front of the Leaning Tower of Pisa, Stonehenge and numerous other tourist hotspots.
More remarkable, though, is the path Lee took to become a Maverick.
Writing from a Rome hostel in May, Lee explained that his relationship with UNO started at an early age. He fondly remembers attending basketball camps on campus while growing up. When he was fighting a brain tumor in eighth grade, UNO student-athletes came to visit him.
When Tyler and his family lost his older brother Trever, they started the Trever Lee Memorial Scholarship for College of Business Administration students interested in studying Investment Science.
Lee chose UNO to pursue a degree, too. But after graduating, the job search proved difficult. Lee had the credentials to reach his dream of becoming a personal trainer, but he believed something else was holding him back: his brain tumor had left him with left facial paralysis. He decided to go through facial reconstruction surgery.
"It involved taking a piece of my own thigh muscle, implanting the muscle into my cheek and reconnecting nerves and blood vessels," Lee said.
This would let him smile.
As he recovered from two separate procedures, Lee talked with a world-traveling friend about going on an adventure of his own.
"Never did I actually expect to go on a big trip, but here I am."
By the time Lee's journey was done, he'd been to 12 countries.
Two friends he's traveling with helped him come up with the idea of taking flag photos throughout the trip. His best advice for others planning to "Show the O": keep your flag accessible. That's a lesson he learned on his first night in Glasgow, Scotland.
"I was on top of this hill in a crazy graveyard called Necropolis that overlooked a gothic-style church. I scrambled through my daybag looking for the flag. It was freezing."
Talking with his friends, he realized he needed to keep the flag handy for other scenic locations. And just like that, the idea came together.
Lee says the flag elicited various reactions.
"Most people just look perplexed. Others have commented how cool of an idea it was and a few of the street performers who wanted to pose for a photo with me and the flag have said things like 'I better not be advertising anything bad,'" Lee said.
The mission ran into a bump in Paris when security guards at the Eiffel Tower had Lee empty his pockets and took the flag.
"They were looking at it weird and talking in French. I couldn't explain what it was since we spoke different languages."
Fortunately, they returned the flag.
Lee breathed a sigh of relief—he had lots more pictures to take.
"I want to show my school pride everywhere I go."
This article appeared in the UNO Magazine - the flagship publication of the University of Nebraska at Omaha, for alumni, faculty, staff, students, donors and friends of UNO.
The most current issue is located online.
Contact Us
If you have a story idea, news tip, or other question, please email the UNO News team at unonews@unomaha.edu.