In the Chase
Professional storm chasers and those charged with documenting severe storms know the pursuit can be a thrilling yet bittersweet adventure.
contact: Susan Houston Klaus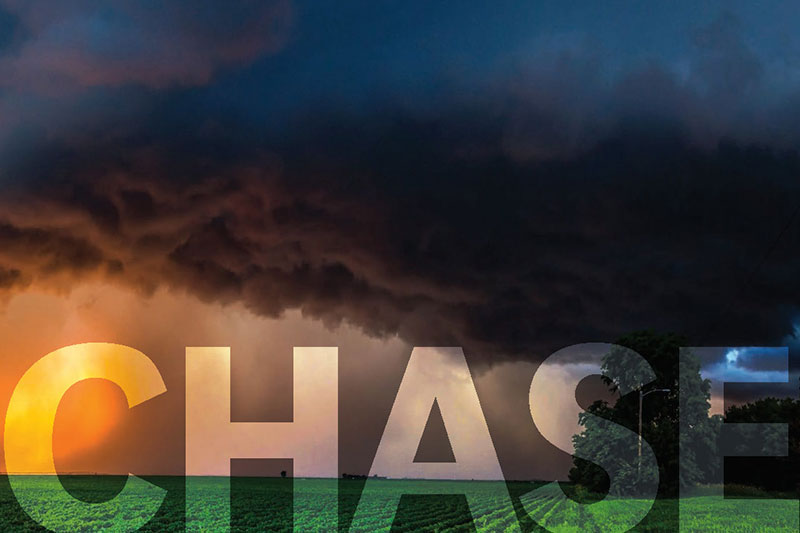 This story was first published in the Summer 2017 issue of the UNO Magazine
For three UNO alumni, one thing is sure: In the turbulent weather of spring and early summer, they never know for certain what the day will hold. They've learned to watch the forecast vigilantly, be flexible, and when a storm does flare, stay out of its way.

From Beautiful to Destructive
Growing up on a farm in the northeast Nebraska town of Lyons, 2015 alum Eric Anderson was always interested in severe weather.

"You can go through a chase day and you can see the best part of nature, the most beautiful storms and calm, and then you get up close to it and you realize it's unleashing complete destruction."

"I'd always get in trouble from my mom because I'd go outside during storms and there'd be lightning," he says. "She'd get nervous and want me to come in, and I'd just go out farther."

Early on, he combined his curiosity with his camera skills, shooting photos that illustrated the havoc such weather can wreak. About six years ago, he started chasing storms.

As part of the group Tornado Raiders, he estimates he's racked up close to 200,000 miles chasing storms from Canada to Texas, Colorado to Indiana.
For Art's Sake
Evan Ludes, also a 2015 grad, got the storm-shooting bug while he was still in high school. His first chase was May 2010 — he remembers getting permission from his parents to go with a friend to photograph storms in Oklahoma.
"I know there are lots of people who do it for the adrenaline rush and the storm junkie, but I'm definitely the type who goes out for the photos and the art," Ludes says.
In the past seven years, he's chased throughout the Midwest. Recently, he moved to Rapid City, South Dakota, where the Black Hills are their own storm-producing environment.
"They're just out the back door here. Maybe 10 or 15 miles and I can be under a storm most days during the summer. It's always sort of a tough call to make because you never know if the storm will still be there."
Big outbreaks, however, give photographers a head start on planning the potential for the best shots.

"You can see them on the long-range models anywhere from one to two weeks out. Then sometimes as you're two or three days out, you get higher and higher confidence that we are going to have some supercell thunderstorms or tornadoes in the area," Ludes says.
The Impact on People
Documenting both the lead-up and the aftermath to severe storms is part of Chris Machian's job as a photojournalist at the Omaha World-Herald. While he photographs storms, he doesn't consider himself a chaser but someone who's focused on showing how severe weather affects people.
He's documented some of the worst tornadoes in the past several years. His work has been recognized with a Great Plains Journalism Award; he's also a winner in the Associated Press Great Plains News and Photo Contest.
It was beautiful and we knew it was going to be bad.
- Chris Machian
The 2004 UNO grad started covering storms for the Gateway while he was a student.
"I'll be honest, I didn't know what I was doing. It wasn't until later that I found that the weather service offers severe weather spotter training."

That kind of education, along with understanding how to use weather models, helps these photographers predict where to get the best shots—and helps them stay safe during a storm.
In 10 years at the World-Herald, Machian has covered many storms, but one that stays with him isn't a tornado. It's the 2013 storm that caused damaging hail in Blair and significant flooding in Omaha. "I was with another World-Herald photographer that day. The cloud was amazing, just this huge thing coming at us. It was beautiful and we knew it was going to be bad."
Capturing a Moment in Time
For these photographers, there are names that form a kind of storm shorthand. El Reno, Oklahoma. Pilger, Nebraska. Mapleton, Iowa. Each town suffered devastation from tornadoes.
The pictures from the storms garnered front-page coverage from newspapers around the world. Their video footage got top priority on TV and online.
Still, what sticks with them likely isn't clicking the shutter to capture a dramatic picture, Ludes says. Sometimes, it's remembering the conditions that came together to produce a once-in-a-lifetime moment—like when he shot a storm that produced bowling-ball size hail in Vivian, South Dakota, in 2010.
"You never really know you're documenting a historically significant storm until the day is done. I found myself poring over old photos checking the time stamps and thinking, at that time, the updraft had to be exploding upward at approximately 180mph in order to support those world-record hailstones. I still think of that storm every time I drive past Vivian on Interstate 90."
Energy in the Air
As seasoned as these photographers are, there are conditions that give them pause when they're headed to a storm location. A rain-wrapped storm—which can hide a tornado—and lightning top the list, but there are others.
"When I see a green sky, I get a little nervous," Machian says.
"There are times when you kind of feel the atmospheric energy in the air. It's windy, it's humid, there are just certain things where you say, 'Oh it's going to be bad.'"
Anderson captured the "twin tornadoes" photo in Pilger in 2014. Interestingly, he says, it was the only day his team had picked a target city to wait for a storm "and absolutely nailed the forecast."
By the time his team had reached the town, they were some of the first responders there.
"One of the guys we were stationed with that day was a medic so he had all the necessary equipment." Like any disaster they would encounter, Anderson says, "we rolled up on the scene and were providing aid any way we could without getting in the way of the professional first responders.
"That day was surreal. It was a really exciting day to begin with and it ended on a pretty sobering note."
Balancing the art form with the reality that storms come and go helps put the job in perspective, Ludes says.
"Most of my chases could be categorized as events that while certainly memorable and incredible to me, will not likely go down in the history books as anything significant. Countless storms have roamed the plains before our time, and they'll continue to, regardless of who's around to see or document them. That's perhaps the most humbling thing to think about."
Chase Responsibly
Storm photographers Eric Anderson, Evan Ludes and Chris Machian offer this advice to those eager to follow a storm:
Get educated. Take a National Weather Service SkyWarn storm spotter training class. Offered locally, these sessions are free and will give you a basic understanding of thunderstorm structure, spotting techniques, reporting criteria and procedures.
Safety always comes first. Don't clog the roads. Stopping and getting out of your car not only can put your life in jeopardy but other people's, too. And it can prevent first responders from reaching those who are injured.
Closer isn't always better. Don't always be set on getting a photo of a tornado — there are plenty of other opportunities for good pictures. Drive back a mile from the storm, if you can, and you'll see the full structure of the storm.
---
This article appeared in the UNO Magazine - the flagship publication of the University of Nebraska at Omaha, for alumni, faculty, staff, students, donors and friends of UNO.
The most current issue is located online.
Contact Us
If you have a story idea, news tip, or other question, please email the UNO News team at unonews@unomaha.edu.