Giving Icy Roads the Slip
NU professor, teaching on the UNO campus, invents concrete mixture that melts ice and snow.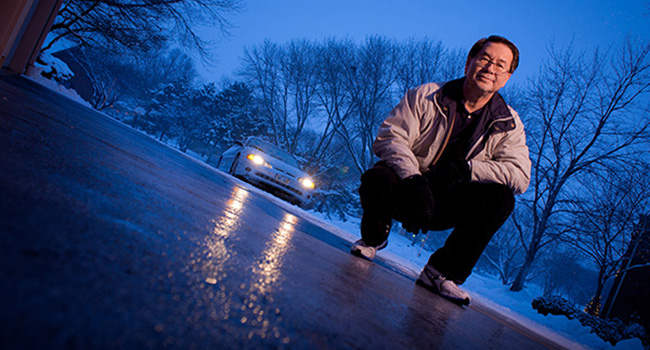 This story was first published in the Summer 2017 issue of the UNO Magazine
Picture this: You're at work, and a nasty winter storm is brewing. You nervously watch the weather report while eyeing the ominous, darkening skies outside. First, a pelting freezing rain hits, then a full-out snowstorm. You're worried about the drive home and the dicey — perhaps even dangerous — road conditions that await.
If NU Professor Chris Tuan's research takes hold, your fears could be greatly allayed. And your ride home could be smooth and stress-free.
Tuan, a professor of civil engineering, has invented a special concrete blend that, when connected to a power source, can de-ice itself and melt away ice and snow.
He's already road-tested his patented approach and proved it works.
In 1999, the Nebraska Department of Roads tested the concrete on a small stretch along Interstate 480 between Nebraska and Iowa. No power was used; the study was simply to test the concrete's durability and performance—how it would stand up to the pounding of daily traffic.
"We passed with flying colors," Tuan says.
That led to a second, landmark study funded by the Department of Roads. Tuan's concrete was used for a heated bridge deck in the renovation of the Roca Spur Bridge on U.S. Highway 77 just south of Lincoln, Nebraska, this time with a power source. Construction of the 150-foot stretch of highway was completed in 2002, and the power control room was installed the following year.
"This was the first demo project in the world using conductive concrete," Tuan says.
The Department of Roads monitored the performance of the concrete—including its de-icing powers—from the winter of 2003-2004 to the winter of 2007-2008.
"It was fantastic," Tuan says. "Five years, and there were no issues. It worked like a champ."
The study was decommissioned in 2009, and the power source is no longer used, but Tuan says that as recently as last year the concrete was still in good condition. He says the strength of his conductive concrete is about one-and-a-half times that of traditional concrete. How long would it last before needing replacement? "I would say a minimum of 25 to 35 years," he says.
A Concrete Idea
In 1993, Tuan began working as a consulting engineer for the U.S. Air Force, tasked with developing a way to de-ice its runaways without the use of corrosive, damaging topical materials and chemicals.
Budget constraints curtailed the project. But Tuan picked the idea up again when he joined UNL's College of Civil Engineering in 1996 as an assistant professor.
"I started from scratch," Tuan says. He tinkered with materials that were commercially available, eventually settling on a mixture that featured steel fibers and carbon particles.
"There were hundreds and hundreds of different trials, with different proportions," Tuan says with a laugh.
Working side-by-side with his students in the lab, it took Tuan about two years to find the right balance. In addition to finding the right materials, there was the issue of figuring out the best way to mix it.
"There is a certain sequence you need to follow in the mixing," Tuan explains. "My students and I spent one summer, in the hot sun, at a concrete plant. We were mixing and sampling the concrete … to make sure the steel-fiber distribution was uniform. It took a while and a lot of effort."
Expense vs. Performance
Tuan admits that his conductive, de-icing concrete is a bit pricey—$300 per cubic yard as opposed to $120 per cubic yard for traditional concrete—which has most likely limited its widespread use.
But he says it shouldn't be viewed the same as traditional concrete. "A lot of people think it's a form of concrete, but it's not," Tuan says. "Think of it as a heating element."
His conductive concrete can be installed, like a blanket, over traditional concrete—both for new projects and for existing road surfaces. While a concrete bridge deck might be two-feet thick, for example, the conductive concrete only needs to be the top four to six inches. It can be connected to both 110- and 208-volt power outlets (traditional household outlets are 110 volts).
Comparisons to traditional concrete should also factor in maintenance, he says. Traditional concrete requires snowplows and topical mixtures to clear roads of snow and ice. Conductive concrete, on the other hand, requires no cleanup crews and starts doing its job as the snow or ice hits the road.
In terms of heated pavements, there are other avenues engineers are exploring. One involves encasing liquid-filled pipes within concrete that then can be heated. But Tuan says his system is more energy-efficient. He explains that hydronic systems are less than 70 percent energy efficient, while his system is 90 to 95 percent energy efficient.
In addition, he says, sensors can be installed in the roads and along the roadsides to monitor road and weather conditions and turn on the heating element only when necessary.
The Road Ahead
So, when can homeowners living in snowy climates ditch their snow blowers and shovels, and install conductive concrete driveways and sidewalks?
"This is not a DIY project like Quikrete," Tuan says. "It requires some engineering. It requires an electrician, and it requires construction drawings and permits. It's not like you can run down to Lowe's or Home Depot and get a sack of it."
That said, Tuan says he worked with a homeowner in Omaha's Regency area to install a conductive concrete driveway, and Tuan, himself, has a conductive concrete patio in his backyard.
He's also working with the Federal Aviation Administration on possibly using his conductive concrete around airline terminals—clearing walkways and other areas for passengers and airport personnel such as baggage handlers.
Tuan says government officials from numerous snowy cities and states also have inquired about his concrete, although he adds that the university, as the patent holder, handles all requests to use his mixture.
One of the benefits of his concrete, he says, is that concrete companies can easily use his mixture without any additional training or skills. That means it could be mass- produced for road projects, but don't expect that to happen by the next snowfall.
"We're probably about 10 to 15 years away from it being more widespread," he says.
---
Know the Snow
What happens when it snows at UNO?
Students might like when it snows—if it comes with a day off—but there's no down time for the UNO landscape crew when the white stuff starts to pile up.
In the winter, the crew is responsible for keeping approximately 25 miles of sidewalks on campus free from snow and ice. Nearly two dozen strong, they use machines to clean walkways while also applying salt or chemicals to walks, steps, entrances, lots and streets.
It doesn't matter when it snows, either—the crew could be pushing away snow at night, on weekends or holidays.
They do get some help. The university contracts with several different companies for snow removal on its various campuses.
In 2016-17, the bill for those services came to a relatively tame $90,000. That was thanks to a snowfall total about half the seasonal average. The previous winter's tab was more typical with nearly $210,000 spent on snow removal.
A few other snow facts from Lowell Neuhaus, landscape manager at UNO.
About 1 inch of snow equals $10,000 to $15,000 in extra costs related to its removal.
A 3-inch snowfall costs about the same to remove as a 1-inch snowfall.
Snow removal costs increase once snow tops the 5- or 6-inch mark.
A snowfall's moisture content dictates how to move snow and how difficult it will be to do so.
Outside temperature determines what deicing chemicals are used. Liquid deicers can be used before it snows if it does not start as rain first and stays above 15 degrees.
"Preparation is key," Neuhaus says. "Having equipment and people in place. Pre-treatment if possible helps a lot. Once it starts to snow the plan goes into place. Then we can start managing the snowfall rates, wind and temperature."
Concrete & National Security
In addition to his work on concrete that de-ices itself, professor Chris Tuan, in collaboration with Lim Nguyen, a professor of electrical and computer engineering at UNL, has created a separate concrete mixture that has shown to be effective in deflecting electromagnetic pulses (EMP), which has implications for national security.
While the threat of this type of attack being carried out against the United States is debated, a congressional commission has warned that a weapon creating a massive burst of energy, such as a high-altitude nuclear explosion, could unleash EMP that could critically damage electrical systems and devices, including power grids.
Using his concrete, Tuan has constructed a shelter on the Peter Kiewit Institute campus that meets U.S. military standards as a protective barrier against EMP.
Current technology uses copper-wire screening (also known as the Faraday cage) and metal panels to deflect EMP.
"You can't build a building with metal panels; it's too expensive," Tuan says. "But you can build a huge building with concrete and still have the same effect.
"This conductive concrete technology is very promising. It has a lot of potential applications."
---
This article appeared in the UNO Magazine - the flagship publication of the University of Nebraska at Omaha, for alumni, faculty, staff, students, donors and friends of UNO.
The most current issue is located online.
Contact Us
If you have a story idea, news tip, or other question, please email the UNO News team at unonews@unomaha.edu.