Audition for the "Maverick Machine" Pep Band
The "Maverick Machine" is UNO's resident pep band at Baxter Arena. Audition by Sept. 9.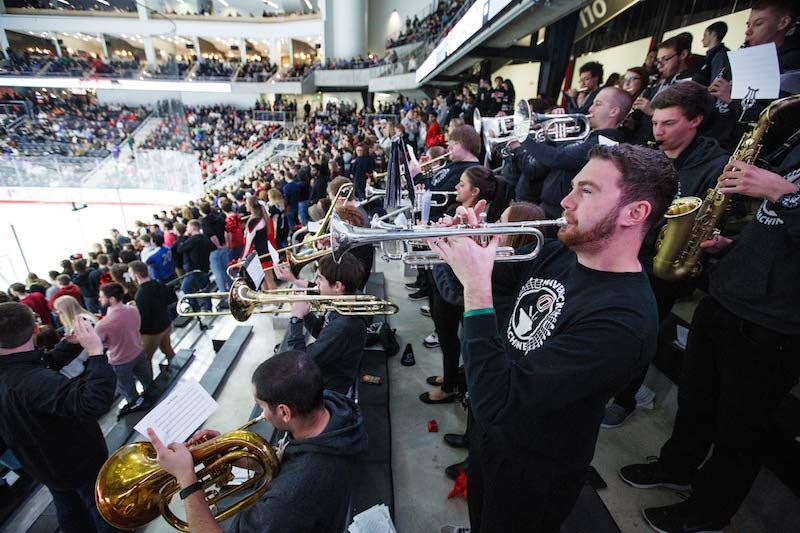 Here's your chance to perform at Baxter Arena!
The "Maverick Machine" is an auditioned group that rehearses on Tuesday evenings from 8:00-9:30 PM in the Strauss Music Building room 109. The band plays for UNO volleyball and basketball games as well as for UNO hockey.
All auditioned & accepted members of the Maverick Machine receive a $500 cash stipend for their efforts at the conclusion of the athletic season.
The Maverick Machine performs a mixture of popular arrangements, "Rah-Rah," and traditional stands-tunes. Instruments in the Maverick Machine include: piccolo, clarinet, alto saxophone, tenor saxophone, mellophone (French horn), trumpet, trombone, baritone/euphonium, tuba, bass guitar, and drum-set.
The Maverick Machine has become a major public face of the university music program—playing for U.S. President Barack Obama's historic visit to the UNO campus as well as performing innovative halftime shows at UNO sporting events.
The band regularly travels with UNO teams to tournaments around the United States and collaborates with university spirit and community organizations.
Visit us online for more information or contact Dr. Joshua Kearney, UNO Director of Athletic Bands, at jskearney@unomaha.edu with any additional questions.