UNO Magazine: How They Got to Now
A look at the different career paths some took to UNO.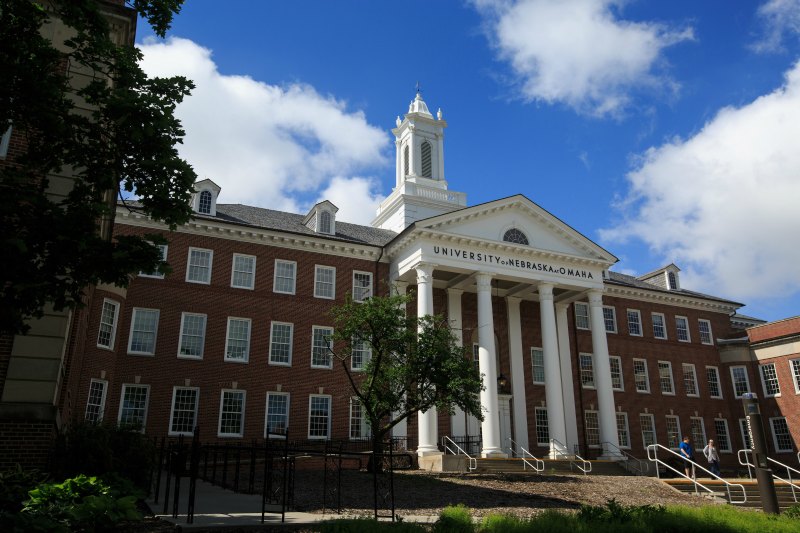 From the Spring 2017 UNO Magazine – Read the magazine online, as a flipbook on your desktop, or download the magazine as a PDF.
---
Michelle Black
Assistant Professor, Political Science
From PsychOps to UNO Psychology
Michelle Black, an assistant professor of political science, can handle just about any challenge after spending time in the psychological operations division in the U.S. Army.
Black was part of a currency campaign in Iraq during the height of the war in 2003. On one occasion, it was just herself, a New York banker and two Iraqi bankers stranded in the desert with no communications or directions for where they were supposed to go.
Experiences like that helped Black get to where she was going career-wise.
She went on to work at United States Strategic Command as a government contractor before transitioning to academia. Today, she uses her experiences to help mold UNO students.
"I didn't chart out that I was going to do these things, it just happened," she says. "I tell my students not to be afraid to try something that you're not specifically trained in. What you bring to the table is critical thinking and analysis; those are the things that they look for. They want to know that you have a way to approach the puzzle and attack it."
---
Carol Ebdon
Professor, Public Administration
"From Politics to Professor"
When she was asked in 2004 to take over as thenMayor Mike Fahey's finance director, Carol Ebdon, a public administration professor at UNO, says she never expected to be gone from teaching for more than a year — let alone five.
"It was an election year and it was it was a high risk for anyone else to take a job they may not keep, but the mayor was re-elected and I ended up staying through the next term," she says.
Ebdon is back in the classroom, teaching courses in public budgeting and finance management. Her time working for the city was a "fantastic experience," she says, that has helped her in the classroom.
She even helped create a new course for the School of Public Administration on the topic of government contracts because of how often they came up in her previous work.
"Students want real-world examples and stories," she says. "When I can talk about the day-to-day issues administrators face, it really helps show how the theories we teach apply to what they'll be doing in their jobs."
---
Washington Garcia
Director, School of Music
"Hitting the Right Notes"
It's hard to believe the founding director for UNO's School of Music is only 39-years-old.
Given that his career began at 4-years-old, though, it's no wonder.
Prior to coming to Omaha and UNO in 2015, Washington Garcia already was an accomplished performing artist, educator and academic administrator. A native of Ecuador, Garcia took to the piano at just 4-years-old and later had an active career as a concert pianist. He debuted with the Ecuadorian National Symphony at age 15 and has gone on to perform in 19 countries and 30 states across the U.S., all while pursuing his education and becoming an educator himself.
Now at UNO, Garcia says that through all his experiences on the stage and in the classroom, the lesson he always carries with him is that no one can achieve greatness without collaboration.
"I have a tremendous group of colleagues, faculty, staff, and students, all working to one goal. No matter how good one person is, if you don't work collaboratively, nothing is ever going to grow or move forward."
---
John Erickson
Chair, Department of Management
"Climbing the Corporate...Tower"

Associate Professor John Erickson climbed the corporate ladder — and very tall structures — for more than 20 years before beginning his teaching career at UNO, often risking his life to do it.
As part of his job at Micro Tower, Erickson would sometimes climb as high as 1,500 feet to repair communications towers. On one occasion, a Wisconsin hunter used the tower as target practice — not knowing Erickson was on the tower.
His job also brought him to Saudi Arabia, Qatar, and to the top of the Willis Tower in Chicago.
"You need to sometimes do the jobs that you might not really like," he says. "You have to persevere."
Perseverance paid off for Erickson, who eventually became the vice president of Micro Tower before shifting his career toward higher education. Many of the courses he teaches involve telecommunications, so his background gets put to use almost every day.
Erickson said it's important for students to "stick with it" in their careers, because one day it will pay off.
---
Dave Points
Emergency Preparedness Coordinator
"Prepared with Perspective"
Even as a student at UNO in 1972, Dave Points knew he wanted to work in law enforcement. Today he is back in the same department he interned for and from which he launched a longtime law career in emergency response and preparedness.
After graduating from UNO, Points almost immediately went to work for the Omaha Police Department and spent 25 years there, retiring as a lieutenant. However, it wasn't until Points retired that he ended up having the opportunity to train new officers halfway around the world as part of a U.S. State Department initiative in Lebanon.
"I was stationed in Beirut during the Arab Spring," Points says. "While things were happening in Egypt, they had ripple effects across the entire Middle East. Even when it was announced Osama bin Laden was killed, people were more concerned about what Gaddafi was doing in Libya."
Points only served in the role for a year, but he says the experience provided him a new perspective on different cultures.
"It was important for seeing the different perspectives people have on world events and how countries differ in their security measures."
---
Sher Jan Ahmadzai
Director, Center for Afghanistan Studies
"Knowing the Ins, Knowing the Outs"
As head of the Center for Afghanistan Studies, Sher Jan Ahmadzai deals regularly with research and community engagement efforts designed to address the needs of a U.S. ally and one of the world's youngest democracies.
Prior to joining UNO in 2008, Ahmadzai had a front seat to the country's reconstruction as an aid to thenpresident Hamid Karzai.
For three years he served as part of the president's communications team before being asked to lead coordination of President Karzai's schedule — a task he says was incredibly important and time-consuming.
"It was a 12-hour shift each day, every day," he says. "You need to coordinate meetings with the president and know all the details of who is coming, why they are coming, who else may need to be there, what the proper protocols are and make sure the president is briefed before each meeting."
Despite the challenges of his positions, Ahmadzai says his experiences in the Afghanistan government have provided him an "edge" in his field.
"I know the ins and the outs of Afghanistan and now I know the ins and outs of the United States," he says.
"It's helped me understand what capacities there are for growth and how to best direct our research here at UNO."
Contact Us
If you have a story idea, news tip, or other question, please email the UNO News team at unonews@unomaha.edu.