Community Engagement Spotlight | Gabriela Amador
Gabriela Amador worked as an undergraduate assistant in the UNO Service Learning Academy.
contact: UNO Campus Commitment to Community Engagement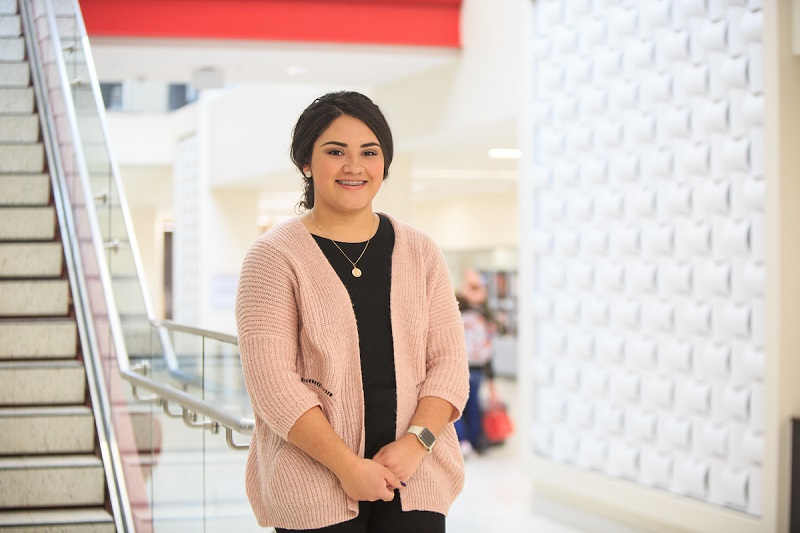 Gabriela Amador is an education major in the UNO College of Education. Amador's service learning journey began while enrolled in the class Introduction to Teach English as a Second Language, which is taught by Sandra Rodriquez-arroyo's, Ph.D. The next semester she joined the UNO Service Learning Academy (SLA) as an Undergraduate Assistant. Both the class and her role in the UNO SLA had an unexpected impact on her life.
Amador and her classmates paired up with families at the Learning Community Center of South Omaha (LCC). The project's purpose: To help families prepare their children for college in English, and to provide resources, campus tours, and information about financial aid.
"A lot of families believe they cannot afford college and decide not to go, so our goal was to connect with family members and help them learn about the college opportunities that they do have."
The majority of the families in the program spoke Spanish as a primary language, and if they spoke English, they were at different levels of their language acquisition. This was where Amador's coursework curriculum came into practice. Amador says that she and her classmates learned a lot about how to differentiate the various learning needs of students and best practices for teaching them. The experience helped her develop as a future educator because she gained the skills necessary to learn how to challenge students to make them better.
Amador and the other UNO students continued working with the same families over the course of six weeks, developing relationships, and helping educate them. "It was like a mentorship." The class service learning project motivated her to apply for the Undergraduate Assistant with the UNO SLA.
While working in the SLA, Amador helped in areas of project preparation and planning, campus tours (She was also a Maverick Ambassador), setting up opportunities for students to visit the housing facilities through Student Involvement, and making students feel welcome with goodie bags.
"Not only was I able to practice what I had learned in the classroom, but I was also giving back and providing service to others." The experience has made her eager to do more in the way of service learning.
---
Campus Commitment to Engagement
Community engagement and service are fundamental components of UNO's identity. This commitment to engagement is reflected in UNO's academics, student body, partnerships, and institutional framework. As an engaged campus, UNO values mutually-beneficial partnerships where information and expertise is shared and applied for the common good.
Share Your Story
Did you organize or participate in a community-oriented project or service? UNO wants to hear from you! UNO is committed to community engagement in its broadest form, and wants to feature your community service story.
Submit your story on MavSYNC or via e-mail.
Read other community engagement spotlight stories.
Contact Us
If you have a story idea, news tip, or other question, please email the UNO News team at unonews@unomaha.edu.