Community Engagement Spotlight | Arturo Rodriguez
Arturo has nurtured his love of the environment through his volunteering. The Environmental Studies major, with a concentration in Earth Science, volunteers at Benson Plant Rescue.
contact: UNO Campus Commitment to Community Engagement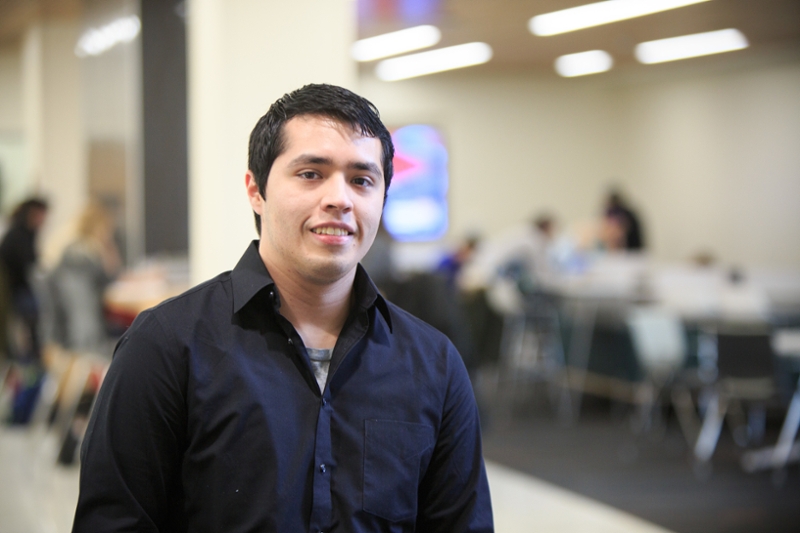 "I help with Benson Plant Rescue whenever I can, and so far I haven't missed a single one," he said. "It feels good. I also like working with my hands, so I get that experience out there."
The junior at UNO believes volunteering in the community is a great way to meet people and to make an important impact in the community.
If you can make some time to volunteer, even if it's just an hour or 30 minutes, it still makes a difference.
- Arturo Rodriguez
"It's important. You have the feeling you actually did something. You actually accomplished it and know you helped someone in need."
Arturo also volunteers building houses for Habitat for Humanity. Through his work with Habitat for Humanity, he has seen a significant impact in the Omaha community. He saw a story on the news that highlighted a low income family moving into a home he helped to build.
When Arturo finishes his degree, he hopes to continue working in environmental studies and to travel around the country for scientific samples. He believes volunteering will help him land such a position. "I think it will help because an employer can see I volunteer and can see that I think of others besides myself," he said.
---
Campus Commitment to Engagement
Community engagement and service are fundamental components of UNO's identity. This commitment to engagement is reflected in UNO's academics, student body, partnerships, and institutional framework. As an engaged campus, UNO values mutually-beneficial partnerships where information and expertise is shared and applied for the common good.
Share Your Story
Did you organize or participate in a community-oriented project or service? UNO wants to hear from you! UNO is committed to community engagement in its broadest form, and wants to feature your community service story.
Submit your story on MavSYNC or via e-mail.
Read other community engagement spotlight stories.
Contact Us
If you have a story idea, news tip, or other question, please email the UNO News team at unonews@unomaha.edu.