Students Skate the State to Help Homeless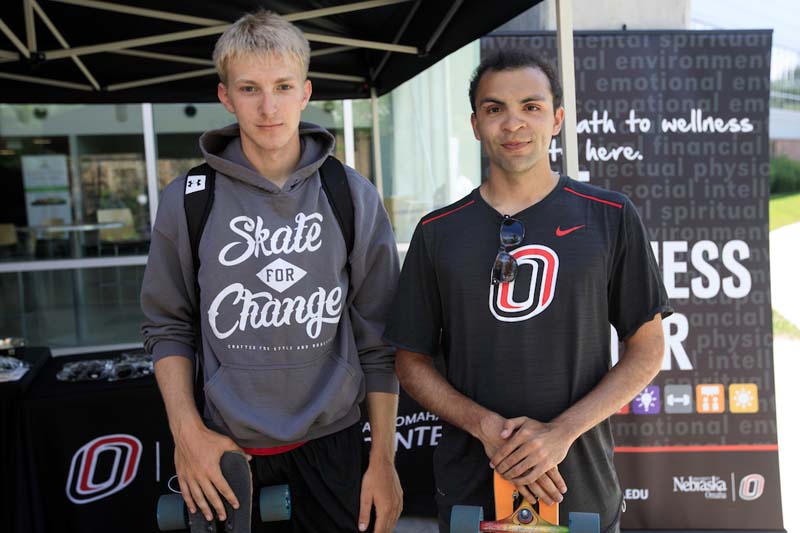 After 11 days and nearly 300 miles, two UNO students arrived on campus riding longboards that they had used to travel the state of Nebraska - all to raise awareness for the more than 20,000 homeless individuals living in the state.

Friends, family and UNO staff greeted exhausted, but proud, seniors Dylan Burton and Brendon Keller on Tuesday, June 6, and congratulated them on their accomplishment, something only three others have ever done. On top of that, the pair was able to raise $1,300 toward their goal of building a resource center to provide food, water, clothing, and mentorship to the homeless.

The effort, called Skate the State, is part of a larger effort by Skate for Change, an international nonprofit that was launched in 2012 out of Lincoln, Nebraska. The group was designed to pair skateboarding with outreach, empowering youth across the country and the world to give back.
Keller, who is also a student worker at the Wellness Center, and Burton recently launched their own chapter out of Omaha.
The pair began their journey on May 27 in North Platte and, each day, would spend five to eight hours on the road before finding a place to camp and then get up and do the whole thing over again the next day.
Keller explains that the miles of empty road forced him and Burton to pay extra attention to even the smallest things.
"There are going to be times where if you don't watch every push you can mess up," he says. "There was one time we were flying down the highway and I went to push and I wasn't paying attention and I hit my heel with the wheel and stopped instantly. Somehow I caught myself and didn't fall over."
When the pair decided to plan their trek, they quickly found support among the Skate for Change community in Lincoln, receiving material and monetary donations to help them along their way. However, even they didn't think they would be able to reach their lofty $1,000 goal, let alone surpass it.
"Going in we were going for the awareness and we set a goal that we thought was a reasonable goal but now we've made it past it so we're going to talk to the people in Lincoln to help guide us through the next steps."

The hope, Keller says, is to build a space in Omaha similar to that of "The BAY" in Lincoln, which serves as both a skate park and center for the homeless.
Coverage of Keller and Burton's "Skate the State" Project
"Skate the State: Two College Students Longboarding Across Nebraska For Homelessness" - NTV
"Nebraskans Skateboard Across State for Voiceless" - 3NewsNow
"They're on their way!" - Seward County Independent
Contact Us
If you have a story idea, news tip, or other question, please email the UNO News team at unonews@unomaha.edu.