UNO, UNMC Celebrate International Student Research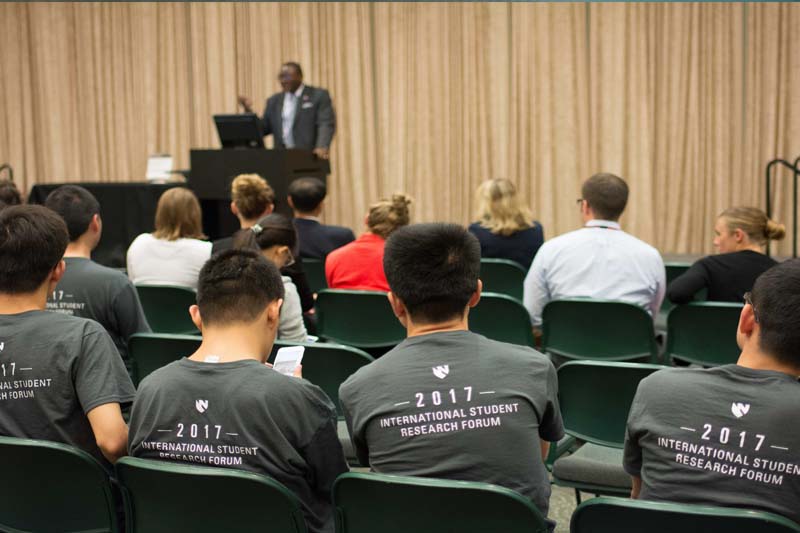 On Sunday, June 4, a group of several dozen students and faculty from 12 countries conquered their jetlag to gather in Stinson Park for a picnic. They played games (bean bags, Frisbee, ladder ball toss and Kubb were popular), ate pizza and chatted with new friends from around the world. The picnic was a vibrant (if warm) start to the 12th International Student Research Forum (ISRF) hosted by the University of Nebraska at Omaha (UNO) and University of Nebraska Medical Center (UNMC).
The mission of the ISRF is to provide an international stage for Ph.D. students in biomedical sciences to present their research, with the aim of promoting international collaborations that may one day lead to breakthroughs in science and medicine.
The ISRF meets annually, rotating among its host universities. This is the third time that it has been held in Omaha. Previous venues have included Beijing, China; Odense, Denmark; Aberdeen, Scotland; Brisbane-Gold Coast, Australia; and Tokyo, Japan. The ISRF is run by a governing board made up of Griffith University in Australia, the University of Chinese Academy of Sciences, the University of Nebraska Medical Center, and the University of Southern Denmark.
Rachel Utter, a Ph.D. candidate in the MSIA graduate program at UNMC, has participated in ISRF for a number of years.
"The opportunity to present our research on this international platform has been very rewarding," she said. "This forum has provided us with a unique opportunity to showcase the world-class research being performed at UNMC and UNO."
Though many staff and faculty helped organize the ISRF, it is largely a student-run event. Utter, in particular, has played a key role as an organizer and leader of UNMC students. Keith Swarts, director of the ISRF Consortium and interim director of the Asia Pacific Rim Development Program praised Utter, saying "Rachel has been a vital member of the ISRF for a number of years, and she has gone above and beyond this year as an organizer and student leader."
While in Omaha, participants presented their research in the morning. In the afternoon, they toured research facilities at UNO and UNMC. At UNO, they visited the Biomechanics Research Building. At UNMC, they saw the Buffett Cancer Center; Center for Drug Discovery and Lozier Center for Pharmacy Sciences and Education; and the Simulation Labs in the Michael F. Sorrell Center.
In evening, the atmosphere became more casual as participants shopped, watched a Storm Chasers baseball game and learned to line dance at Bushwackers Saloon. These social events are considered to be a crucial component of the ISRF as they allow students to connect with others in a more relaxed environment, developing friendships that go beyond disciplinary or national borders.
The ISRF was also successful in promoting collaborations here in Omaha as well. Faculty and staff at both UNMC and UNO were involved in the organization of the Forum.
Participants were met at the airport by UNO transportation; lived and ate at UNO's Scott Village; and they presented their research at UNO's Mammel Hall.
"The Forum was a success because of the collaborative efforts of staff at UNMC and UNO," Swarts said. "I'd especially like to thank Adam Wick, Trent Fredericksen, and their staff at UNO for their diligence. This initial collaboration will forge many future endeavors and partnerships between our two institutions."
Contact Us
If you have a story idea, news tip, or other question, please email the UNO News team at unonews@unomaha.edu.