UNO Student Takes in CWS from the Press Box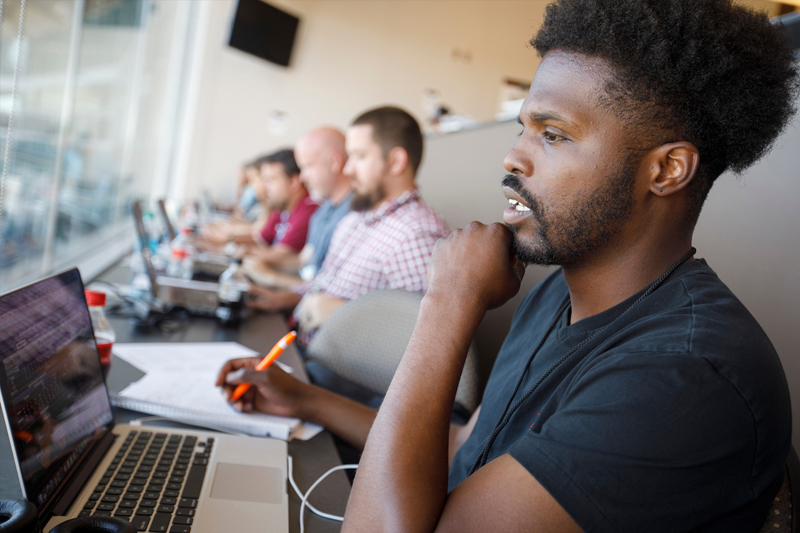 ---
"I'm just kind of taking something that I've learned [in class] and trying to put something together," Kellum said.
After a 10-year hiatus from school, Kellum took some advice from his wife, who had recently graduated with a master's degree from UNO's Grace Abbott School of Social Work.
"She kind of gave me the confidence to do it," he said. "So far, the experiences have been amazing."
The journalism major has interviewed players, fans and coaches. His very first question was directed at the head coach of Cal State Fullerton, right after they lost a close game to Oregon State. He asked the question live on TV, right in front of experienced professionals that have been covering games for years.
"I've just trying to take full advantage of the opportunities that I have here," he said. "It's been amazing."
He admits there were nerves at first.
"We're (Mav Radio) small, not many people know who we are," he said. "I thought people might turn their nose up at me."
That hasn't been the case, however.
"Everyone has been super nice," Kellum said. "It's been totally the opposite."
Not only is he gaining valuable experience and adding to his portfolio, he's also getting the chance to meet writers from all around the country.
"I'm sitting right next to them during the game, so why not reach out?" he said.
It could lead to a job one day. A few reporters told him to let them know when he graduates so they could see what jobs were available for him.
Kellum credits Mav Radio for giving him an outlet to do something he loves. He's done play-by-play for Mavs basketball, baseball, hockey and soccer. The Omaha Beef even reached out to Mav Radio and asked if he could do the same for their home games, so he did.
Next month he plans on going to Kansas City to cover the Kansas City Chiefs' summer camp. He also hopes to cover Terence Crawford's next championship boxing match if it's in Omaha.
If there's a big local sporting event, you can expect Kellum to be there.
"There are just so many opportunities, you can't be afraid to go out there and get it," he said. "A closed mouth doesn't get fed."
It's been a wild road for Kellum so far. After being away from school for a while, he's not letting his experience go to waste.
If you're on the fence about going back to school, Kellum has a simple message for you: "Just go for it."
Who knows what kind of doors can open?
"If you're willing to fight for what you believe in and what you love, there's nothing to stop you. It's all about the mindset that you have."
---
Interested in learning more about our ties to the Greatest Show on Dirt? UNO has more than a few connections to the College World Series, which is "back home in Omaha" June 17-28.
Contact Us
If you have a story idea, news tip, or other question, please email the UNO News team at unonews@unomaha.edu.