Council Bluffs High School Students Explore Career Opportunities at UNO
Students from Council Bluffs Community Schools spent time learning about UNO and participating in job shadow experiences.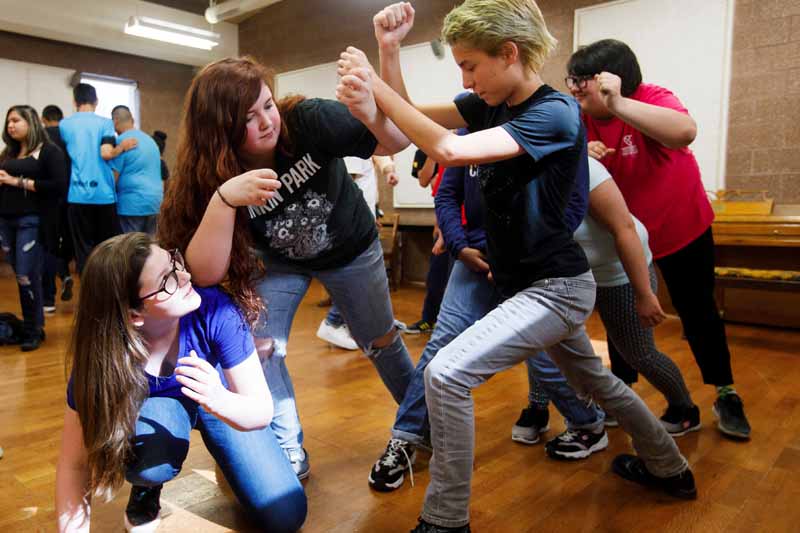 It can be hard for a high school student to know what they want to do for a career, let alone what classes they'd need take to get there.

Now, thanks to the Summer Career Institute, a partnership between UNO and the Council Bluffs Community School District funded by a grant from the 21st Century Community Learning Centers Program, that process is a lot clearer.

Recently, a group of several dozen students spent time at UNO learning from faculty and staff about the different degree programs and extracurricular opportunities they have on a college campus.

Heather Mangiameli, the Council Bluffs liaison for Undergraduate Admissions at UNO, says the program, which is in its first year, is important because students like those participating often don't have a way to visit campus and better understand what college is like.

"Many of them are first-generation and come from working families so it is really difficult to explain to them what the college experience can be without getting them on campus," she said. "Before many of them didn't think a four-year college was affordable or that they could find a degree that matched their interests, but now they are excited about higher education and what that means for their future success."

Following their time on campus, the students then headed out into the community to job shadow at businesses across the metro that aligned with that day's career focus.

On Monday, students spent the day with the Academic and Career Development Center and Collaborative learning about community engagement efforts before heading to the Charles E. Lakin Human Services Campus, which features satellite locations for nonprofit organizations such as the Red Cross, Heartland Family Service and the Salvation Army.
The students are only here for a week, but the impact will carry through for years.
- Heather Mangiameli
On Tuesday, the group got the chance to explore computer coding from faculty at the College of Information Science and Technology and then learned about engineering career options from the University of Nebraska-Lincoln's College of Engineering before heading to Kirkham Michael, an Omaha civil engineering firm that provides services to the tri-state area of Nebraska, Iowa and Kansas.

Wednesday featured a visit to the College of Communication, Fine Arts and Media where the group performed theater scenes, read poetry and learned about music degree programs, before heading to the Durham Science Center where they did DNA testing, chemistry and chemistry activities. That afternoon they headed to Southwest Iowa Renewable Energy, which provides renewable energy supplies for Pottawatamie County.
Thursday's activities took place at Mammel Hall, where the students learned about stock trading and supply chain management before heading to TS Bank in Council Bluffs, where the students learned about the various career paths that banks provide including loan management, investment advising, and even graphic design.
Friday gave the students a chance to reflect on their experiences, which they presented in groups to their peers, recapping the week and what they learned.
Mangiameli says the progam, while still young, has already provided an important, long-lasting impact on the ability of these students to explore options for higher education and beyond.
"This is such a cool program and has made things that much easier for me when I go into Council Bluffs to speak with students they have a better idea of what I mean when I talk about our differen degree options. The students are only here for a week, but the impact will carry through for years."
Contact Us
If you have a story idea, news tip, or other question, please email the UNO News team at unonews@unomaha.edu.