Biomechanics Conference Successful in Second Year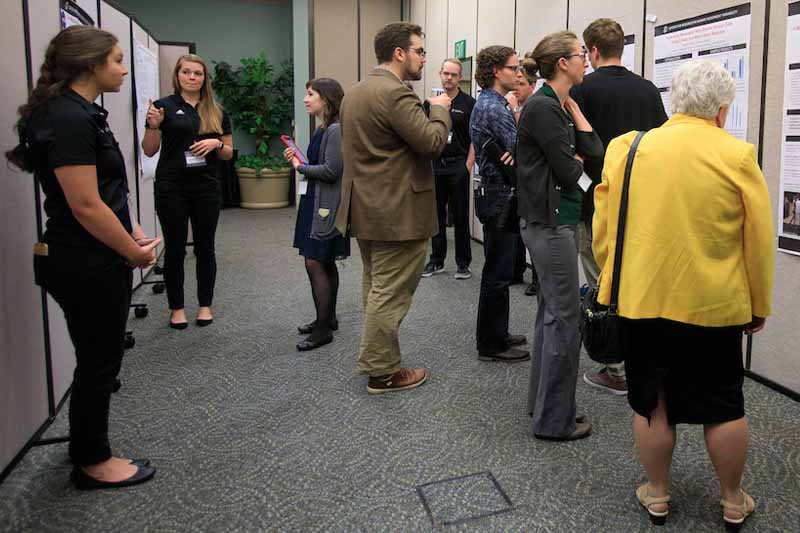 It may only be in its second year, but the Human Movement and Variability Conference continues to grow.
"Every year, strategically, we are trying to grow," said Nick Stergiou, assistant dean of the Division of Biomechanics and Research Development at UNO. "We are trying to get better and better."
On Thursday, June 1, biomechanics and variability experts from around the world arrived on UNO's Scott Campus to collaborate, share research, and exchange ideas.
"One of the things that changed this year is we invited some professors from what I call the 'neighborhood,' or the greater Midwest," added Stergiou.
Guest speakers included Jason Gillette, Ph.D., of Iowa State University and Alena Grabowski, Ph.D., from the University of Colorado Boulder.
"It's a nice place to build some collaborations," said Gillette of the conference. "I hope it continues to grow and bring in more people from the surrounding states."
"Another component this year was oral presentations from the students, which we hope to do more of next year," Stergiou said. "We really want to strengthen this, we want other universities to participate."
For the keynote speaker, Stergiou brought in Benoit Bardy, Ph.D., professor of health and movement science at the Institut Universitaire de France.
Bardy said that UNO's Department of Biomechanics is very unique in the way it uses its facilities and approaches its research.
"For instance, they have this virtual reality set up with the dual belt treadmill, and this coupling between VR and biomechanics, the way they are doing it is pretty unique.
"They are looking at how people walk on uneven ground, and that is very unique. I get lots of inspiration from them. There aren't many places like that in Europe or North America."
Stergiou and Bardy have already collaborated on a few projects, and a few of Stergiou's assistant faculty actually came to Omaha from Bardy's department in Paris.
"The work that we do together is similar, but different," Bardy said. "We have similar methods to qualify and quantify health and movement, so this allows us to look at movement in very complimentary ways."
The opportunity for collaboration at the conference was not limited to just faculty, however. Undergraduate, graduate and doctoral students used the conference as a chance to expose themselves to experts in numerous fields.
Jenny Kent, a doctoral student in the department of biomechanics, came to Omaha from England. As a student, she said the conference is a great way to become a more well-rounded researcher.
"I love things like this where you get to hear from people who have different perspectives," she said. "There's always something you can pick out of every presentation that is relevant to what you are doing."
Contact Us
If you have a story idea, news tip, or other question, please email the UNO News team at unonews@unomaha.edu.