UNO's Youngest Author Continues To Soar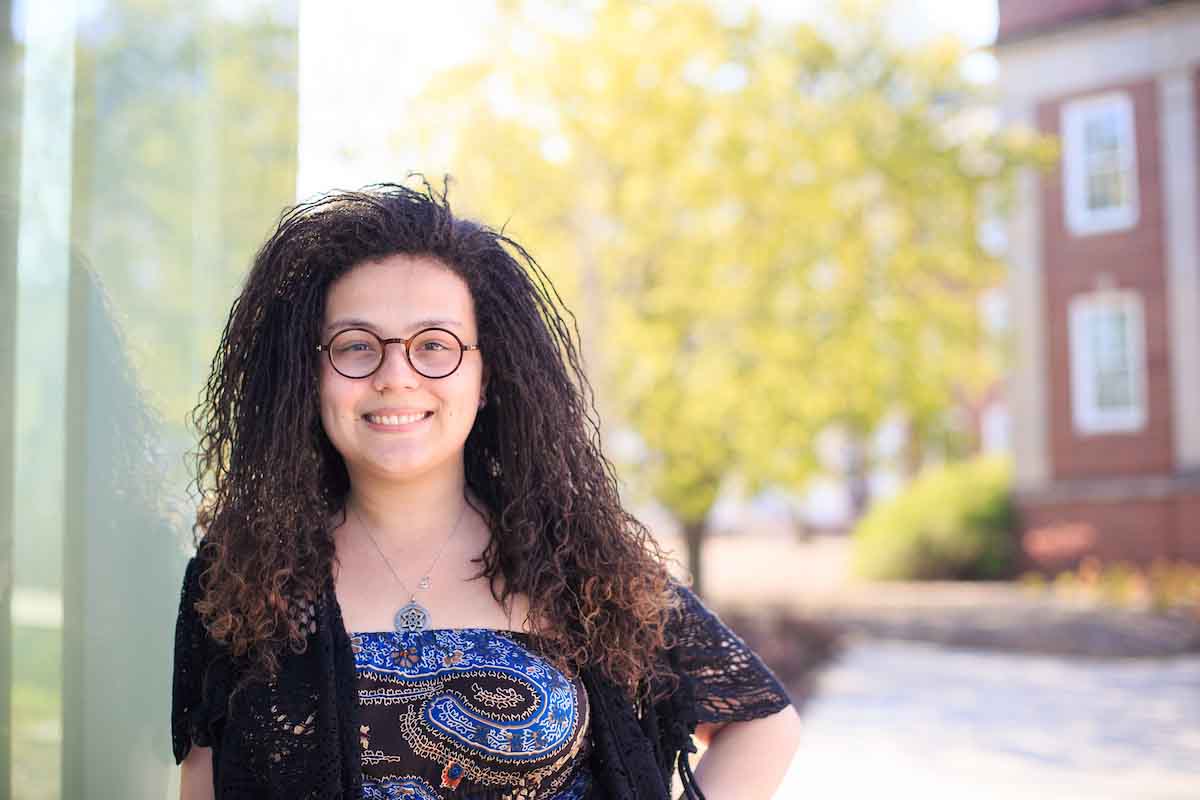 At just 23-years-old, University of Nebraska at Omaha (UNO) graduate Britny Doane seems to add an exciting new chapter to her story every few months.
Doane, also known as the "Old Market Poet," has gained fame for being Omaha's first street poet. She often sets up shop in Omaha's Old Market district with her 1930s Remington Rand typewriter and writes poems for curious customers as they walk by.
In 2015, she became UNO's youngest published author in school history when she published a collection of poems called "Wingmakers" and she's already moving on to her next challenge.
"I just keep moving forward," Doane said. "I always find myself wanting to work on other stuff."
Nowadays, Doane is researching something called "divine madness," which was first coined by Plato in "Phaedrus." According to Plato, "the greatest of blessings come to us through madness, when it is sent as a gift from the gods."
"[Today,] the term madness is very westernized and everything is very scientifically explained," Doane said. "But there are other cultures that don't look at it that way.
"A lot of times my research revolves around religions because they have the most lenient definitions of madness. Deities are inspiring them to be that way."
Doane, a FUSE (Fund for Undergraduate Scholarly Experiences) grant recipient, recently travelled to Washington D.C. to participate in "Posters on the Hill," where she presented "Methods and Madness: Poetry that explores the religious phenomena of Divine Inspiration." She was the only student from Nebraska in attendance.
It was quite the stage, too. Doane recited some of her original poems on Capitol Hill.
"What I really wanted to promote with this collection is solidarity between different religions and cultures through their inherent need to appreciate art and to appreciate the divine through art," she said.
As a FUSE grant recipient, Doane's travel was completely covered. As part of her research, she also had the option to travel internationally. She chose to travel to Paris, which is where she got the idea to research divine madness.
While touring the Louvre, she started to notice themes that crossed all religions, cultures, and were consistent throughout thousands of years of history.
"I just started noticing how there is this innate need to convey some sort of divine in art," Doane said.
"When you see ancient art, it's usually not done for the purposes of pleasure or fun," she added. "I went to more museums and noticed that these themes continued on in the modern context."
From the Old Market, to the nation's capital, and on to Paris, Doane has found inspiration both locally and internationally. Next month, she hopes to find inspiration back in the Midwest.
In June she will travel to Gambier, Ohio to take part in the Kenyon Review Poetry Writer's Workshop. She is one of seven students whose applications were accepted. The workshop will be facilitated by renowned poet Carl Phillips, who also happens to be Doane's idol.
"[When I found out,] I'm like, 'Oh my gosh!'" she said. "I just want to ask him, 'how do you do it?' I was really at a loss for words."
Ultimately, she hopes to get some inspiration and keep working toward perfecting her craft, which she said is a constant battle.
"My biggest goal is to perfect the way that I communicate with people through the art of poetry."
Contact Us
If you have a story idea, news tip, or other question, please email the UNO News team at unonews@unomaha.edu.