UNO Receives Business Excellence Award
The Greater Omaha Chamber of Commerce presented their 2017 Business Excellence Awards on Tuesday, May 9.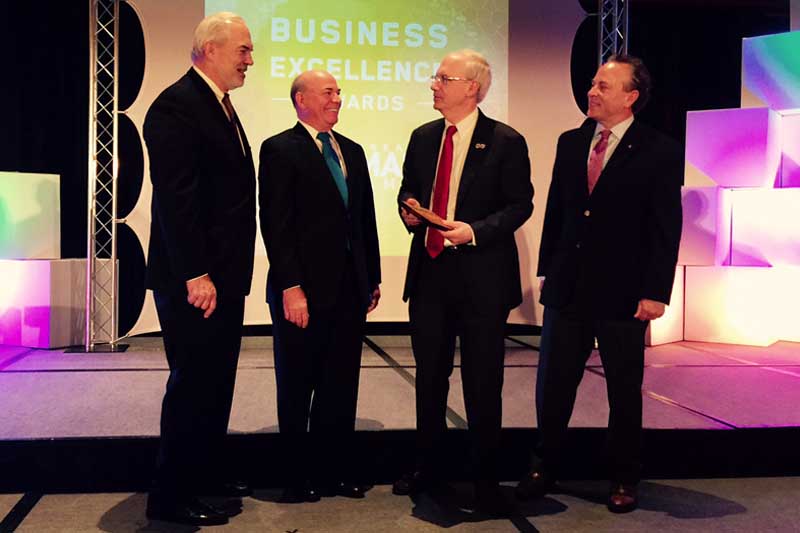 The University of Nebraska at Omaha (UNO) has been named one of 24 recipients of the 2017 Business Excellence Awards from the Greater Omaha Chamber of Commerce.
Awards were presented on Tuesday, May 9, at Embassy Suites Omaha in La Vista with Dr. Jeffrey Gold, Chancellor of UNO and the University of Nebraska Medical Center, receiving the award on UNO's behalf.
The awards honor "the innovators, the givers and the leaders" of Omaha "and their impact on our community."
The announcement by the Greater Omaha Chamber of Commerce states:
"They ignore traditional models and forge new paths, embodied by a 'no coasting' spirit, undeterred by the prospect of failure because they know innovation and success are often born from failure.
They promote teamwork and collaboration, instilling in their organizations a need to serve others and significantly impact the community's health and well-being.
They empower, inspiring their employees to achieve their highest potential while remaining true to their mission and values."
A full list of recipients of the 2017 Greater Omaha Chamber of Commerce Business Excellence Awards includes:
ACCESSbank
All Makes
Bank of the West
Banyan Medical Systems
Blue Cross and Blue Shield of Nebraska
Cargill Blair
CHI Health
College of St. Mary
CQuence Health Group
Firstar Fiber
Food Bank of the Heartland
Home Instead Senior Care
McGrath North
MCL Construction
Midwest Laboratories Inc.
OBI Creative
Outlook Nebraska
Physicians Mutual Insurance Co.
Project Harmony
QLI
University of Nebraska Omaha
University of Nebraska Medical Center
Visiting Nurse Association
White Castle Roofing
Contact Us
If you have a story idea, news tip, or other question, please email the UNO News team at unonews@unomaha.edu.